Event rental software optimizes your organization, decision-making, and implementation aspects of event rental pricing and upselling strategies. Why spend your limited time gathering data, making reports, and handling customer inquiries when you can let software do it for you?
How can software help optimize your event rental pricing strategy? Let's talk about it.
Harness the power of easy-to-read reports
Running a business without reports is like driving to a new destination without navigation. Embrace reports and let them guide your event rental business to success. Event rental pricing strategy decisions require precise knowledge of revenues and inventory utilization, and that's exactly what you get with Goodshuffle Pro.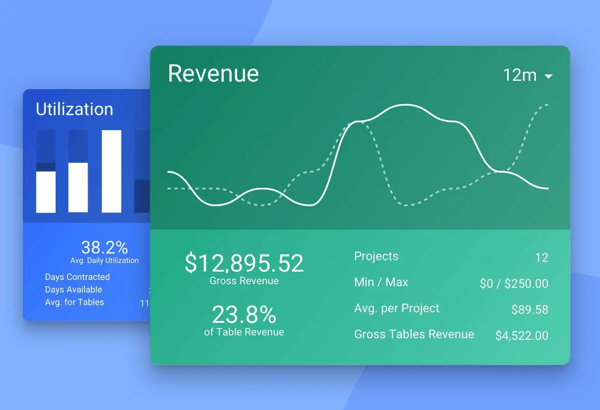 Goodshuffle Pro financial reports provide you with all of the information necessary to make sound pricing decisions for your event rental business with clear, easy-to-understand reports and dashboards. You'll know where and when you make the most money so that you can plan your campaigns around your most profitable items, seasons, or events.
Utilization reports also help business owners know when to purchase more inventory, when to push items that are being underutilized, and when to retire items that have run their course. It's easy to know what's underperforming so you're not paying to store inventory that's not earning its keep. You'd never let a tenant stay for free in an apartment, nor should you — as the landlord for your inventory — let items take up space on your shelves that aren't earning you money.
Impactful, flexible pricing options put you in control
Goodshuffle Pro enables you to set individual pricing for daily rates, hourly rates, purchases, and flat fees. This adds an aspect of flexibility in your rental options, and you can optimize and experiment with different rates using your utilization reports to assess whether your inventory is working for you at its current price or not.
The ability to price a package by the contents included will easily let you see the cost of the individual items - then you can make the decision as the business owner if your clients get a deal for booking everything! If a client wants to add something to a package, then the package total will AUTOMATICALLY adjust.
For instance, the image above shows a package with contents that could be individually rented out for $520, being bundled together and priced at $350 for a full day rental. Why give discounts on larger package deals like this? You'll bring in more large events when you incentivize large event deals. At the same time, you'll delight your customers, and maintain a strong and flexible pricing strategy.
Get the conversation started and capitalize with the Website Integration
Once you've made the crucial decision to put pricing on your website, a good event rental software will not only integrate your inventory with your website but allow you the freedom and flexibility to present this information to your clients however you'd like.
Goodshuffle Pro's Website Integration is the ultimate tool for upselling and creating price transparency. This tool allows you to never say no to a potential client by allowing clients to browse your inventory 24/7, quickly build a list of everything they desire for their next event, then send it off to you for approval!
If and when you choose to change your prices, with Goodshuffle Pro's Website Integration, those prices will instantly and automatically update on your website, eliminating any discrepancies between your price listings and actual prices. This maximizes the transparency between your event rental business and your clients, as they will always have the most accurate and up-to-date information.
This enables a whole new level of interaction with your customers, as it's fun for them to build their own orders while browsing through your inventory, while you get to save time and energy from having to manually translate information from a client's inquiry to a new quote since Goodshuffle Pro will do that for you. If a client isn't sure exactly what they need from you, they can still submit their information to you and move forward. Qualified customers will always have easy access to you and your price information.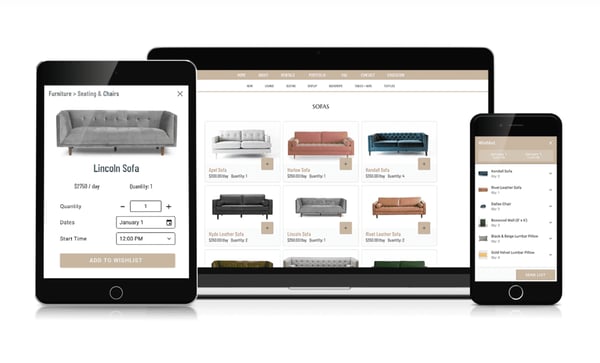 With the Website Integration, you can create upselling opportunities by offering basic packages that include just the essentials, and an upsell option that includes the centerpieces, table numbers, and all the extras you can earn a little more money on (like this). You can even take this a step further by providing a "budget", "standard", and "luxe" option for your packages (like Render offers on their site, see: "bare" packages vs "styled")). This enables you to hit a lower price point for budget clients, while still providing a full scope of services for clients who want everything you can provide.
The Website Integration delights customers, as they have incredible access to your company's offering and are given a more enjoyable shopping experience. At the same time, event rentals that utilize the integration see an average 30% increase in order size. It's a win-win!
Perfect your pricing strategy with event rental software
Good rental software makes a profound impact on the effectiveness of your pricing strategy efforts and allows you to make educated decisions based on real data. You don't have to guess and hope for the best anymore.
Work smarter and more efficiently with your new best friend, Goodshuffle Pro.