The modern event client values flexibility — in what they rent, where they rent from, and how they pay for it. The more flexibility your business offers, the more clients tend to say "Yes."
Our newest feature — Buy Now, Pay Later — was specifically designed to help event businesses offer more flexibility. Instead of paying invoices in one lump sum, certain clients can now pay invoices in multiple, smaller installments.
The best part? No matter how your clients choose to pay, you as the vendor still get paid immediately.
Read on to learn more about this powerful new financial feature.
What is Buy Now, Pay Later?
Traditionally, when consumers make purchases, they have to pay the total cost up front. With Buy Now, Pay Later, your clients have the option to pay their invoice in either four installments (without interest) or in up to 36 monthly payments (with interest).
From the client's perspective, the option typically looks like this — which you may have come across while doing your own online shopping: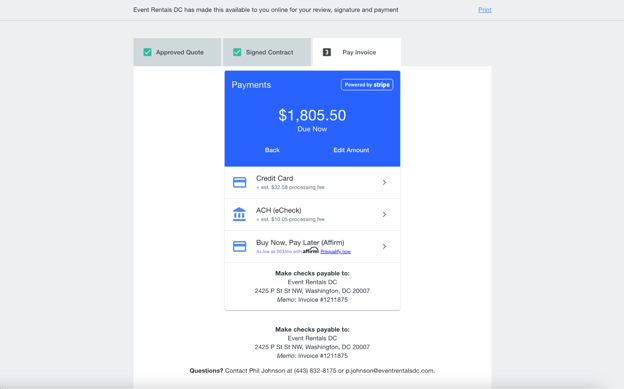 Buy Now, Pay Later is popular with businesses such as Amazon and online retailers because it turns "maybe" buyers into "yes" buyers, which increases checkout rates. Goodshuffle Pro is bringing the same concept to event professionals, who can now enjoy the same benefits of offering flexible financing. Only individuals, not businesses, can take out loans with Affirm — but when you work with non-corporate clients, this is an exciting new tool in your toolkit.
How Does This Feature Help Event Rental Companies?
Buy Now, Pay Later has the potential to help event rental companies in many ways, but the benefits fall into three major categories.
1. Win More Business
Sticker shock is the feeling consumers get when the price for something is unexpectedly high. If you've ever lost a client because the quote you sent was higher than they wanted, there's a good chance you've seen this.
And if you work in the event industry, there's a good chance you've seen it a lot.
Buy Now, Pay Later won't solve every case of sticker shock — but it will solve some of them. When a client really wants to sign a contract, but they lack the commitment or cash flow to incur a large charge, the ability to spread payments over multiple small amounts sounds appealing.
It's another tool in your arsenal to overcome objections from potential clients.
2. Grow More Profitable
By overcoming sticker shock, Buy Now, Pay Later helps you close more contracts. But it also goes one step further, helping you increase the value of each contract you close.
After all, it's not the small quotes that make clients nervous to pay. It's the big quotes. The ability to spread large payments over the course of up to 36 months, rather than needing to pay a large sum immediately, makes the cost of big events easier for clients to stomach..
3. Get Paid Up Front, Risk-Free
If a client chooses to use Buy Now, Pay Later, they can pay less money up front — but that does not mean your business receives less money up front.
You'll be paid in full immediately, and Affirm — one of the nation's largest financial technology companies — will front the money, assume the risk, and collect due balances from the client. Affirm's fee is 6% + $0.30 per transaction, and it does not charge integration fees, annual fees, or monthly fees.
Click here to learn more about the details of our partnership with Stripe and Affirm.
Example Use Cases for Buy Now, Pay Later
There are tons of creative ways to boost your business with Buy Now, Pay Later. Some of the possibilities include:
You give your sales team aggressive goals to hit for total contract value. Your salespeople use Buy Now, Pay Later as a powerful upsell tool.
You want to improve success with millennials, who are used to BNPL models in other industries. You use BNPL to position your business as more modern and accessible than your competitors.
You've historically had price-conscious customers. In the past, they've sometimes been scared off by the total price and haven't followed through with quotes. Now, you're more likely to close this business.
A bride you're working with wants to wait to pay until she gets her commission check. With Buy Now, Pay Later, she gets flexible payments and you get paid immediately.



Ready to see Buy Now, Pay Later in action? Log into your account to start exploring, or

click here to schedule a demo

of our full platform.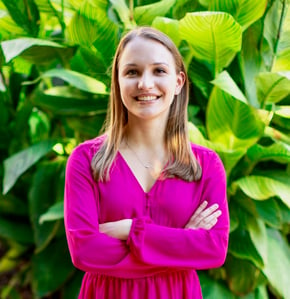 Carmen Bodziak
Carmen Bodziak is a Marketing Manager at Goodshuffle Pro, a party and event rental software company dedicated to empowering those in the events and decor industry. She also currently oversees the Goodshuffle Blog.