Goodshuffle Pro provides massive benefits for event businesses by allowing for increased efficiency and streamlining of processes. But what about on the client-facing side of the business? How does Goodshuffle Pro help when acquiring new clients and earning their loyalty? Let's discuss:
Present a beautiful image of your company with photos on quotes
Keep your clients in the loop with real time updates
Customize your presentation with control over what your clients see
Move the sales process quickly with automation
Optimize your client shopping experience with Wishlist
Present a beautiful image of your company with photos on quotes
The little details make a big impact when it comes to leaving an impression on your clients. With photos and templates for quotes, your quote won't just be presentable, it'll awe your clients and drive home your vision.
While this may not be a determining factor in closing business, it makes a statement about the quality of your business. If the small aspects of your business don't impress them, why would they trust you enough to hire you for their event?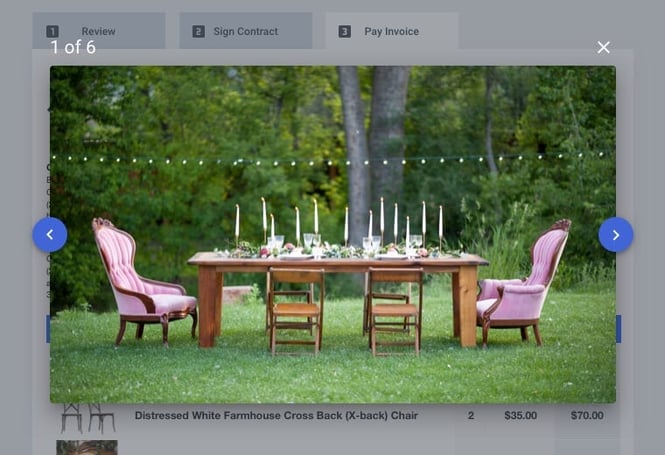 Keep your clients in the loop with real time updates
Impressing your client before they even sign the contract will help you secure their business and start your relationship on the right foot. When you're on a phone call with a client who wants something changed on their quote and you're using Goodshuffle Pro, all updates that you make to the quote will automatically update on their end as well.
Your clients will never need to wait for you to send an updated copy of a quote. Instead, you can update it live with them on the phone and get the signature immediately. Nothing is more impressive to clients than a seamless process.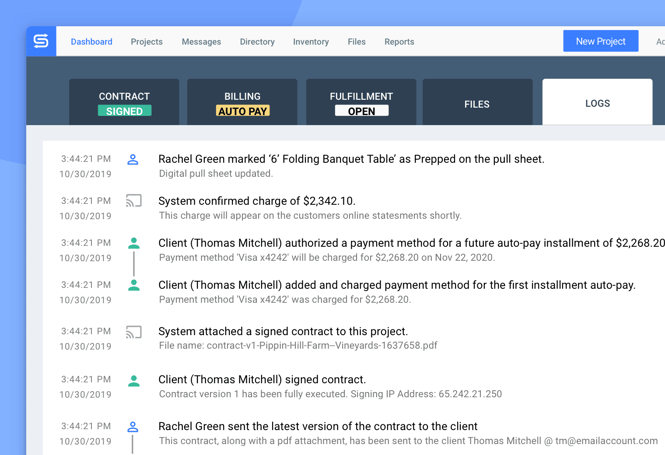 Customize your presentation with control over what your clients see
No two projects are the same, so why would you want all of your contracts to be set up the same? Some clients may need or want details that would just confuse other clients. Goodshuffle Pro allows you to control what items your clients do and don't see.
For instance, some corporate clients may require a breakdown of all of the equipment included in a lighting package, while most other clients won't need or want to know. Your ability to show your corporate client those details will delight them, while your ability to hide information will avoid confusion with your other clients.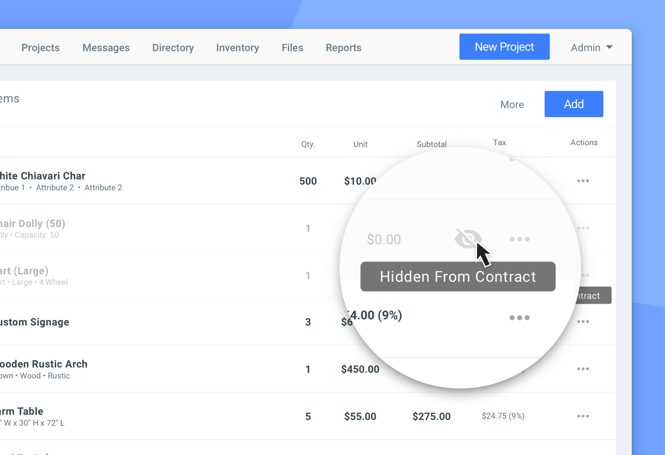 Move the sales process quickly with automation
Now that your contract is formatted exactly how you want it, it's time to get it signed and paid. This is where automation comes into play. As soon as a client signs a contract, they will immediately be sent a copy of the contract and receipts for payment.
This automation feature is the primary reason why over 50% of quotes sent through Goodshuffle are signed and paid within 5 minutes of being sent. The process is quick and easy for both parties, especially considering that clients don't need to make an account to receive automated messages.
Another added benefit is that the payment link that will be automatically sent to your client is a live link. This means that they can return to make payments any time they want. This is huge, especially for brides and grooms who want to make incremental payments on their wedding.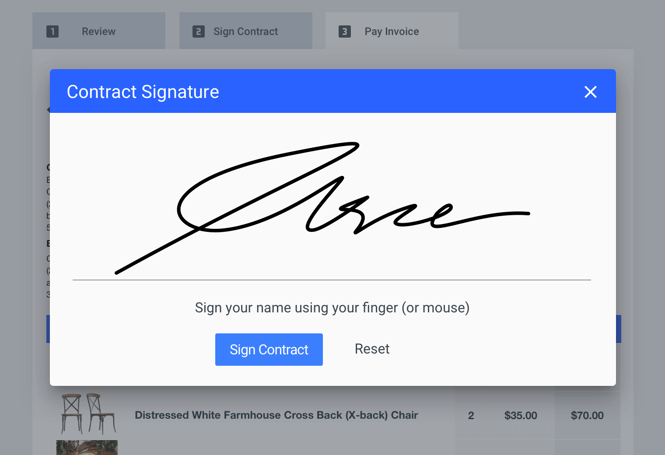 Optimize your client shopping experience with Wishlist
While the Website Integration is an add-on feature for Goodshuffle Pro, it is also one of the most powerful. The Wishlist allows site visitors to create lists of items in your inventory and submit requests for items with comments and ideas 24/7. This means that people can shop with you on their time rather than yours, and you can approve requests on your time rather than theirs.
In addition to being an excellent sales tool, increasing the average size of deals by 30%, and closing 70% of deals, the Wishlist makes the customer experience easier, more convenient, and more enjoyable than ever before.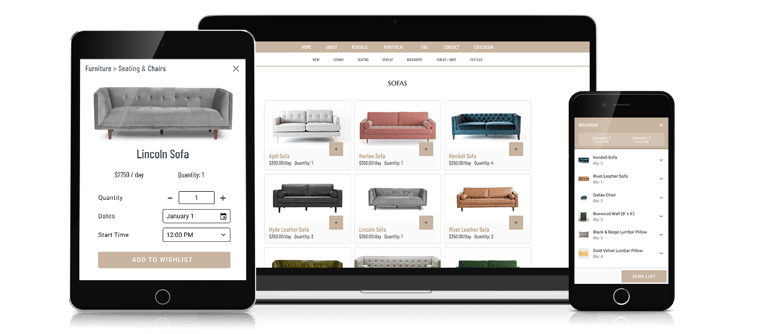 Want to see all of these in action? Schedule a demo!
Goodshuffle Pro knows that the secret to improving sales is improving the customer experience, and that's exactly what the software was designed for. It may be easier to visualize all of these benefits by going through a free demo with one of our team members. Schedule one with the link below, and start WOWing your customers today!
Ready to regain control of your event business with all-in-one software?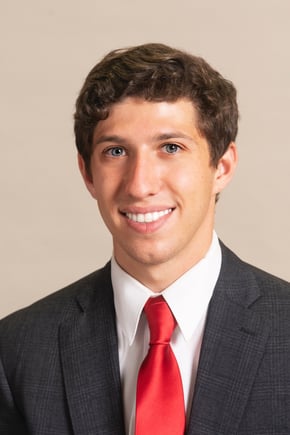 Perry Simon
Perry Simon is a graduate of the University of Maryland, College Park and is a marketing intern at Goodshuffle Pro, a software company dedicated to empowering events industry professionals.