Do I need a CRM software?
A CRM software is a system for managing customer data and company-client interactions. But with all the needs your business requires, it is certainly not the end all be all.
Platforms like a CRM tool can help you save time, manage relationships with clients, and ensure your business makes money. But you cannot fully achieve these goals without different software, platforms that reach areas that a CRM system does not. A CRM tool is limiting when you don't consider that other software can provide CRM features while also serving key areas. You could still hurt a relationship with a client or miss out on revenue if you don't consider the other tools your business needs.
Here are three areas where a CRM system can be supplemented with more support:
1. Inventory Management
Instead of having to manually count up every piece of inventory and log its characteristics and conditions, with inventory management software this happens all in one place and with the click of a button. You can track when an item arrives and departs or if there will be a scheduling conflict, which cuts down the amount of unnecessary reorders and overbooking. You can get immediate updates, saving you time and money.
Physically, it can be a pain to bundle and sort your items, but with software you can group, categorize, and track your products with no time wasted. You can create a quote and payment on the go, saving the time needed to draw up a contract.
Simplifying Your Processes
Streamline your inventory management with a platform that was designed specifically for event professionals. With software like Goodshuffle Pro, you can customize the way you organize your inventory. Items can be marked as damaged or in need of review, and you can add custom attributes that relate to the industry or event. Create personalized packages and recipes for specific clients while grouping or hiding items so your contracts are clean and customer-friendly. Customizing your inventory management creates a seamless connection between the digital and physical space in ways that function best for you.
Mobilizing
As an event professional, you are always on the go. Having inventory management software allows you to have access to everything you need at your warehouse without needing to be in that physical space. You can mark an item as broken or send messages to your team, all from different locations. Your clients will appreciate how you streamline the process and add flexibility by being able to pull up your inventory anywhere, whether at headquarters or the venue itself.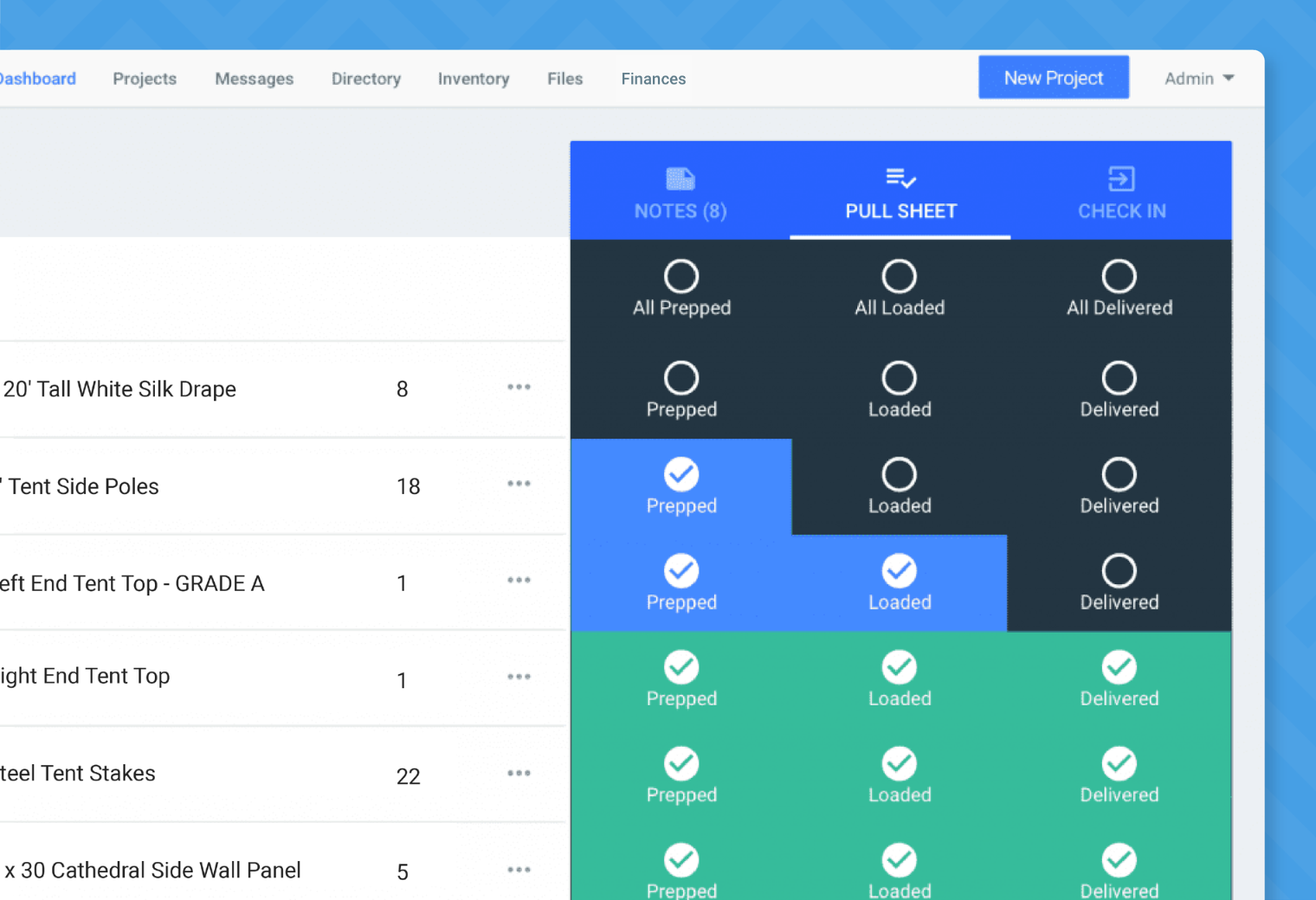 2. Accounting and Finances
Managing your clients is not the same thing as managing your finances. While a CRM software can help direct those contracts and connections between customers, managing your finances requires more tools. You need additional focus on sales and financial data such as tax reporting, budgeting, due balances, cash flow, and more. Luckily, there are platforms like Goodshuffle Pro that have your taxes and reporting all in one system. Here are three ways accounting software can support your CRM tool:
Centralizing Your Finances
Now you can manage all your finances in one place. With Goodshuffle Pro, all your financial information, including accounts receivables, is centralized in the same organized space. With your Financial Hub, you get a clear overview of your numbers. You can then choose to drill down into specifics with our flexible reports. Making the best decisions for your business has never been easier.
Integrating with QuickBooks Online
QuickBooks Online can integrate with Goodshuffle Pro to take your accounting to the next level. With the integration, all your data is seamlessly connected from Goodshuffle Pro to QuickBooks Online, with no need for manual reentry. This eliminates the need to have two sets of numbers, allowing for ease of access for your bookkeeper or accountant.
No more having to spend extra time delivering sensitive documents. With financials and reporting synced across all aspects, it is both easier and faster for your accountant to discover potential write-offs and deductions, saving you money in the long run.
Customizing Features
Software like Goodshuffle Pro and our QuickBooks Integration means that personalizing your finances can now be tailored to your needs. Now you can create custom reports and accounts, as well as even specify how you want your invoices to look. No more having to navigate through multiple pages or spreadsheets. Show clients the info they need in the ways they need it.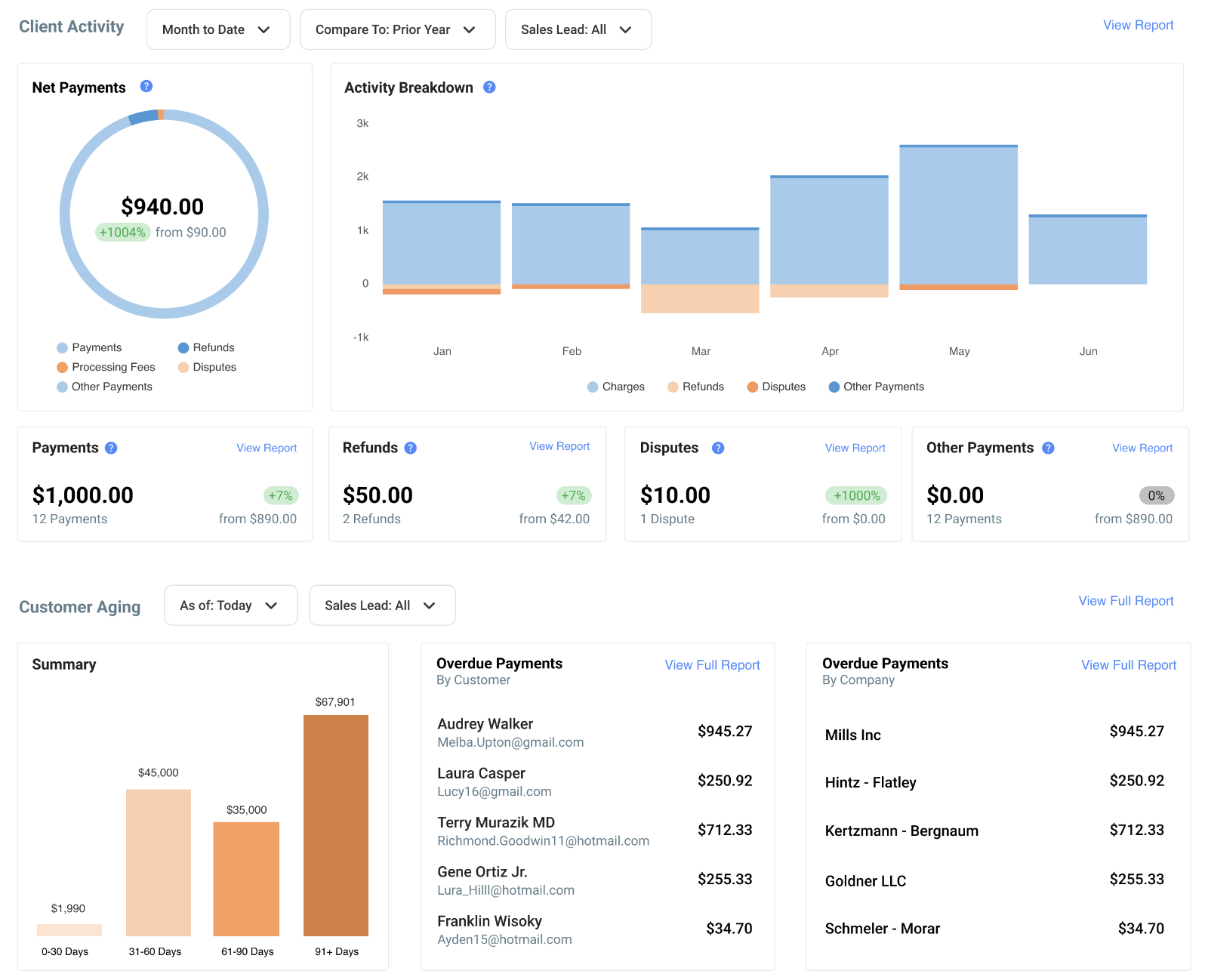 3. Industry-specific Tools
While a CRM software can help with the day-to-day of general company operations, each enterprise is unique and therefore requires tools specific to them. In the event rental business, industries are widely varied, from Tent and Party rentals to DJ & Entertainment businesses to Custom Design firms. A CRM tool will need additional support to adhere to various event-specific processes. Whether you need venue information saved or require tracked delivery and drop-off times, Goodshuffle Pro has all the features built-in to cater to your unique needs.
Improving Communication
Whether it's messaging team members or clients, communication is key to running a successful event business. Instead of having to jump through multiple tools like email, text message, Slack, and Dropbox, Goodshuffle Pro ensures team communication is all in one place. There is an internal messaging system where you can assign tasks to team members and leave them notes so their day-to-day runs more smoothly.
With customers, you can send quotes, contracts, and messages all from the same place. Customize the emails you send in just a few clicks. Choose to share the templates you save with your team — then use them to wow your clients.
Simplifying Logistics
Goodshuffle Pro's cloud-based software allows you to see real-time updates as changes are made to a quote. As a salesperson makes updates, the items and services on the quote will be automatically visible to your warehouse crew on the digital pull sheets, so they have exactly what they need to load the truck.
Once those items are delivered to the event, your crew can upload photos of specific items or setups at the venue for quality assurance directly to the project in Goodshuffle Pro. This way, you have proof of delivery and setup, which is crucial for protecting your business against complaints and legal issues.
Upgrading Your Website
Your company's website is one of the most important tools in getting your brand out there and securing new events. Our Website Integration connects Goodshuffle Pro to your website, so you can showcase your offerings on your website automatically, and win even more online business. Your clients feel like they are getting the online shopping experience without full checkout, while you get full control of the events you take on.
Goodshuffle Pro automatically accounts for overbooking conflicts and upselling opportunities, so you can make the best decisions for your business. The fully customizable look is hosted from your website and feeds directly from your inventory system, eliminating the need for tedious logging.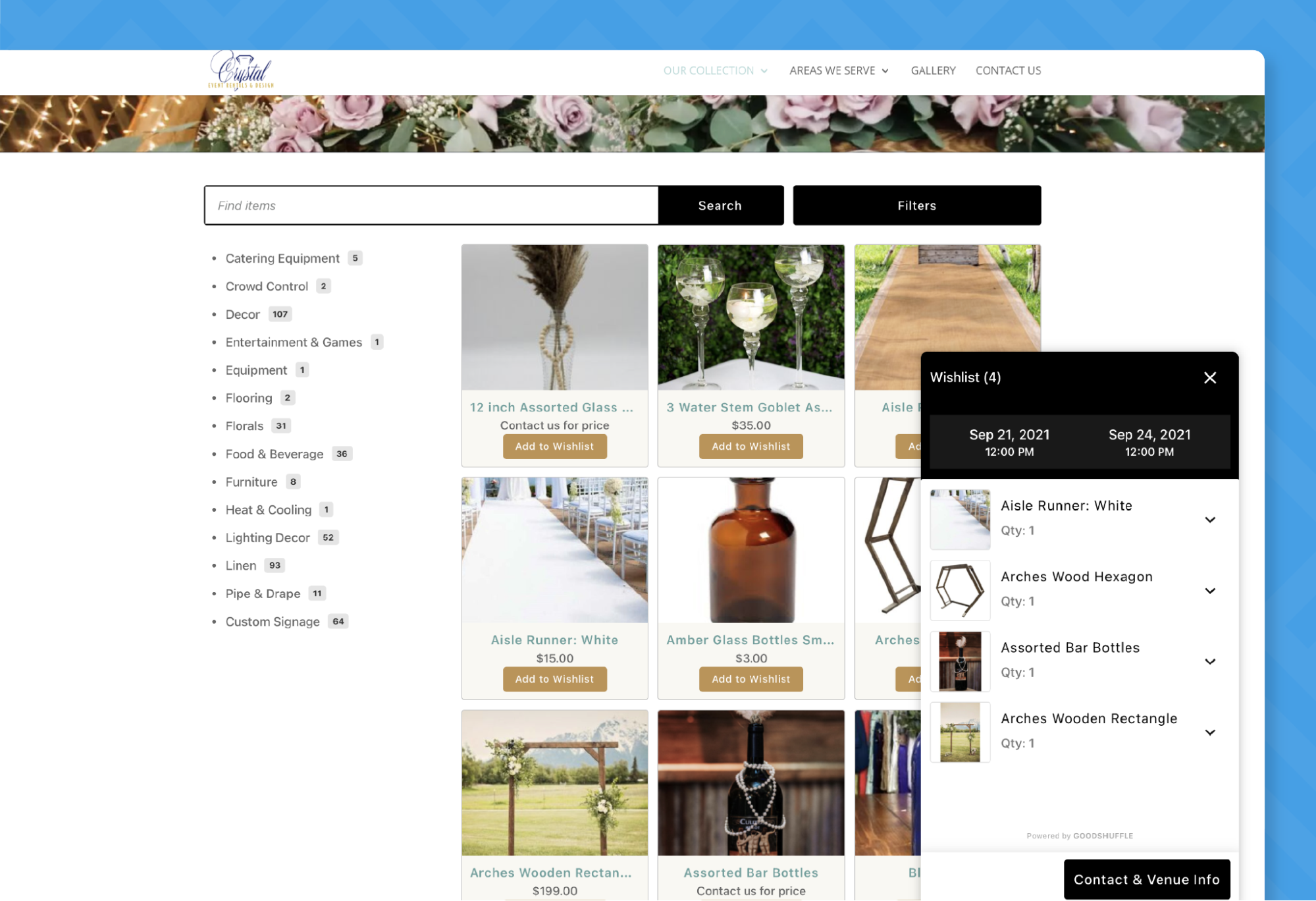 Key Takeaways
While a CRM tool undoubtedly plays a significant role in business management, it is not the solution. It is essential to recognize that software that has both CRM features and assists with the day-to-day of your event business is key to a higher return on investment. Embracing platforms like Goodshuffle Pro allows you to take full advantage of your company's potential and guarantee growth. Let's recap the three key areas where you can enhance your company's operations with more than just a CRM system:
Inventory management. You can remember to check in regularly with the client about their big wedding day, but if you forget an important piece for their centerpiece or double book their welcome sign, they don't care how often you kindly emailed them.
Accounting and finances. If you don't have an organized accounting and reporting system then it doesn't matter how many customers you have. Lots of valuable time which translates to valuable profit is lost in solely relying on company client relationships and relegating financial organization to the backburner.
Industry-specific tools. The events industry is widely varied, which goes hand in hand with the need for unique solutions. Finding ways to better communicate and cater to your clients while still maintaining the processes necessary behind the scenes is exactly what being an event pro is all about.
Now that you understand these key areas, the next step is finding the tools and methods that work for you. Luckily, with Goodshuffle Pro, all of this is in one place. Stop jumping between various software, accelerate and simplify your business processes with a platform that can do everything.
Want more tips on strategy, trends, and best practices delivered straight to your inbox?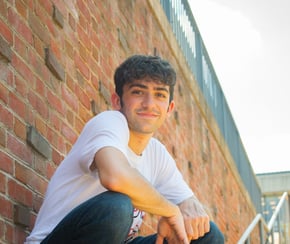 Emile Suárez
Emile Suárez is a senior at the University of Virginia and is a marketing intern at Goodshuffle Pro, a software company dedicated to empowering events industry professionals.