Goodshuffle Pro has always provided event pros with the data they need to make smart financial decisions. As we look to the future, we're constantly searching for ways to make things even easier and more powerful for our vendors — which is why we're so excited to announce our new Financial Hub.
We tested this new feature with a group of Goodshuffle Pro users, and they raved about the added transparency into their funds, along with the new reporting capabilities.
The best part? This update doesn't just add immediate value; it lays the groundwork for several exciting financial features that our team is currently building (stay tuned for more this Summer!).
Ready to dive in? Here's what you can look forward to in your new Financial Hub.
Clear Insight Into How And When You're Paid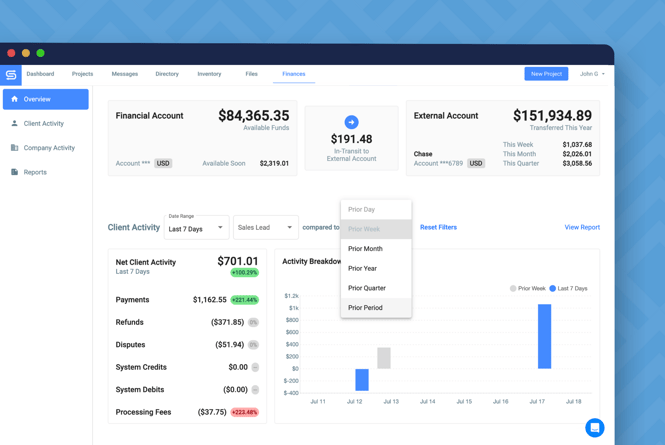 When you click on your Finances Tab, you'll immediately see the Overview. The top of this page is split into two clear sections: Financial Account and External Account.
Financial Account, located on the left, provides a bird's eye view into the status of your payments. Say your business had multiple clients sign contracts and pay deposits early in the week. As the week goes on, you can easily check the payment status to see when the money is on its way to your External Account.
External Account, located on the right, shows an overview of funds as they hit your external bank account. This includes the amount of funds in your most recent transfer, along with a running total for the current week, month, quarter, and year.
This transparency into your flow of funds enables you to see exactly what's happening with your money from the time a client pays you to the time it lands in your External Account.
Financial Insights at Your Fingertips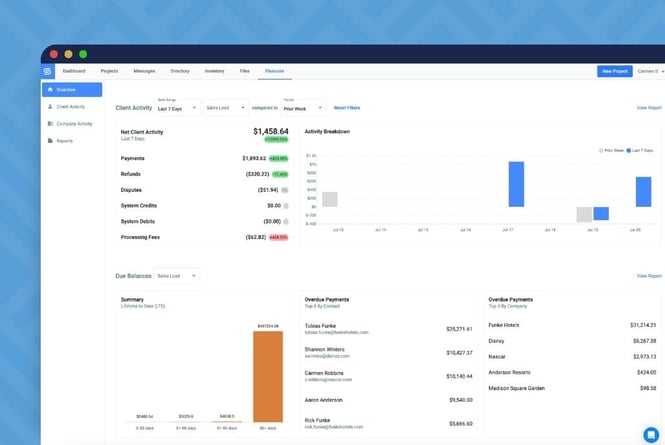 Further down the Overview page, we've added some helpful visuals to give you quick, digestible answers to common questions. The easy-to-filter charts make it easy to see who owes you money, how long they've owed you for, and how much your payments have grown over time.
We've also broken out your Payments, Refunds, Disputes, System Credits and Debits, and Processing Fees so you can easily see the frequency and dollar value of each transaction type.
The page is also filled with custom filters, which allow you to change the time frame, compare one time frame to another, and even break out data by sales lead. Between the simplicity of the charts and the flexibility of the filters, it's never been easier to find key business insights.
New Flexibility With Reports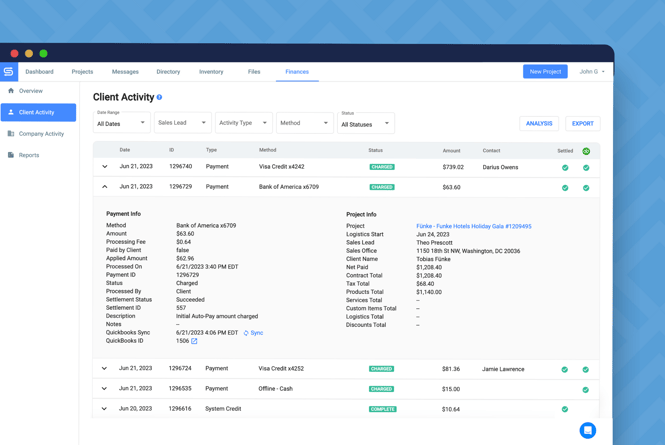 The Overview page provides some new charts and visuals, but you'll still have access to all of your current reports in Goodshuffle Pro. They've just moved to a new location: the Reports page of the Financial Hub.
You can access Reports from the left-hand bar of the Financial Hub, at which point you can choose between Client Activity, Company Activity, Due Balances (formerly known as Customer Aging), and Tax.
These reports contain all of the same information you're used to — but we've also added some new flexibility to make them even more valuable. You can filter, sort, and drill into the data to find precise details on every charge, refund, and dispute associated with your account.
Reminder: The permissions in Goodshuffle Pro allow you to control who sees what in your account. Goodshuffle Pro is known for our top-rated levels of security — by using secure event rental software that prioritizes information security, and following best practices like never sharing a login or passwords, you can keep your information safe.
Take Your Business to the Next Level
Vendors in the event industry have always catered to clients with heavy demands, and it seems that those requests get grander each year. To excel in 2023 and beyond, vendors need to use every tool at their disposal to find their edge, dazzle their clients, and beat the competition.
With our new Financial Hub, vendors can clearly see the status of their money, drill into the details of client activity, and keep all information updated and organized. As you continue making your clients' dreams a reality, it'll be even easier for you to make smart decisions with this important information at your fingertips.
Ready to learn more about financial management for event pros, and level up with Goodshuffle Pro's Financial Hub?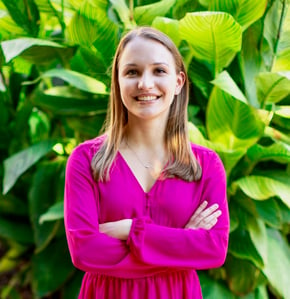 Carmen Bodziak
Carmen Bodziak is a Marketing Manager at Goodshuffle Pro, a party and event rental software company dedicated to empowering those in the events and decor industry. She also currently oversees the Goodshuffle Blog.