Many event pros use QuickBooks for accounting, but you may not realize it's two different products: QuickBooks Online and QuickBooks Desktop. QuickBooks Online is a cloud-based software that anyone can use from anywhere, while QuickBooks Desktop is a server-based software that can only be used on the device on which it was downloaded.
Many event professionals rely on QuickBooks for fast and accurate accounting, but on May 31, 2023, QuickBooks discontinued the 2020 version of its Desktop program, putting some of those business owners in jeopardy. Here's what you need to know, and how to move forward.
What Does This Mean For QuickBooks Desktop 2020 Users?
With the discontinuation, users of the QuickBooks Desktop 2020 software still have access to the core program, meaning they can still access it from the device they originally downloaded it on.
However, users don't have access to crucial add-on services within QuickBooks such as Payroll, Online Banking, Merchant Services, and more. Online backups and security updates have also been discontinued indefinitely. Click here for a full list of the affected services.
Even if the core version meets your day-to-day needs, it will no longer receive security patches, which are critical updates that fortify the software and protect users. Think about when you get a Software Update alert on your iPhone, and you update to the most recent version of iOS — this is QuickBooks' version of that. The lack of security patches leaves you more vulnerable to cyber attacks, which are sadly becoming more common.
If you haven't started the process of switching from QuickBooks Desktop 2020, you should start as soon as possible to avoid these risks.
How Do I Know If I'm Using QuickBooks Desktop 2020?
At the present moment, this change only affects users of any QuickBooks Desktop 2020 products. It does not affect users of QuickBooks Online or later versions of QuickBooks Desktop. You can read the full list of affected products here.
If you don't know whether you're using QuickBooks Desktop 2020, you can find out by checking your license information within your QuickBooks Desktop account. You can do this by following these steps:
Open QuickBooks Desktop.
Press the F2 key.
Look for your product name, product number, and license number in the Product Information window.
Look for your release at the end of the product name. Your Product Number corresponds to the year, and will be something like R1_20. Anything with a "20" at the end of the Product Number is part of the QuickBooks Desktop 2020 product.
The instructions above were last updated July 26th, 2023. Check here for up-to-date guidance.
If you're using a later version of QuickBooks Desktop, you don't need to take immediate action — though if you read on, you'll see why we recommend you still change to QuickBooks Online.
Why Did QuickBooks Discontinue Its Desktop 2020 Product?
Over the last few years, nearly every industry has shifted from server-based software to cloud-based software. This is for speed, memory, security, and storage, which all rolls up into the experience people have when they use the software. Whether it's placing an order on Amazon or signing up for a Netflix account, today's consumers want things done fast.
In order to meet those consumer demands, more and more companies are managing their business on cloud-based software. Given that, it makes sense that QuickBooks would prioritize its own cloud-based software over its Desktop software. Its wants to meet its own consumers — business owners — where they already are, especially if it can integrate its software with other business tools.
The event rental industry is part of this shift. Signing contracts and paying invoices, for example, are things that used to be clunky and difficult — but cloud-based technology makes them effortless. Because of this, more and more event companies are managing their business on cloud-based software like Goodshuffle Pro that allow them to provide better experiences.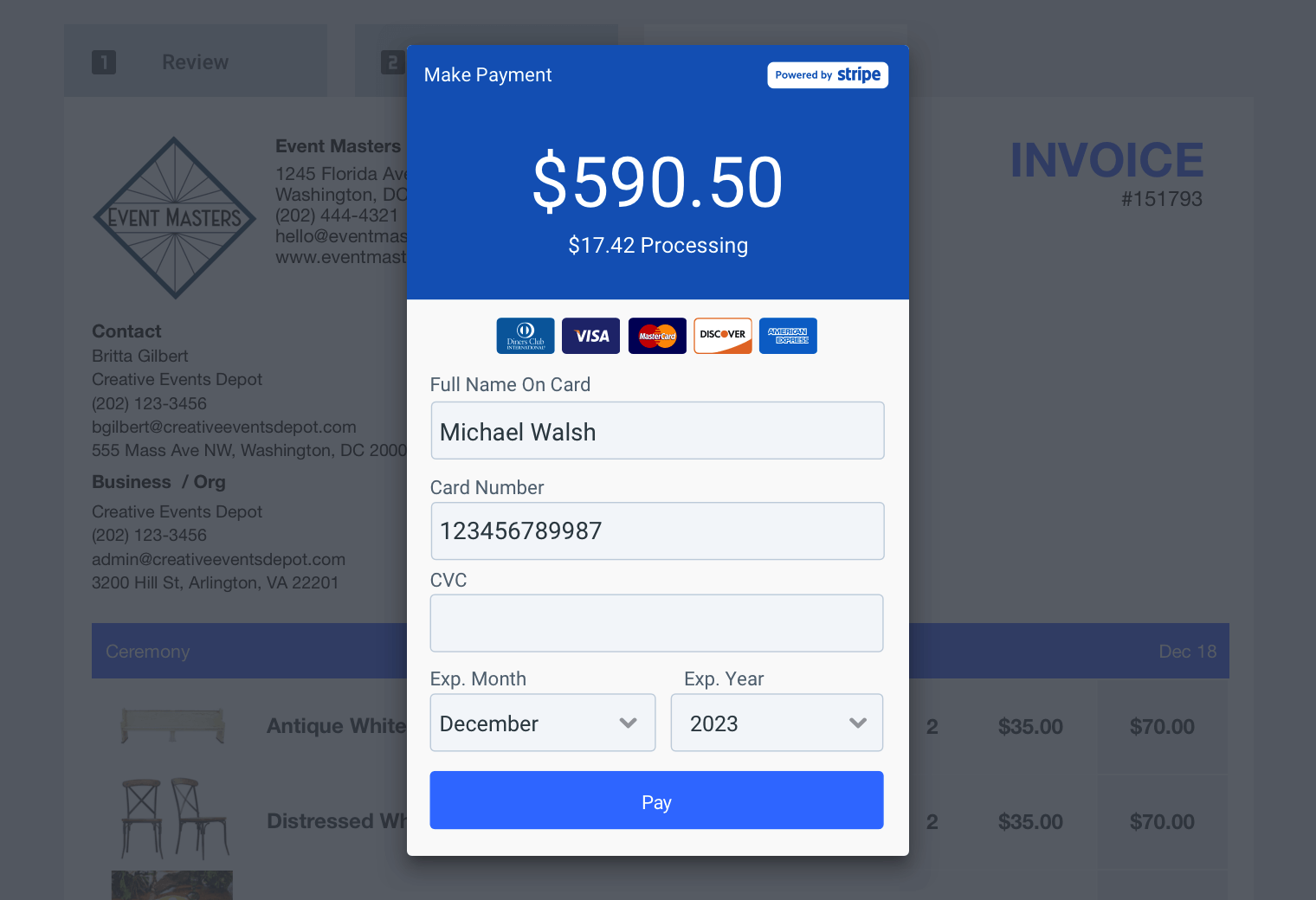 QuickBooks Online integrates with cloud-based tools like Goodshuffle Pro, allowing event business owners to automatically sync invoices from their rental software, track taxes per event, catalog payments, refunds, disputes — and more. QuickBooks.
Supporting both old and new software is unsustainable for a company like QuickBooks, and Desktop software can't provide the benefits listed above. Since that's where technology is trending, it makes sense that the company periodically discontinues Desktop software in favor of Online alternatives.
What Should Event Pros Do Next?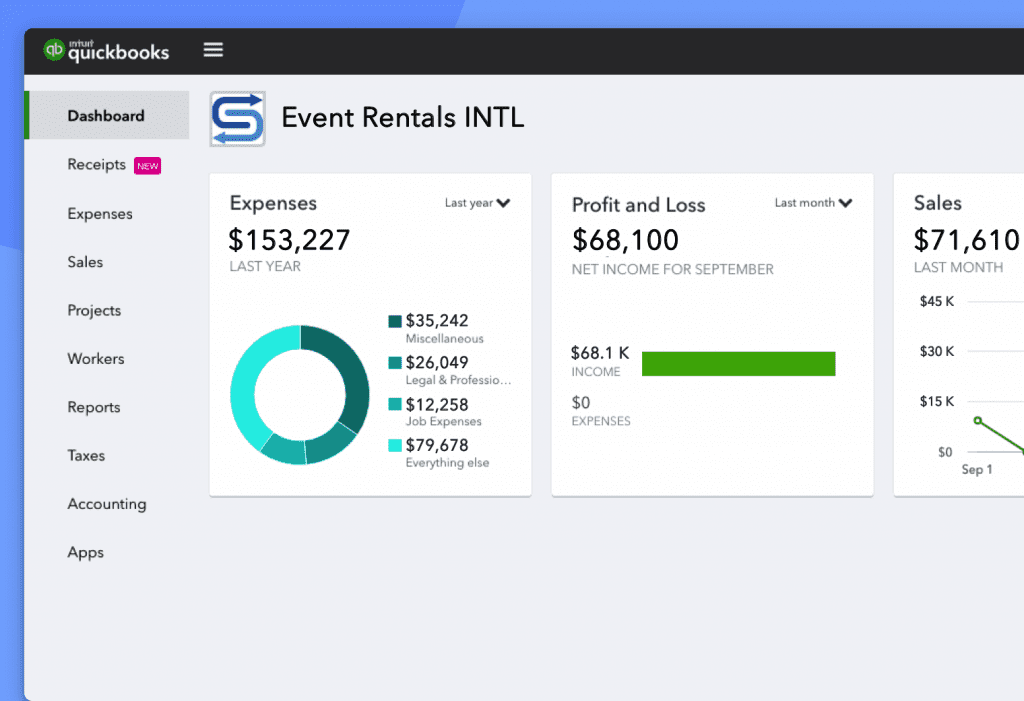 If you had a QuickBooks Desktop 2020 account, you can either:
Although both options will grant you immediate access to QuickBooks, we recommend switching to QuickBooks Online for several reasons — beyond what we just covered in the section above.
First, QuickBooks Desktop versions will continue to be phased out the same way the 2020 product was. If you switch to one of the other Desktop programs, you'll continue to have to make changes like this, which isn't the case with QuickBooks Online.
Second, as a reminder: Cloud-based software doesn't just provide the benefits discussed above. It also provides the benefit of integrating with other cloud-based software, saving you time and money.
With Goodshuffle Pro's QuickBooks Online integration, event pros can use one number to track event invoices across both systems, easily import documents like signed contracts to QuickBooks Online, create customizable reports, and more. With QuickBooks Desktop, it's hard and tedious to sync information between systems, which takes up more of your time and your accountant's time.
Don't believe us? Check out this story from Gary Bordman of AE&ES, a Goodshuffle Pro user who says he's cut accounting time in half thanks to QuickBooks Online. Efficiencies like this aren't possible with server-based software, which is why so many companies (such as QuickBooks) prioritize their cloud-based solutions.
The Future of Event Professionals' Accounting
Server-based software used to be the norm, but cloud-based software represents both the Present and the Future of business technology. QuickBooks discontinuing QuickBooks Desktop 2020 is another important step in this direction. It's essential for all QuickBooks Desktop 2020 users to make an update, but all other QuickBooks Desktop users would be wise to make the shift to QuickBooks Online.
Ready to save time and headaches when it comes to accounting? Get a demo of how QuickBooks Online works with Goodshuffle Pro to see for yourself.
Want more tips on strategy, trends, and best practices delivered straight to your inbox?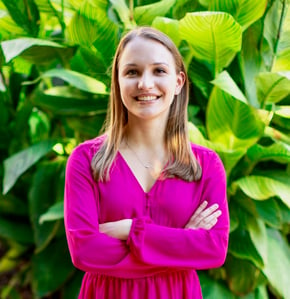 Carmen Bodziak
Carmen Bodziak is a Marketing Manager at Goodshuffle Pro, a party and event rental software company dedicated to empowering those in the events and decor industry. She also currently oversees the Goodshuffle Blog.