COVID-19 has forced event professionals to find new streams of revenue. While some event businesses are pivoting to totally new ventures, others are doubling down on their moneymakers. These tough transitions are made much smoother with powerful event technology that gives you all the data you need to make strategic decisions for your event business. If you're asking, "How do I generate more revenue for my event business during COVID-19?", we've got you covered. Below, we've listed the top 4 ways you can do this right now.
Build Venue-Rental Partnerships
Use the leaderboard on your dashboard to view the venues you've worked with in a certain time frame. Take note of which venue has brought in the most business for you, and reach out to set up an agreement. The beauty of partnerships is that they benefit both parties, so don't be afraid to make this connection. Use and leverage the relationships that are so central to the events industry. With the data that Goodshuffle Pro provides, you're set up to present clear facts about how much business you've done together and why they should partner with you.
How to Build a Solid Venue-Rental Partnership
Capitalize on Annual Events
Utilize the information provided on each client to determine if there are any annual events you can capitalize on. Sort projects done around the holidays or another popular time of business, export the clients' emails, and send a cheery reminder message via your email marketing platform to encourage them to celebrate with you again. Be proactive! Not all of your clients will be willing to jump in, but many will be.
Take Public Events Private
For instance, if in-person graduations still aren't on the horizon, you can work with a school to set up small backyard gatherings with decor, tents, or other inventory pieces. Scaling back these larger events to fit them within safety regulations calls for creativity and ingenuity. Clients will love the ideas you come up with, as we are all craving celebrations right now.
Something that's been rising in popularity is the purchase of custom packages for these smaller events. Using Goodshuffle Pro, you can create a minimony or a distance drive-away affair package to stay on top of this trend. When featured on your Website Wishlist, these types of packages are sure to attract clients who want to safely celebrate their special occasion.
Utilize the Website Wishlist Integration
Use this customizable integration to create a digital showroom for your event company! Clients love being able to plan their event. Plus, you get to keep full control of available inventory as well as when a quote is sent out. Since clients are shopping from home now more than ever, this is a great opportunity for you to quickly and easily capture leads. Goodshuffle Pro users typically see a conversion rate of over 60% when it comes to the Wishlist, making it a great moneymaker for any event business.
On top of this, it makes it easier to pivot. For example, the team at Total Events in New York has pivoted to smaller events and at-home tabletop pieces during COVID-19. With Goodshuffle Pro's flexibility and the Website Wishlist Integration, they've continued to bring in new business for their company.
Bring in More Revenue Today
The events industry is putting up a fight to survive COVID-19. Smart event technology can give you the tools to steer your business through this time of uncertainty. With partnerships between vendors, the promise of annual events, creative private celebrations, and flexible wishlist capabilities, your event business will be prepared to tackle this challenge with everything you've got.
Ready to regain control of your event business with all-in-one software?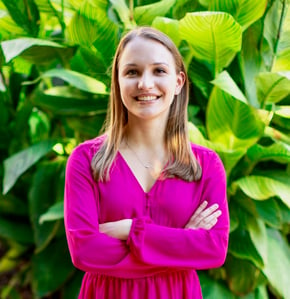 Carmen Bodziak
Carmen Bodziak is a Marketing Manager at Goodshuffle Pro, a party and event rental software company dedicated to empowering those in the events and decor industry. She also currently oversees the Goodshuffle Blog.