Tremont Rentals is no ordinary event rental business. With their beautiful website, rave reviews, and vast inventory collection, they already stand apart from the rest. But what makes them truly unique is the average age at their company: 20 years old. This young group of professionals is challenging the traditional characteristics of the events industry— and it's paying off.
Who is Tremont Rentals?
Tremont Rentals was founded in 2008 in Albany, New York under Dennis Tremont. Since its founding only twelve years ago, the company has grown into a full service rental company that helps make clients' dreams a reality. In December of 2017, Derek Bornt and Chris Hughs, longtime employees of Mr. Tremont, purchased the company. In the last two years, the company has grown in scale, with Derek and Chris bringing their own personalities into the culture at Tremont. Shelby Glasser is an integral part of the team as the Customer Success Lead, speaking with excited clients and taking inventory orders. With a mixture of full-time and part-time employees, Tremont Rentals prides themselves on bringing visions to life– as Derek put it, "If you want it, we'll make it happen." That's all any client can ask.
An Evolution of the Event Business
Along with new ownership came a shift in culture. Checks and balances are incredibly important to Derek and Chris, so they've put an emphasis on accountability, ensuring only top-notch customer service and client experience. While they take their work seriously, the team is also fun and upbeat. The energy and work ethic from a group of ambitious young people is like no other. While some clients aren't as trusting because of the team's youth, Tremont Rentals has proven time and time again that they deliver on their promises. What's more, because of their age and their forward-thinking nature, they are more willing to try new and different things, something that pleases lots of customers.
Following the purchase of the event business in late 2017, the biggest challenge to tackle was getting the company to be profitable again. This meant reinvesting in updates of everything including technology, staff, and pricing. Derek and Chris invested in software, brought in new employees, and made changes to both inventory and delivery prices. This is where Goodshuffle Pro came in.
The team at Tremont Rentals first heard about Goodshuffle Pro from Total Events. After a demo at MATRA, they were sold. With the Google Calendar integration, easy mobile use, modern interface, and constant updates and improvements, the Tremont Rentals team is able to promote accountability, work anywhere at any time, and save time and money.
Go Big or Go Home
The rental industry is always changing, so knowing exactly where Tremont Rentals is headed is impossible. However, growth is in the future of this young business as they go the extra mile to stay on top of trends and what customers want. For instance, as the rustic and boho themes increased in popularity, Tremont Rentals got a request for a clear top tent and farm tables. While they didn't have the inventory on hand, the team rolled up their sleeves, built their own tables, and purchased a clear top as well.
For anyone else starting out in the events business, the team offers these bits of advice:
Take it one day at a time. You don't need to be the biggest company right away. Invest in your team and your clients and the rest will follow.
Good people are key. It can be hard to find qualified candidates, but it makes all the difference.
Find your strengths. Tremont Rentals currently focuses on exterior and outdoor rentals. They don't specialize in interior rentals (yet), but that's okay– not everything has to be done at once.
We at Team Goodshuffle are so grateful for the opportunity to work with such amazing clients. Thank you, Tremont Rentals, for your business– we wish you nothing but success in the future!
Want more tips on strategy, trends, and best practices delivered straight to your inbox?
Tremont Rentals is passionate about providing their customers with the highest quality event rentals and helping bring their event vision to life. Under new ownership since 2017, their goal is simple: listen to their clients and deliver the best possible service. Their team is young and committed to providing their customers with the best experience possible, and they are always looking to adapt our inventory to the needs of the client.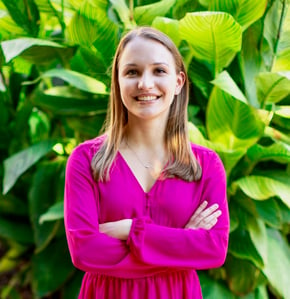 Carmen Bodziak
Carmen Bodziak is a Marketing Manager at Goodshuffle Pro, a party and event rental software company dedicated to empowering those in the events and decor industry. She also currently oversees the Goodshuffle Blog.