Starting a vintage decor rental business is an exciting time. You make the decision to begin, choose a name, design a logo, and begin gathering inventory. There are so many beautiful designs on social media, and can't wait to get to that point! You start to build a collection and soon notice a problem: you're running out of space, and nothing is organized. This is a problem that every vintage rental business, or really any rental business, encounters at some point! Follow these tips for storing and cleaning vintage rentals right from the beginning.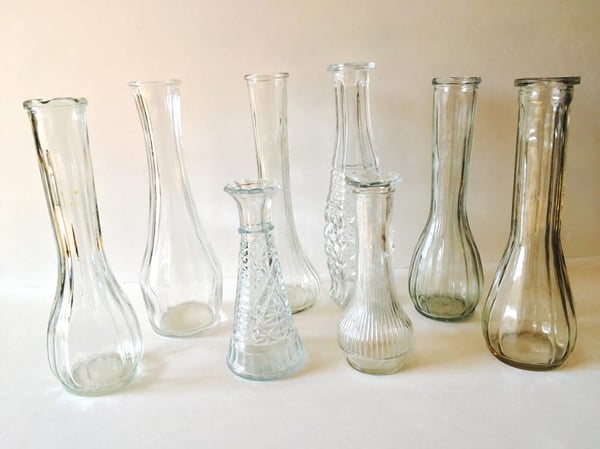 Packing & Storing
When you first start your business, you will most likely be operating out of a small storage unit, a small office, or possibly even your house. That is totally okay! It's a great idea to begin small. You can build up to a larger space once the demand for your products/services increases. No matter where you decide to store your inventory, it is essential to keep track of your items from the beginning.
Start by creating a master list of all of your inventory categories and all of the items in that category. Also include the quantities of each. Using an event rental software like Goodshuffle Pro is a great way to manage inventory. You can use it to create categories of inventory that you can update as you grow. You can even denote attributes such as the shelf or warehouse location of an item!
When it comes to storing your unique vintage inventory, you'll find that it can be a challenge to find a solution for such an eclectic mix of items. Here are some storage essentials:
Clear Plastic Bins
These can be used to store and transport items safely. Purchasing the clear bins is great because you can easily see what's inside of them without having to take them off the shelf, or take everything out of the bin each time.
Wrapping Material
Bubble wrap, plastic wrap, and packing paper - oh my! These are all necessities for your vintage business.
Bubble wrap is great for lining bins/crates, and large items (such as vases & cakes stands) to make sure your delicate items get transported safely from one location to the next.
Plastic wrap is great for wrapping signs and mirrors, to keep any custom designs or lettering from smudging. If you decide to rent vintage china, plastic wrap is also important to have to wrap your plates in once they're cleaned, sanitized, and dried.
Packing paper can be used to wrap items such as glass and ceramic, and keep them from chipping or breaking during transport, without all of the bulk of bubble wrap.
Divided Crates
Divided crates are a lifesaver for your business. They can be used to store glassware such as goblets, and containers such as jars & bud vases. They can be a bit pricey, but if you buy a couple at a time it makes the cost much more manageable. Don't forget to check for used ones from restaurants or caterers that might be closing their doors.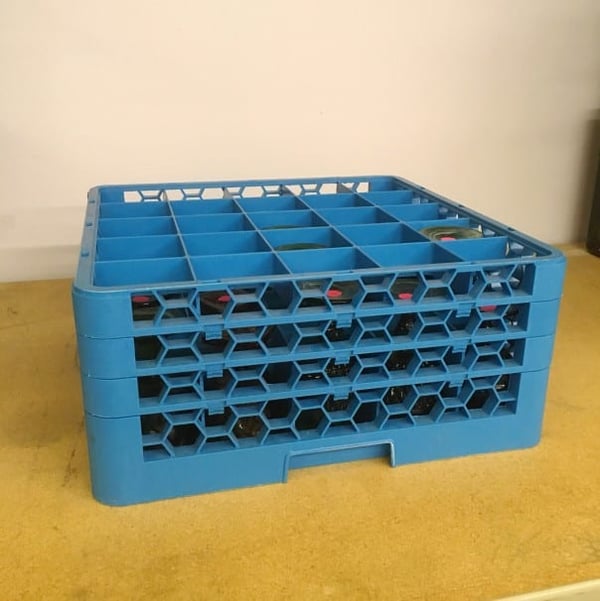 Shelving
Shelving is another storage essential for your vintage items. You can start out with simple metal shelving from the store, but it is a good idea to get the sturdier metal shelving to hold your inventory, since sometimes vintage items can be a bit heavy. As you grow and expand, you can look into industrial-sized shelving units that can be used to store all of your crates, bins, and even heavier items such as furniture. You can search for this type of shelving online, and keep an eye out for options to buy these shelves used to save a bit of money.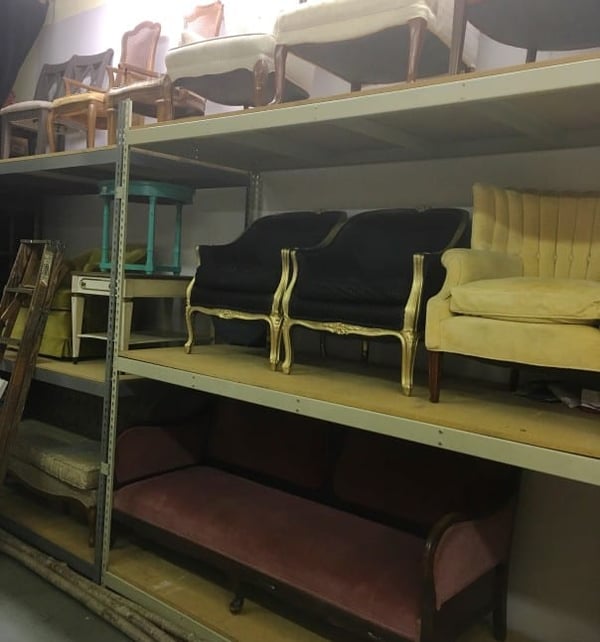 Cleaning
After your first few orders come back in after being rented, you'll find that certain vintage items can be challenging to clean. A great example of this is candle holders; once wax drips down them and dries, it can be a nightmare to try to remove. If this happens, you can try soaking the holders in warm water to loosen the wax. Or you can put them in the freezer. No matter what method you choose, it can take a lot of time to clean these items. A great alternative to this is to require that renters use dripless candles, or LED candles. They can also use candles in plastic or glass containers so that no wax gets on your holders.
You can use your Goodshuffle Pro account to update this policy on your contract so that each client is notified of this when they sign their contract. You can also note in your account when something needs to be "Set Aside" for cleaning, so you don't book something that isn't yet ready to be rented again.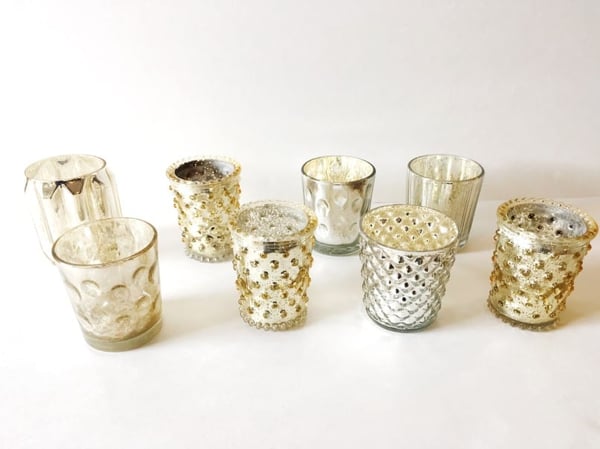 Another item that can be challenging to clean is upholstery. Many vintage fabrics, especially those that are light colored, can be almost impossible to remove dark stains from. You can use a stain blocking treatment spray before you send the items out. However, you'll want to first make sure that the treatment itself won't damage the fabric. Just like with candle holders, it's a great idea to educate your clients. You should always let them know what types of things could damage their rentals. In the contract, event pros should include what fee will be charged in case an item is returned damaged or stained.
Get Started with Your Event Rental Business
Once you get started with your vintage rental business, you'll find that caring for your inventory can be one of the most challenging parts of this business. Use these tips for storing and cleaning vintage rentals for your unique collection of inventory. Leave any other solutions you've found in the comments section!
Want more tips on strategy, trends, and best practices delivered straight to your inbox?
Lauren Mestas
Lauren Mestas is a Wedding & Event Planner based in Albuquerque/Santa Fe, New Mexico. She took over ownership of Darling Details Vintage Decor Rental Co. in the Fall of 2016, and has loved building a collection of unique and vintage items for rent. In her spare time, you'll find her practicing hand lettering, painting & renovating furniture, and writing about weddings.