Your event rental brand is your baby, and you need to always be a marketer when it comes to promoting it. Don't be afraid to sell yourself and your products and services in order to attract your clients. However, do so in a tasteful, innovative, and unique way— set yourself apart from the herd.
Here are some key steps for marketing and promoting your event rental brand:
Develop an effective marketing plan for your event rental brand.
Modernize your approach to digital marketing.
Promote brand through relationship-building and networking.
Include consistent branding across your event rental brand's marketing.
Let's dive in:
Have A Marketing Plan in Place
Have you thought about ways in which you want to promote your event rental brand? Do you know how rapidly the landscape is changing? Funny story, I actually received a mailer from a realtor promoting their company this weekend. Direct mail is a dying, if not dead, medium. You need to be innovative, flexible, and light on your feet. You also will need to test different techniques and see what works for your brand. Start brainstorming with your staff, and if you have a marketing department even better, on how you want to create campaigns and send a consistent message.
Modern Marketing in the Digital Landscape
There are several options you should be using for marketing your event rental brand. Your approach should be holistic and consistent. We are in the digital age and if your company isn't keeping abreast with the changing landscape your monolithic party rental company is doomed to be a dinosaur. Here are a few ways in which you can start working your digital marketing plan.
Your Website
Your website is your single most important piece of advertising. It is owned space; you can control and shape it; you can customize and build it. Even if you cannot afford to hire a web designer, you can invest in great platforms like Squarespace or WordPress, to name a few. Personally, I love SquareSpace because it is:
Equipped with professional templates;
User-friendly;
Customizable;
Equipped with built-in SEO; and,
Easy to change something if you don't like it.
Google Business Listing and Google Ads
Once you have your website, register with Google Business Listings (free!) and index your site. You will want to include professional images, your store information (address, phone), web address, and you can define your service areas. You may also want to look into investing in Google Ads to help put you on page one if you can't be there organically. Talk to an account rep at Google to figure out how to create a campaign within your budget.
Social Media and your Event Rental Brand
Social Media is all the rage with millennials and post-millennials. This will not be changing, or going backwards. There are listings on:
All of these are free. It is a good idea to be on several, or as many as you can manage, or pay someone to oversee, to expand your marketing reach. Learn important key words for things like Pinterest, hashtags for Instagram and Twitter, and things like when to post and what resonates with your audience on things like your Facebook business page. Engage with your audience and start finding ways to appeal to your target market. There are also exciting new things happening with Instagram as you can now use "alt text" to help more people find you. For more tips on your company's social media strategy, check out this post.
Relationship Building and Networking
Things like word-of-mouth, in-person meetings, and investing in and building relationships with other event pros is another way to also promote your brand. People usually believe recommendations from trusted third-party sources over your event rental company's self-promoting direct marketing efforts. You will also likely get more repeat business this way.
Consistent Branding Across Your Marketing Materials
Even in the digital age, it is a wise idea to have at least professional business cards. No matter what marketing material you use whether it be business cards, emails and email campaigns, brochures, or your quotes and invoicing, keep the message and branding consistent–these are all part of your marketing. With Goodshuffle Pro you can easily weave your branding message in your quotes whether it is through the professional presentation and ease of booking, or the ability to use keywords and copy in each product the client sees. Be sure to whittle down a few branding words and place in the description of each line item, even services if you can.
Want more tips on strategy, trends, and best practices delivered straight to your inbox?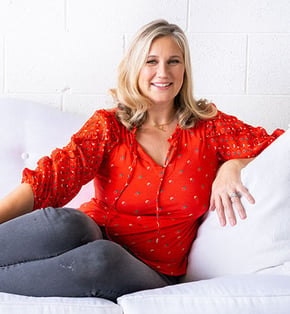 Anna Braff
Anna Braff is a wife, mother of two sweet and precocious boys, and the lead designer and creator of Provenance Rentals, a boutique specialty & vintage rentals & prop house in Inglewood in Los Angeles decorating for the romantic, unique, and chic client whether the event is corporate, or personal, all over California and beyond.