A little over a year ago, the events industry came to a grinding halt. This was a scary time for the events industry, especially for event business owners, like you, who depend on large events for their income. Now that the vaccine roll out is underway and restrictions are being lifted, in-person events are making a comeback! Let's look at some promising signs that point to the revitalization of the event industry and as KC Campbell, Owner of VOX DJs puts, it's "an events revolution!".
LiveNation, the parent company of TicketMaster, is now trading at a record high on the stock market as of late February, 2021. Unsurprisingly, LiveNation's 2020 revenues plunged 94% compared to the year before. The increase in stock price is a great sign for the events industry as investors can see the return of live events on the horizon. A huge factor in the stock price increase is that 83% of fans have held onto tickets for postponed events. This points to the expectations of the general public that live events are returning in the near future.
Surveying the industry
Another promising sign for the return of live events is the general consensus of Global Business Travel Association (GBTA). 45% of GBTA companies expect to resume in-person events by July 2021, and another 25% expect this by the end of 2021. The companies completing this survey represent a huge stake of the travel industry. This optimistic outlook is an encouraging sign for the return of live events.
Another recent survey conducted by Northstar Meetings Group found an uptick in confidence around the events industry. They found that 81% of meeting planners expect to have in-person events this year. A substantial number of planners have already begun planning upcoming live events. Maritz Global Events spoke to their expectations for the rest of 2021, saying, "We recently delivered registration and on-site solutions for two in-person trade shows [...] Our data shows that we will begin seeing an uptick in late summer and early fall, with a more robust recovery happening in 2022." With so much data supporting the return of live events, 2021 and onward looks bright for event professionals.
At Goodshuffle Pro, we provide an all-in-one software solution for event companies like you across North America. Goodshuffle Pro's customers have seen a massive increase in credit card processing and website inquiries since March 2021, with many doubling by April. It's clear the events industry is already making its long anticipated comeback.
We know the past year has been tough for event professionals, but as in-person events slowly make a comeback into our daily lives, we can begin to breathe a sigh of relief. Both the general public and event industry professionals are feeling optimistic as 2021 continues on. As events start to ramp up, make sure you enter this busy season strong. The onslaught of events is on the way! Read more about how to prepare for your busy season ahead here.
Want more tips on strategy, trends, and best practices delivered straight to your inbox?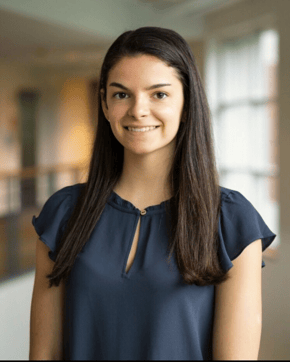 Emily Noel
Emily Noel is a Marketing Intern for Goodshuffle Pro, powerful event software for event companies.