Training is arguably one of the most difficult aspects of hiring new employees— especially if you're a small business owner with little to no experience training others. Many of your daily activities are second nature, and it may be difficult to determine what needs to be explained versus what is common sense. These determinations can be even more challenging when you're creating an entirely new role within your company. The good news is that you can enlist the help of your inventory management software to help keep your new (and even long-time) employees on track. Goodshuffle Pro has a number of features that are key to guiding and supporting your new employees so they have a solid start within your company.
SOPs and the Files Tab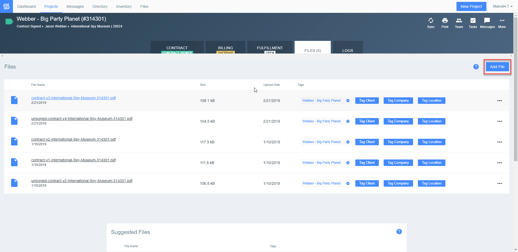 The Files tab isn't just for storing disclaimers, agreements, and event policies; it can also be used to store your SOPs, or Standard Operating Procedures, in an easily accessible location. Having a centralized location for all of your guides and procedures is essential for allowing your employees to learn and troubleshoot on their own.
Here are a few ideas for different types of files you can include in your Files tab:
Tent set-up instructions for each tent type
Guides for how to work with specific client types (e.g. you may send brides a certain type of quote and the wedding planner a different type of quote)
Venue diagrams for your set-up crews so they know where to park, unload, etc.
Photo examples of how to set up and decorate an event space
Safety documents that remind your team how to handle things like cords, lighting, drapes, etc. so that they do not become hazards for guests
The Files tab is a great place to provide supporting documents for your team, so don't overlook it!
Use Internal Notes
Using Internal Notes is a great way to keep everyone on the same page— without having to stop working to have a meeting. When used correctly, Internal Notes can significantly reduce or even eliminate the need to ask other team members about statuses and special details because all of the information is right there. There are a number of places and ways to use Internal Notes:
Projects - this is a great place to leave special requests, set-up notes, client preferences, and any other event-specific information your team needs to create an amazing event.
Clients - Need to add preference reminders or other pertinent information about a specific client? Maybe they prefer text messages over phone calls. Maybe they aren't available between certain hours. Add it to your Internal Notes under your client's information.
Venues - Like clients, venues also have an Internal Notes section. If your trucks always need to deliver to a specific dock at the location, note it here. If the venue has a cap for people allowed at an event on premises, add that to the Internal Notes too.
Specific inventory items - Even your items have an Internal Notes section, which is great for noting cleaning/care instructions, assembly instructions, and any other notes for your load/unload/strike teams. This ensures that everything runs as smoothly as possible, with fewer interruptions.
Team Messaging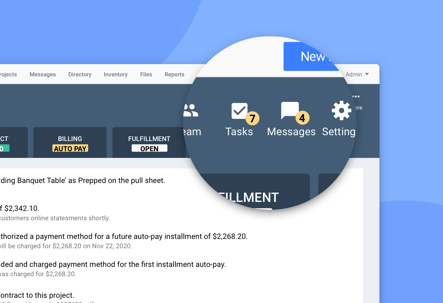 Did you know that you can message your team members within Goodshuffle Pro? This is great for managing tasks, syncing up employee responsibilities, and checking on status updates— all without a meeting or having to use a different program. Plus, with all this communication living in Goodshuffle Pro, he-said she-said back and forth is eliminated!
Automated Pull Sheets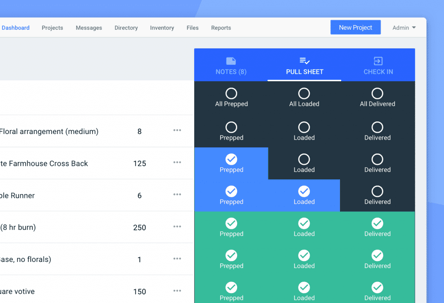 Goodshuffle Pro's automated pull sheets are a fantastic tool to keep your warehouse team in sync with your sales and planning teams. Pull sheets show exact counts needed for each item, plus other details (which are chosen by you), such as color, dimensions, and even serial numbers. These are game-changers for our users. Imagine you're a tent pro— the pull sheets show the exact counts for required parts like stakes, weights, ratchet straps, side walls, and more— which means no more forgotten pieces!
With all of these features, your new employees will get the hang of their new position, fast. They will also help your existing employees stay on track during hectic times by reminding them of important notes and details that may otherwise get lost in the shuffle. Save time, reduce interruptions, and keep your different teams in sync throughout the event process. Let Goodshuffle Pro help keep your staff in the loop, at all stages!
Ready to regain control of your event business with all-in-one software?
Jessica Powers
Jessica Powers is a Data Analyst for Goodshuffle Pro, powerful business software for event companies.