Event professionals are busy nearly 365 days a year, and many of them do not claim to be "tech" experts. Because of this, it can be tempting to ignore their business's website, or settle for something outdated and unimpressive.
But now more than ever, event clients want websites to function like digital storefronts, digital showrooms, and digital warehouses — all wrapped in one. It may sound difficult to build something like that, but it doesn't have to be.
The three event businesses below perfect examples of why. With help from our agency partners at Compete Now, plus the Goodshuffle Pro Website Integration, they all transformed their websites into beautiful, time-saving revenue drivers. Read on to learn how.
11:11 Event Co.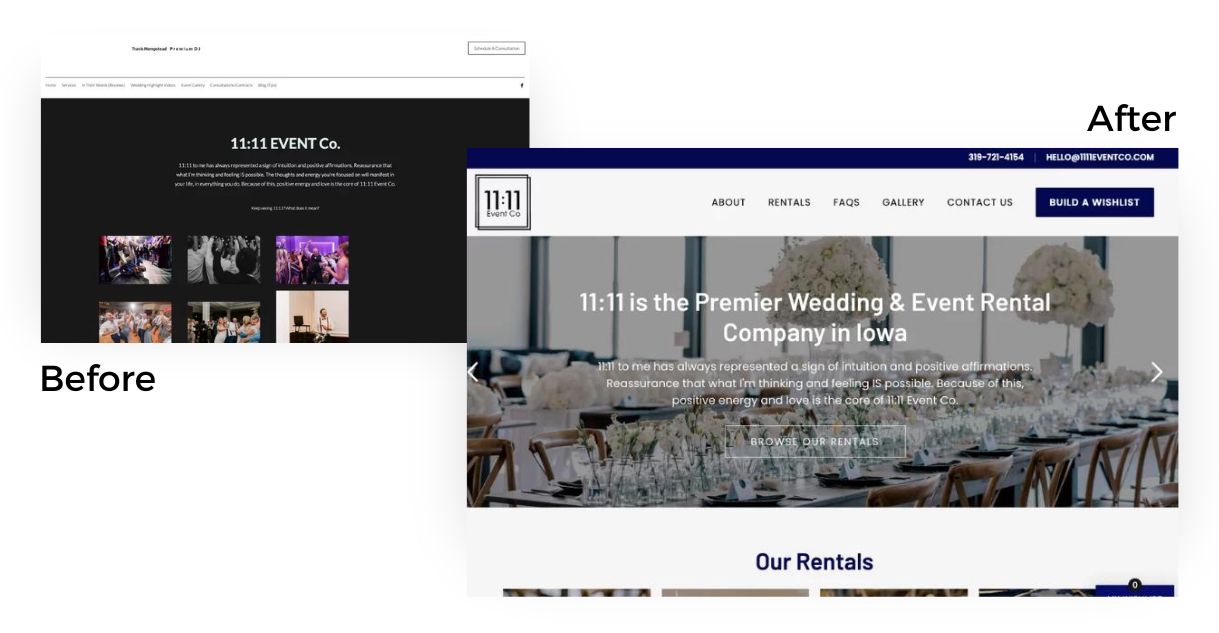 Website Link: 1111eventco.com

After launching into the industry as a DJ business, the team from 11:11 Event Co. was ready to expand into a full-fledged event rental and design company.

But it takes more than inventory to land high-end events with big contracts. It takes a brand that large event clients trust to execute at a high level. As it redesigned its website, it focused on sparse design elements and large, high-quality photography, creating an upscale digital presence that resonates with its new target audience.
Once it established this new look and feel, the business wanted to showcase the breadth of its rentals. To keep the site simple and refined, it consolidated its rentals into six major categories, each with their own category page. The rentals are connected via Goodshuffle Pro's Website Integration, which allows potential clients to request quotes directly through the website.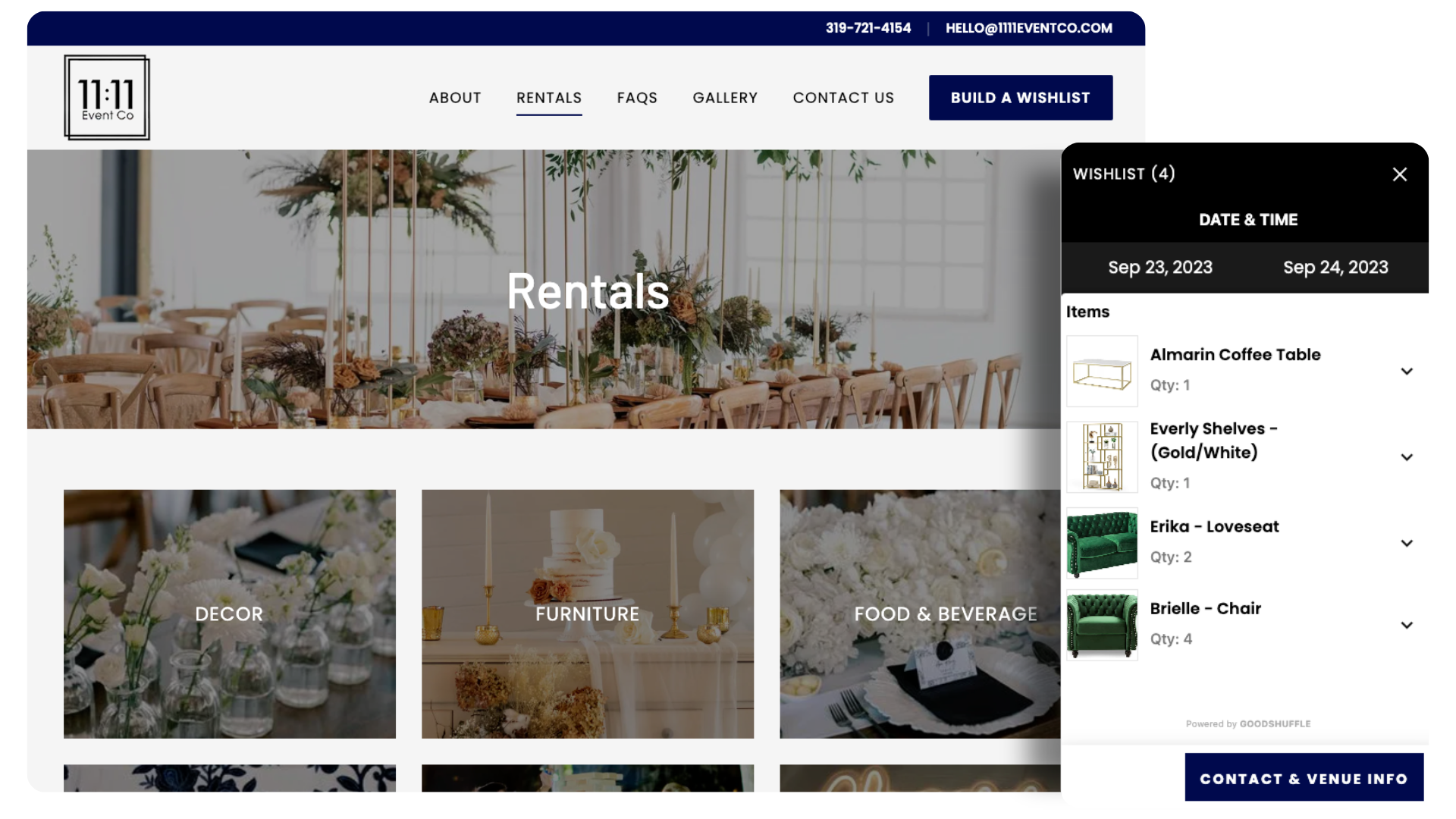 If a client prefers to browse and see what inventory the business has, the category pages guide their journey. If a client is looking for something specific, the search function allows them to find it as quickly as possible.
In either case, it's easy for the client to find what they're looking for — and once they do, they can easily build a "Wishlist" of items they want to rent. Once they submit a Wishlist, the business automatically gets notified and a project automatically generates in Goodshuffle Pro.
This 90-second explainer video shows more about how it works:
In all, 11:11 Event Co. built a website that was perfect for its growing business — one that reflected how it had already grown, while providing tools to help it keep growing.
BNB Event Decor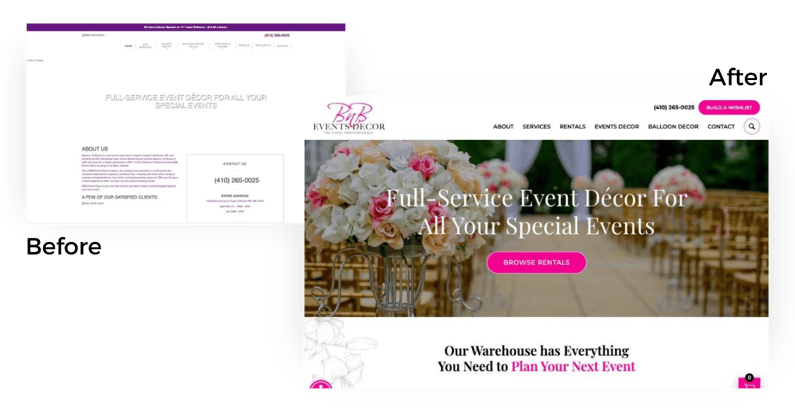 BNB Event Decor was growing quickly, but its website wasn't keeping pace with the size or the scope of its business. When it decided to build a new website, it had three main goals:
Show that it offered full design & decor solutions — not just balloon design.
Reflect how experienced and trusted the business was.
Drive revenue directly through the website.
To address the first challenge, it created separate website sections for Rentals, Events Decor, and Balloon Decor, and placed them all prominently on the top navigation. Balloon Decor is listed after the other two categories, which helps to establish it as part of the company's services, rather than the central component.
To address the second challenge, it emphasized the need for social proof on its website. Social proof is a marketing tactic that highlights how buyers similar to your audience have used, and enjoyed, your business. It uses their experience to build trust with similar buyers.
BNB Event Decor works with both businesses and individuals, and each of those audiences values different types of social proof. For the business audience, it built an About Us page that prominently features big brands they've worked with in the area: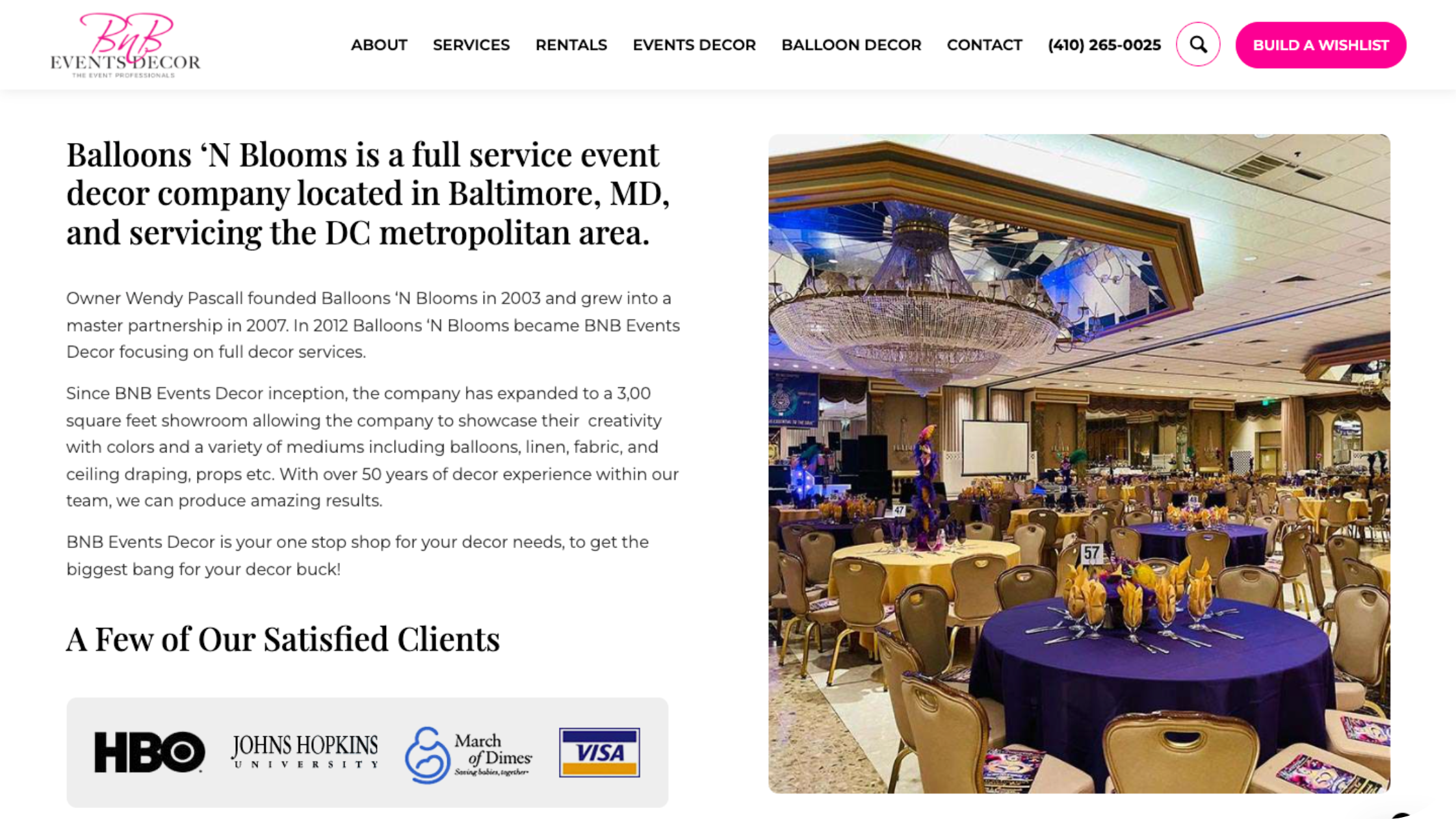 Individuals are less likely to be swayed by big-name logos, and may actually start to worry that the event company is too "big" for them. To address that, the website also prominently features a Google Review widget on its homepage.
Even though it's on the company's website, the Google Reviews integration feels like it comes from a third-party, which makes the social proof feel extra authentic: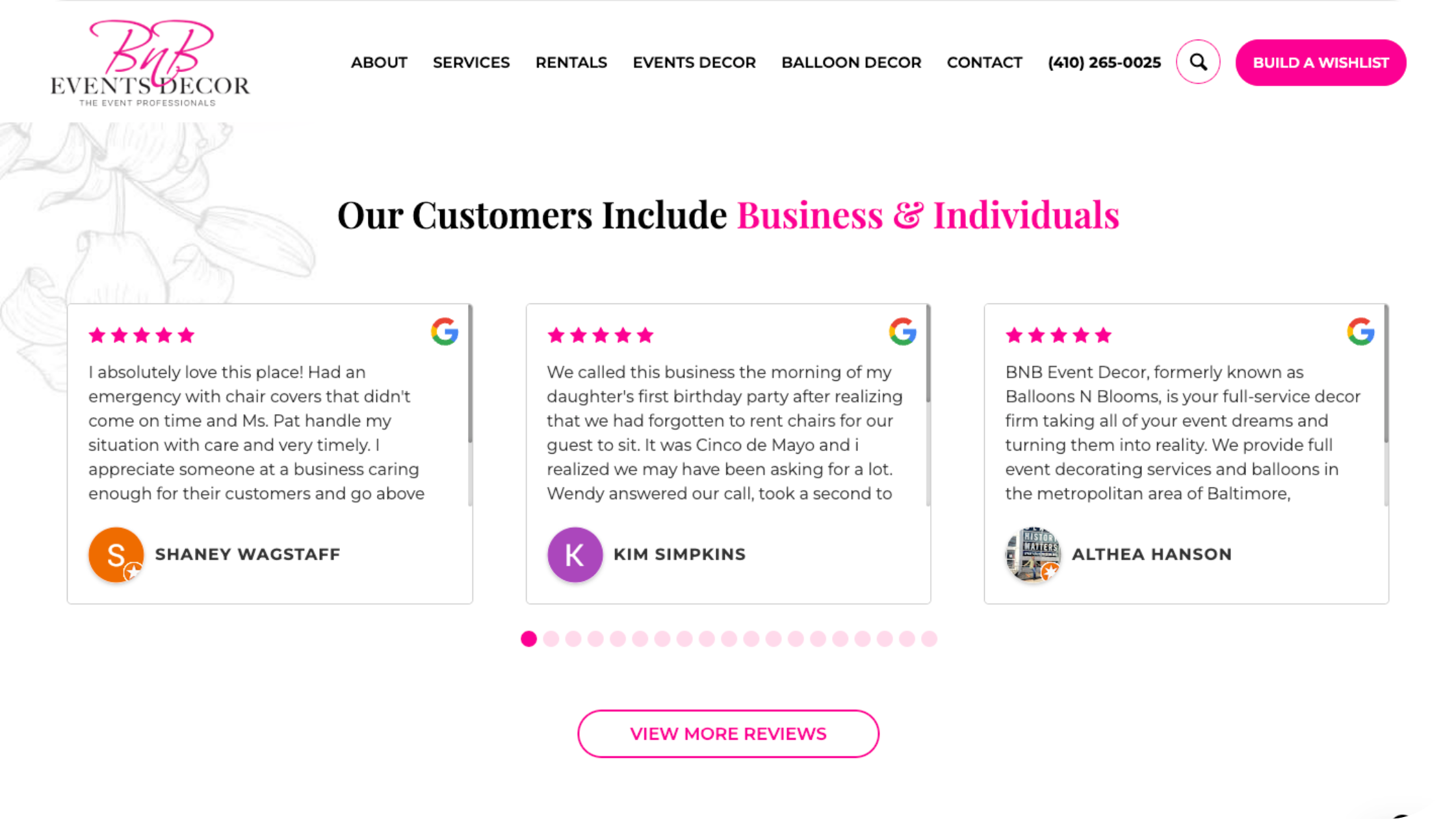 After meeting both of its first two goals, BNB Events Decor was ready to tackle its third: driving revenue directly through its website.
After integrating its website with Goodshuffle Pro, it was easy to build category pages for clients to browse inventory and submit online quotes. If clients need help while they're browsing, the inventory pages have inspiration sections where clients can click to view galleries of past work in different categories: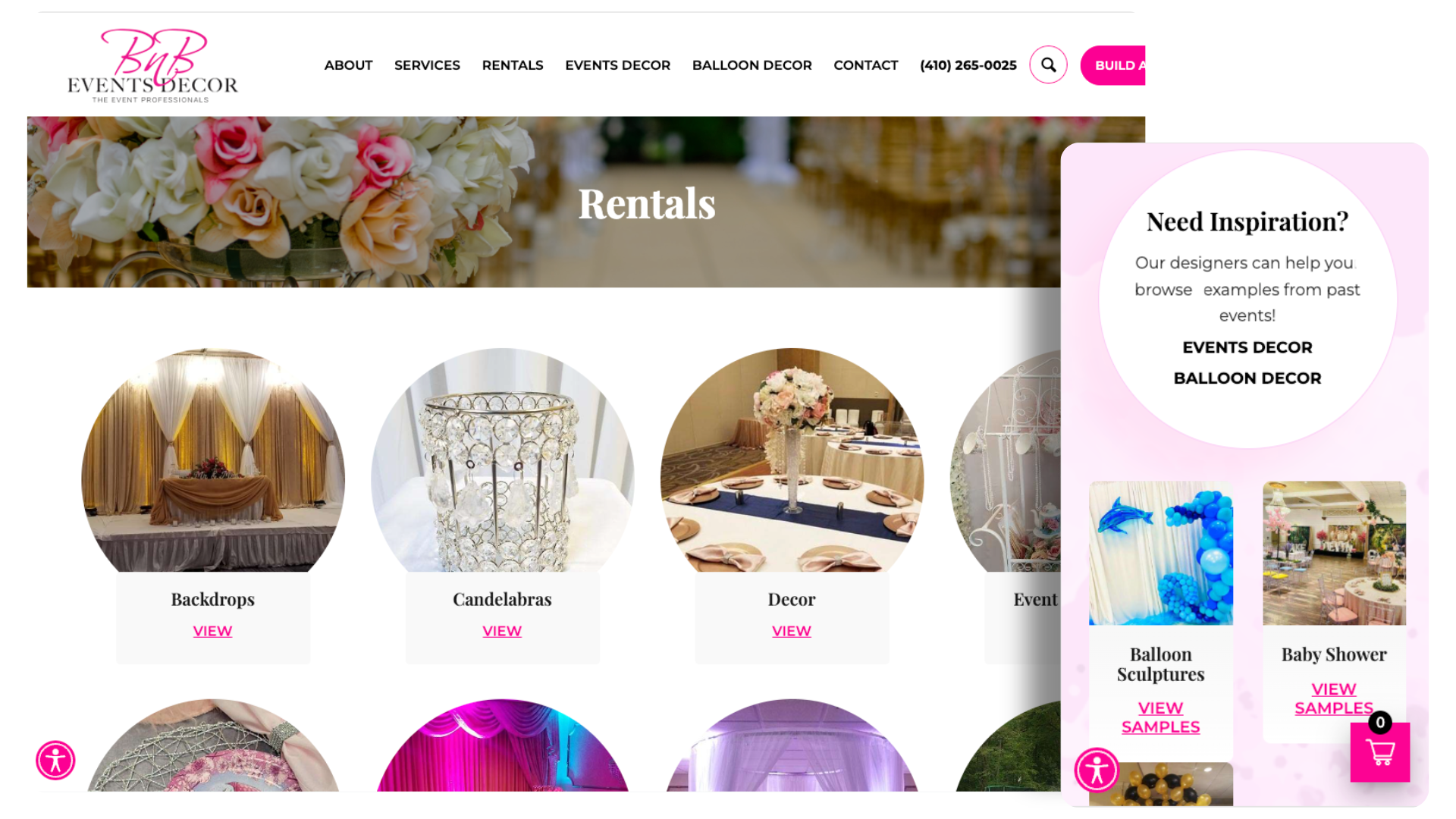 Between the user experience, the social proof, and the Goodshuffle Pro Website Integration, BNB Events Decor built a website that met all three of its goals — and continues to help the business grow its footprint.
Poker Productions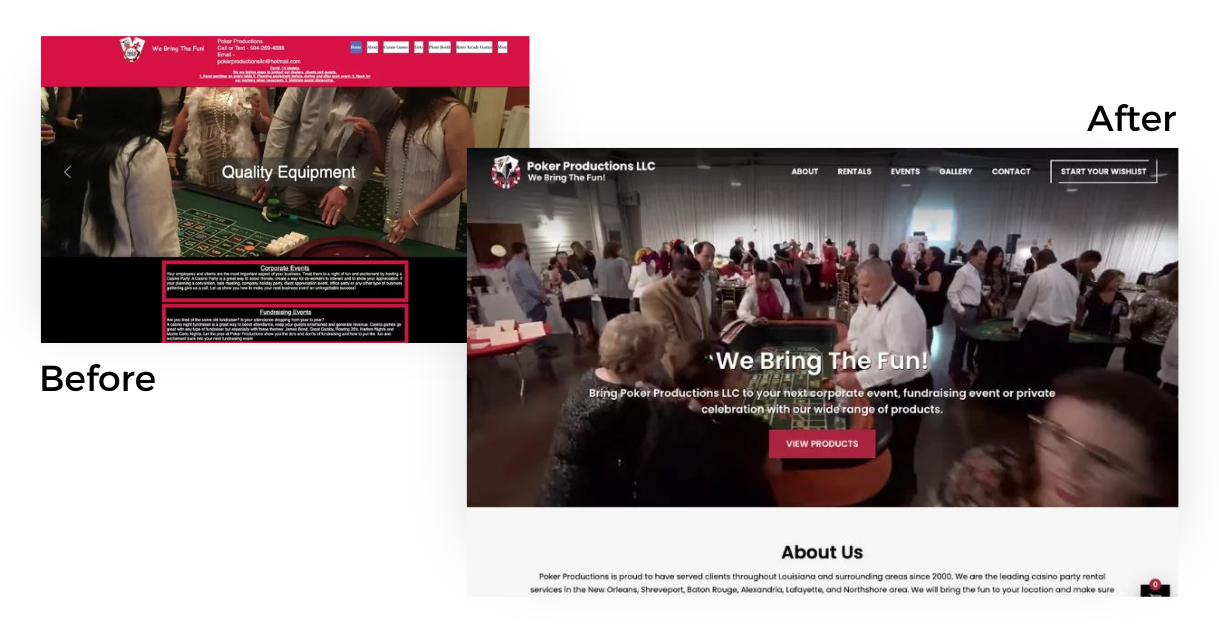 Website Link: pokerproductionsllc.com
Poker Productions is one of the premier casino rental companies on the east coast, with a history that dates back nearly 25 years.
Although it's well-known in its area, its website was outdated and didn't properly reflect the company's brand or exciting new products such as mini golf and video horse racing.
After switching from Wix to WordPress, it launched its new website with an action-packed video that helps potential clients dream about the fun of a casino night. Unlike the previous website, the new site is optimized for mobile, allowing viewers on all devices to enjoy the same digital experience.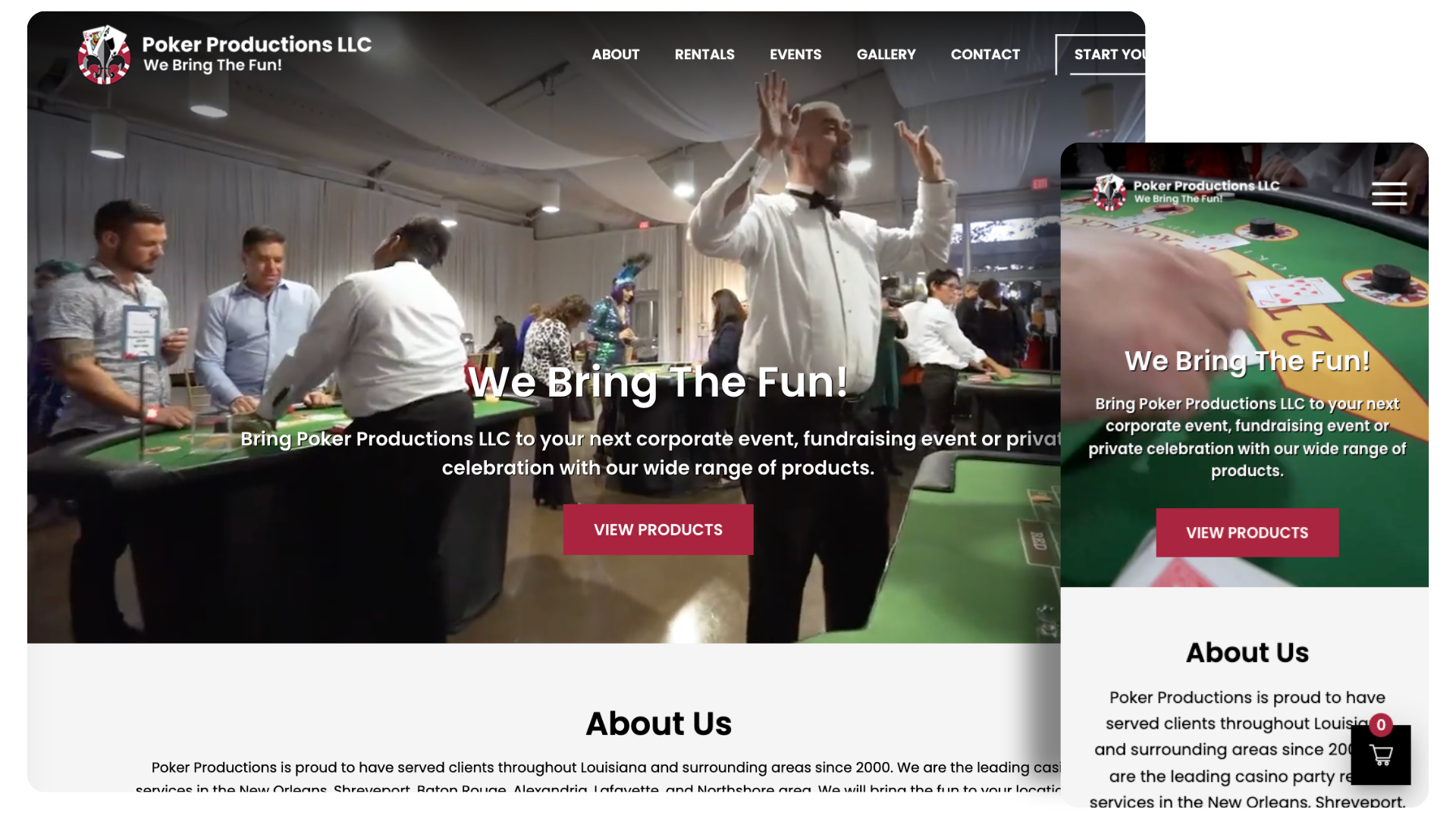 As users scroll down the homepage, Poker Productions guides them through key areas of the site.
The business serves three very different types of clients — Corporate Events, Fundraising Events, and Private Celebrations — which are called out with large, clickable banners. Each banner drives to a landing page where messaging and products are tailored to each type of client.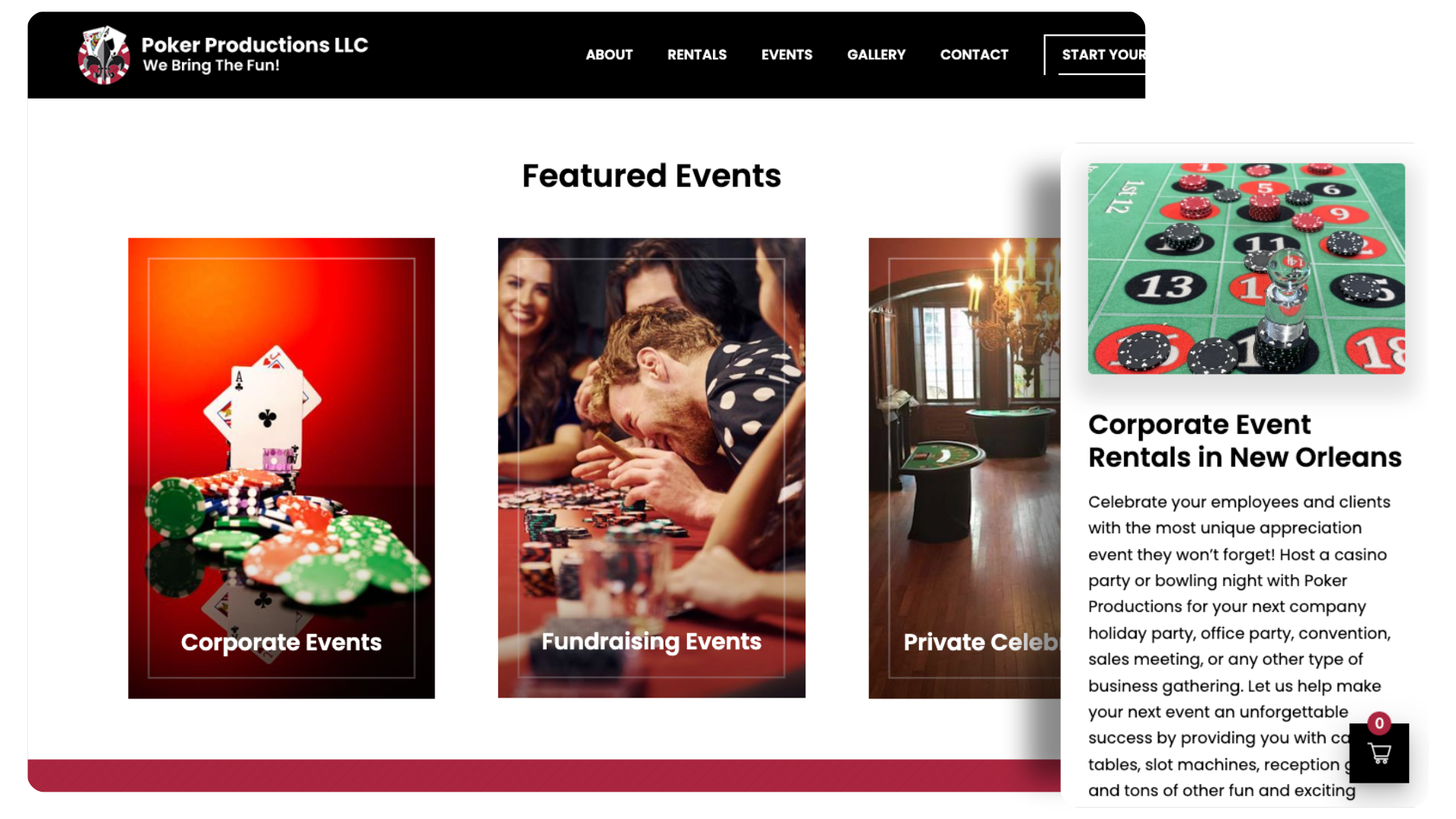 To tie the site together, Poker Productions integrates its website with Goodshuffle Pro, and uses it to showcase the wide range of inventory it offers.
Traditional casino categories such as table games and slot machines are grouped alongside new offerings like mini golf and virtual arcade games, showing how the business can host both classic and modern casino nights for its clients.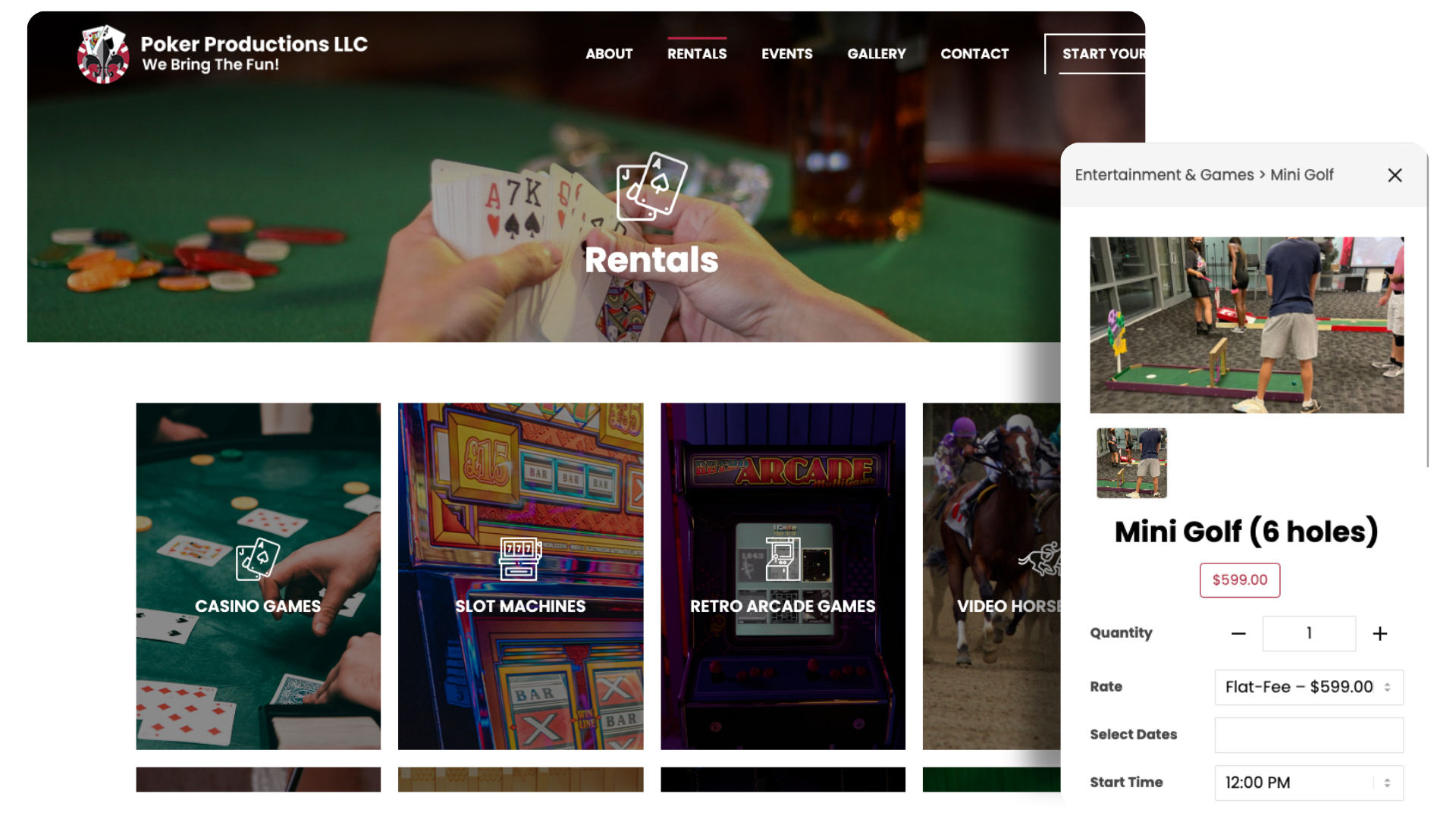 Poker Productions also uses Goodshuffle Pro to make upsells directly through its website. Category pages and item pages both show "popular add-ons" such as bartenders, servers, and photo booths as users browse inventory, encouraging them to add more items and increase the value of their contract.
The best part? This doesn't require any extra work on the website. The website simply shows how products and services are organized in Goodshuffle Pro; the rest is done automatically.