Trade shows, conferences, expos…whatever the term, these events all come down to one thing: the chance to meet other industry professionals and trade knowledge with others in your field.
Event Trade Shows: Worth It and Why
There are lots of reasons why attending trade shows is worth the cost to your business. Some benefits include:
Building brand awareness
Learning about new trends, developments, and innovations
Networking with other professionals
Forming connections and gaining referrals (the amount of times someone has come up to our booth, taken a card, and said they were going to refer us to people in their field– seriously, it's been huge)
Finding leads and closing deals
Getting educated and seeing firsthand how certain products and services work
Scoping out the competition
While a trade show may only last a day or two, the results can last much longer. Keep up with and get ahead of competitors by showing face at these events and building your brand to potential and current clientele.
Best Trade Shows and Conferences for Event Pros
There are a ton of options out there. Some of Goodshuffle Pro's favorite trade shows for event professional networking are:
Other conferences that are popular in the events industry but we haven't tried out yet include:
The trade shows you will want to attend will vary based on your niche and targeted customers, so this list is just a start. Do your research and see what's out there! Because, while it is important to attend trade shows, it is even MORE important to attend the right ones for your event business.
What You're Missing When You Don't Attend
92% of trade show attendees say they are looking for new products. Don't you want to be where the buyers are? Your company stands to lose a huge pool of potential clients by not exhibiting at shows. However, it takes more than just running a booth at a show to make an impression. Be sure to keep an engaging environment, provide excellent customer service, and follow up with the connections you make. Trade shows are learning experiences, so be patient and see what works best for your company.
81% of trade show attendees have buying authority. 4 out of the 5 people who are coming up to your booth have the direct ability to become a customer. Don't miss out on these promising leads!
56% of trade show attendees travel more than 400 miles to attend an exhibition. The opportunity to vastly grow your business is there, you just have to capitalize. How else are you going to get people from all over under one roof to see what you have to offer?
Trade show leads actually cost less than traditional leads to convert. According to the CEIR, the average cost of a face-to-face meeting with a potential client at a trade show is $142, while the average cost of meeting the same potential client at their office is $259. You can save $117 per prospect on average by attending trade shows.
Decision Time: Should I Attend an Events Trade Show?
At the end of the day, a trade show is what you make it. Consider these benefits of attending when determining whether or not to register for that trade show you were thinking about. When deciding for your first event, go with one that has really interesting speakers and education opportunities, so you're sure to walk away with tons of knowledge if not a ton of leads. The returns are worth it. Don't miss out on these awesome opportunities for growth.
Want more tips on strategy, trends, and best practices delivered straight to your inbox?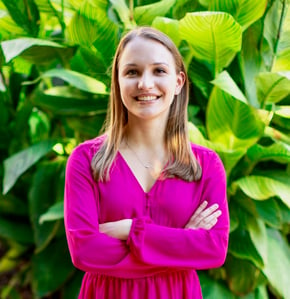 Carmen Bodziak
Carmen Bodziak is a Marketing Manager at Goodshuffle Pro, a party and event rental software company dedicated to empowering those in the events and decor industry. She also currently oversees the Goodshuffle Blog.