A stable event rental business is one that has a consistent stream of new prospects flowing through its inbox. To make sure that you target the right people and differentiate yourself from the competition, you should use email marketing. An email list provides you with a captive audience that is eager to learn more about your hot new sofas, seasonally released glassware, or larger availability of tenting solutions. Get started with email so that you can effectively attract, convert, and close more deals.
How to Start With Email Marketing
1. Provide a solution for your reader.
What is a common problem your customers face? Show that you are a source of relevant, helpful information by providing them educational content without a hard sell.
2. Build a relationship with your prospect.
You would be overwhelmed if someone proposed to you on a first date, right? A relationship is built on trust, and is something that takes time. This also goes for marketing and sales!
3. Continue to engage readers once they become your clients.
A sale isn't one and done. They booked your event rentals for a large fundraiser? That's fantastic! Do they have other events coming up? Is there a new piece of inventory you know they'd love? Let them know via email!
Let's dig into these steps a bit more:
Attract your Ideal Customer with a Solution
When many people start with email marketing, their messages tend to focus on themselves. While you may have been in business for 30 years and pride yourself on excellent customer service and high quality, those facts will not hook the attention of customers who are always asking, "How do you solve my unique problem?"
First, you need to identify the problem they are trying to solve. If your specialty is uncommon rental selections, your ideal client's main pain point could be that they need chairs for their wedding, want something more unique than the traditional Chiavari, but aren't sure of what their options are. You would need to educate them about decor styles fitting for a more particular aesthetic.
For example, you could create a downloadable PDF guide called "The Ultimate Guide to Stand Out Event Decor". Then, you would use social media or Google Ads to promote it to your target audience. With these tactics, you would be able to capture the attention of people who are likely to be interested in your services. When someone clicks a link to download the guide, they would type in their email address and be added to your email list.
Close the Sale After Building a Relationship
Once you add someone to your audience, the real work begins. Your job is to present yourself as a helpful expert who would be the perfect fit to guide them through finding solutions to all of their rental needs. In our highly competitive industry, you will stand out from the pack by:
Getting specific about how you can help
Engaging consistently
Being open and transparent about who you are and how you do business
Once someone downloads your free piece of information, you start the process of helping them to get to know you. Inside of an email service provider like ConvertKit or FloDesk, you would create a series of 3-5 emails in advance. These would automatically be sent 3-7 days apart after the email address is captured. Think of the content of these emails as the dating stage before you pop the big question and ask for the sale.
The series for "The Ultimate Guide to Stand Out Event Decor" could follow this format:
Day 0: Deliver the freebie and affirm why downloading it is a good idea. Future-pace the conversation by using words that allow them to visualize what their event will look like with show-stopping rentals
Day 3: Check in on how they are doing with the guide. Offer additional value in the form of educational content, such as a blog post on how to pair seemingly mismatched pieces of furniture to create an elevated look. Include a call-to-action to follow you on social media.
Day 7: Showcase your credibility with a behind-the-scenes demo video inside of your warehouse of how you select pieces for a client that is looking for Bohemian Chic. Include a call-to-action to schedule a tour.
Day 11: Send your sales letter that addresses the problem they are solving and how you solve it. Include testimonials, certifications, and the process of doing business with you. Have a call-to-action to get a quote or schedule a call. When you streamline sales via an inventory management software such as Goodshuffle Pro, you can devote more time to marketing your business!
After that initial sequence, regardless if they purchase from you or not, you would continue to send them helpful tips weekly, about 7 days apart. If they didn't buy, this will keep you at the top-of-mind. If they did, the emails will only deepen the relationship. Make sure that you don't just send promotional emails when conducting email marketing. Start a conversation and make the connection.
Once You Close, Close Again
Having a nurtured email list is the most effective way to generate repeat business. Once you book a client, you can tag them in your email service provider. Then, start to send them messages about choosing rentals for other events. If you provided the decor for their wedding, future messages could center around baby shower and anniversary rentals. You could even offer previous client VIP discounts via email or friends and family rates to encourage referrals. Don't forget, you can always scope a project list in Goodshuffle Pro and export those specific leads into your email marketing system (e.g. all your holiday parties from last year!).
Email marketing is a huge moneymaker for lots of event professionals. True business stability will be realized when you are:
Constantly attracting new business as a problem-solver
Developing relationships that turn into sales
Continuing to foster those connections for referrals and repeat business
What's holding you back?
Feature image by Izzy Hudgins Photography, rentals by Savannah Vintage & Event Rentals, florals by Kato Floral Designs
Want more tips on strategy, trends, and best practices delivered straight to your inbox?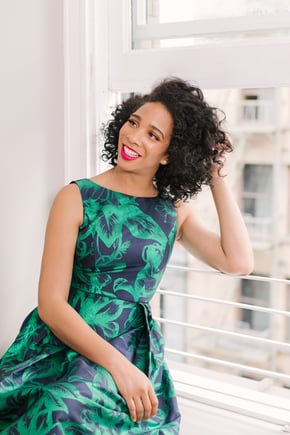 Aleya Harris
Aleya Harris, an award-winning marketer and former chef and catering company owner, is the Owner of Flourish Marketing, an agency that provides marketing education, strategy, and tools to help wedding, catering, and event professionals get and keep a consistent stream of clients. Harris is a StoryBrand Certified Guide and she uses that narrative-based framework to develop clear, engaging, and highly converting marketing assets, like websites and social media solutions, for her clients. Aleya is the current Marketing Committee Chair for NACE and a top speaker at conferences and events like Catersource and The Special Event.