As 2022 has gone on, gas prices have steadily increased from month to month. The rising cost of gas is a real issue for determining delivery costs. Summer events are coming in hot, meaning more drop-offs and pick-ups. Not having additional fees for fuel thins your profit margins. Knowing how much to charge based on fuel costs is an evergreen skill all event professionals should know to ensure you're making the most out of each of your events. While we can't tell you exactly how much to charge, we can offer some helpful tips on how to offset rising costs, and how Goodshuffle Pro's powerful software can make these changes easier!
Reinforce your delivery margins
Update your Terms & Conditions
Build a mileage-based surcharge fee
Utilize smart event rental software
Reinforce your delivery margins
Here's a scenario to think about: Imagine you make and sell a table that is made of a certain type of wood. All of a sudden, the price of the wood rises, but you still need to turn a profit on the table. What do you do? You protect your sales margins and raise the price of the table!
Think of deliveries as an item in your inventory that you create with every order. With the rising cost of gas, you need to raise the price of delivery to protect your margins and stay on track to hit your business goals! The same margin of difference between the cost of gas versus the delivery cost charged to users should be reflected in the current cost of deliveries. If before you charged a 2:1 ratio for delivery and gas prices (a low ratio, I know), then you should still charge a 2:1 ratio when the gas prices are rising!
An important decision that can only be made by you, however, is whether or not the raised delivery price is a permanent or temporary change. You could set delivery fees at a higher-than-the-margin rate to account for further price increases of gas. Or, you could try a fluid and temporary delivery charge to maintain the profit margin you desire based on the price of fuel.
Update your Terms & Conditions
While clients may complain about rising delivery prices, you have to first protect yourself and your business from rising gas prices that are causing you to lose money. The best way to protect yourself and your business is to add a clause in your Terms & Conditions that addresses your new delivery charge policy.
Updating your Terms & Conditions protects you because clients have to agree to your Terms & Conditions before signing any contracts, and it also offers clarity to your client on your changed policy. Clients enjoy when the companies are transparent about pricing changes so they are not caught by surprise with a higher-than-normal delivery bill!
Build a mileage-based surcharge fee
What is a mileage-based surcharge fee, anyways? Well, this is the extra money you charge when a delivery goes beyond your outlined delivery area. With this surcharge, you have to set a flat fee per each delivery, or a fixed fee for the instance when a delivery is outside of your set delivery area.
Implementing a flat fee is a fee that applies to a single item, such as a single one-off delivery. This can be useful if you do not want to implement a surcharge system for every delivery, but would rather control it on a one-by-one basis.
A fixed-rate fee is one that applies to multiple items, i.e. a policy update for all deliveries that may be outside of your delivery area. This is good if you prefer to "one and done" your policy for ease and time-saving efforts.
Including your mileage-based surcharge fee within your Terms & Conditions is important as well, so make sure you don't forget to add your updated delivery pricing policy!
Utilize smart event rental software
One of your most powerful tools as an event professional is event inventory management software. What sets aside good software from great software, however, are the capabilities that your software can handle. For example, Goodshuffle Pro makes implementing any delivery price policy change easy.
Whether it's updating your Terms & Conditions right in your dashboard or implementing a flat or fixed fee in a few easy steps, Goodshuffle Pro's got you covered when you need to make a delivery fee change.
On top of making changes easy to implement, Goodshuffle Pro is integrated with Google Suite. This means you can use the Google Maps tool in Goodshuffle Pro to get an overview of your deliveries and help avoid gas-guzzling traffic!
The power to change your delivery pricing is in your hands! While there are a lot of options on how to adjust your costs to combat rising gas prices, Goodshuffle Pro makes it easy and efficient to update whatever, and whenever you want!
Want more tips on strategy, trends, and best practices delivered straight to your inbox?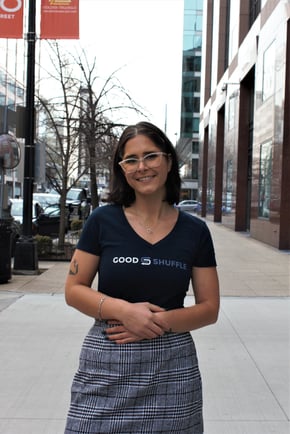 Maria Russinovich
Maria Russinovich is a recent graduate of American University and is a Campaign Marketing intern at Goodshuffle Pro, a software company dedicated to empowering events industry professionals.