If you're anything like me, you've found yourself wondering where these event rental companies get all of their amazing event inventory. Do they have a dedicated flea market/estate sale/Marketplace guru? Where do I get core event inventory pieces, like tables, chairs, stages, etc.? Where do I even start?
Most event rental companies start with some high-quality basics for the foundation of their rental company and expand from there. Folks in the events industry can be pretty tight-lipped about where they
source their inventory
, but today we're spilling the beans!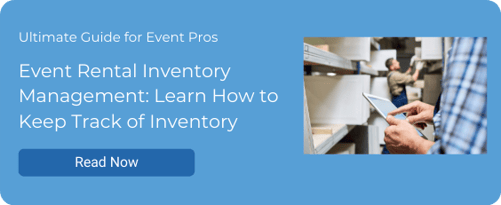 1) EventStable
EventStable.com is a one-stop shop for high-quality event rental basics. They carry dance floors, stages, pipe and drape— the list goes on! You won't find any chintzy items here, either; EventStable uses all of their items in their own event rental company and firmly stands behind the quality of their products.
2) Global Event Supply
Global Event Supply is another fantastic one-stop-shop site we love, especially for their Farmhouse decor! They've been a leader in the event rental supply industry for 14 years, so you can buy knowing the items you receive will be top-notch.
3) Atlas
Atlas Commercial Products is all about chairs. And why shouldn't they be? Chairs are a major component of any event rental company. Plus, they make sure they keep up with the trends, so if your client saw the perfect chair on Pinterest, we recommend starting here. You can find everything from plastic and resin folding chairs, Chiavari chairs, cross-back chairs, and more.
4) Folding Chairs And Table
Folding Chairs and Tables sells a lot more than just folding chairs and tables— they are also a great source for linens, A/V equipment (think presentations and other speaking events, not DJ equipment), and umbrellas. They also boast a "Lowest Price Online" guarantee and most of their items will ship within 24 hours of you placing your order, so definitely check them out if you need your items, fast!
5) McCourt Manufacturing
McCourt Manufacturing is a new-to-us company that we were thrilled to discover. Operating in Arkansas since 1983, McCourt Manufacturing focuses on creating tables, chairs, and other event products that are made for heavy usage. If you find that your tables and chairs just aren't holding up to the wear and tear of repeated events, give them a call.
6) Palmer Snyder
Palmer Snyder also manufactures many of their products in the Pennsylvania factory and focuses on durability and longevity of their products. Additionally, they offer a folding farmhouse table that deserves a spot in any rustic or farmhouse themed collection!
Tables and chairs are truly the bread and butter of most event rental companies, so it's important to invest in pieces that are built to last. They also act as a blank canvas for all of your other decor options— after all, you can't have beautiful centerpieces without a table. Some clients will also want to buy many of the accessories for their wedding or event, but not all the tables, chairs, or the dance floor. Ensuring that you have high quality basics will help drive more event bookings, as you'll have inventory options for every occasion.
So now that you have the basics, are you ready to take your event inventory to the next level? Check out where industry leader and founder of Render Events and the Rental Biz Academy, Cam Petty, gets her inventory in her free guide!
Want more tips on strategy, trends, and best practices delivered straight to your inbox?
Jessica Powers
Jessica Powers is a Data Analyst for Goodshuffle Pro, powerful business software for event companies.