In January 2022, Goodshuffle Pro welcomed a team of four interns from the Breakthrough Tech UMD's Sprinternship program. While these interns were only with Goodshuffle Pro for three weeks (thus the "sprint"), they were able to create a final project of a warehouse fulfillment app for Goodshuffle Pro, along with gaining valuable professional skills and experience. Learn more about the Sprinternship program and its impact on our company now.
Teamwork Makes the Dream Work
The entire events industry would not be as productive as it is without great teamwork, and Goodshuffle Pro is no exception. While we knew that our Sprinterns were already team players, it was clear that our Sprinterns were more than ready to work together on projects. Under the guidance of Goodshuffle Pro Sprinternship leaders Adam Specker and Richard Rice, the Sprinterns quickly became their own team within Goodshuffle Pro.
Sprintern, Veda Singireddy, said she appreciated how Adam and Richard "were great at guiding us through any problems or questions we had." Joy Tijani echoed these thoughts saying, "The coolest thing is learning a new technology from scratch, and learning a new language was a great skill to gain." Having a working area to themselves to ask each other questions, video chat when a team member was working remotely, and test their final project was a large part of why our Sprinterns were so successful.
In their time with Goodshuffle Pro, the Sprinterns created an app that will someday be in the hands of warehouse workers of Goodshuffle Pro users. The app is a fulfillment app used to track what workers have pulled in their order and will connect directly with the Goodshuffle Pro servers. Usually, this task is achieved by printing out the order list and then later manually adjusting the order in Goodshuffle Pro, but this app will streamline these tasks and increase productivity. The power of teamwork amongst the Sprinterns and Goodshuffle Pro helped bring this app to life, and will change the way Goodshuffle Pro users work every day!
The Power of the Sprinternship
Goodshuffle Pro could not have been a part of the Sprinternship program without the help of UMD's Breakthrough Tech program. Breakthrough Tech's mission to place underrepresented college students at tech companies is one that Goodshuffle Pro wholeheartedly believes in, and is proud to have been a part of.
While our Sprinterns were working at Goodshuffle Pro, they were receiving constant support and communication from Breakthrough Tech UMD's leaders. Mary Redpath spoke on how supportive Breakthrough Tech was, and said they "were really great at keeping in contact and sharing professional resources and opportunities with us." Abril Arias further echoed how helpful Breakthrough Tech was throughout the Sprinternship program, and said she "was excited to see what the future holds professionally thanks to the opportunity I've been given through this program."
From Sprintern to Intern
Goodshuffle Pro is extremely proud of the work that our four Sprinterns did in their time with us. We are proud to welcome back Veda and Mary as Software Engineering interns this upcoming summer. We also cannot wait to continue our relationship with Breakthrough Tech to support more students in their professional careers.
We are a company founded on the mission of caring about our team and your work, a drive to constantly learn and show up for everyone we work with. We are dedicated to empowering women, people of color, and other marginalized groups within STEM.
If you want to learn more about the Sprinternship program in the DMV, visit the Breakthrough Tech site, or read more about Goodshuffle Pro's Sprinternship experience!
Ready to regain control of your event business with all-in-one software?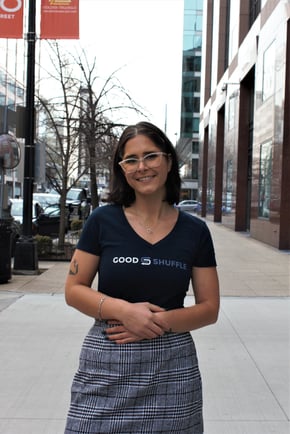 Maria Russinovich
Maria Russinovich is a recent graduate of American University and is a Campaign Marketing intern at Goodshuffle Pro, a software company dedicated to empowering events industry professionals.