Research shows that the younger generation puts more weight on company values than any other generation. We at Goodshuffle Pro are dedicated to constantly learning from everything, and want to educate those in the community around us. We are proud to be partnering with Break Through Tech DC and the University of Maryland to host a Sprinternship for first-and second-year college students from underrepresented backgrounds.
What is a Sprinternship?
A Sprinternship is a three-week micro-internship program that allows first-and second-year college students from underrepresented backgrounds to obtain internships to build their resumes and networks. This allows these students to become more competitive in the job market when looking for jobs and internships.
The Sprinternship program is run through Break Through Tech DC, an affiliate of the national program, Break Through Tech, which works to propel women and underrepresented communities into technology degrees and careers. The organization is based upon inclusivity, empowerment, and collaboration, which pairs perfectly with everything that Goodshuffle Pro stands for.
Why Goodshuffle Pro?
Besides our values aligning with those of Break Through Tech DC, Goodshuffle Pro is always looking to support enthusiastic young tech professionals, which makes this partnership a no-brainer. We will be welcoming four Sprinterns this upcoming January, where we will not only be onboarding them onto various projects, but also helping them develop professional skills through resume reviews, introductions to roles & hiring processes within Goodshuffle Pro, and constructive feedback on their final project!
Who are Sprinternship participants?
Sprinternship interns are in their first or second years of college. At Goodshuffle Pro, we will be working with four students from the University of Maryland! Students in the Sprinternship program are tech-focused students in good academic standing and have taken at least one college-level course in computing.
What is a Challenge Project?
During their time with Goodshuffle Pro and in the Sprinternship program, students will complete a "Challenge Project." A Challenge Project is a constructive, goal-oriented experience that the partnering company will assign to their intern. The goal is for Sprinterns to think creatively and work in a team environment while gaining vital skills and hands-on experience.
Goodshuffle Pro is very excited to be welcoming our Sprinterns this coming January and is honored to be helping Break Through Tech continue its mission to improve diversity within the technology field.
Want more tips on strategy, trends, and best practices delivered straight to your inbox?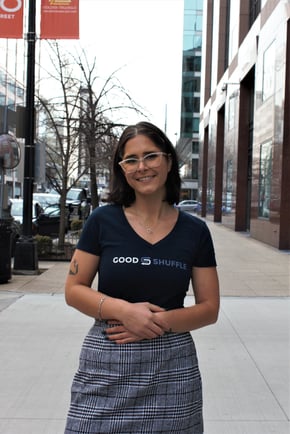 Maria Russinovich
Maria Russinovich is a recent graduate of American University and is a Campaign Marketing intern at Goodshuffle Pro, a software company dedicated to empowering events industry professionals.