From burlap and lace to neutrals and jewel tones, it feels like we've seen it all in the events industry. However, each year, we are always surprised by new event decor trends that take the wedding scene by storm. It is up to event professionals to adapt and adjust their services and products to meet the shifting demand.
This can be particularly difficult for event rental and decor companies, as an ever-changing inventory isn't always a sustainable option. It doesn't make sense to ditch a furniture item simply because it's no longer on-trend. It makes sense to have versatile furniture that will last for years, paired with trendy accents like linens, pillows, and signage.
Here are 3 event decor trends to keep an eye out for in the year ahead.
Velvet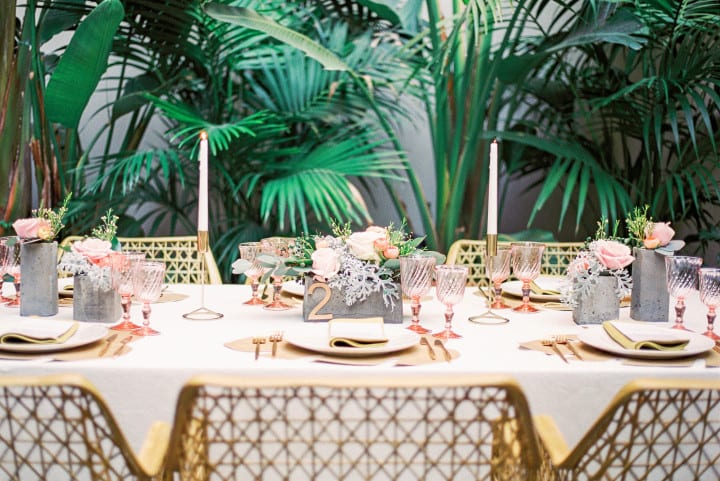 2019 will be less about color and more about texture. In the past, we've seen textures like burlap and lace come and go. This year, velvet is taking center stage. This rich fabric pairs luxury with coziness, a style that falls in line with popular interior design trends.
"Designers are also focusing on comfort, warmer colors and velvet EVERYTHING," assures Diana Weinstein of Diana Weinstein Designs. "It looks formal but feels huge and cozy." Think upscale comfort, with bold hues and soft surroundings.
Velvet touches can pop up in lounge areas, cocktail tables, place settings, or even the ceremony aisle – the versatility of this simple yet stunning fabric makes it an easy choice for weaving into any event design.
Mixed Metallics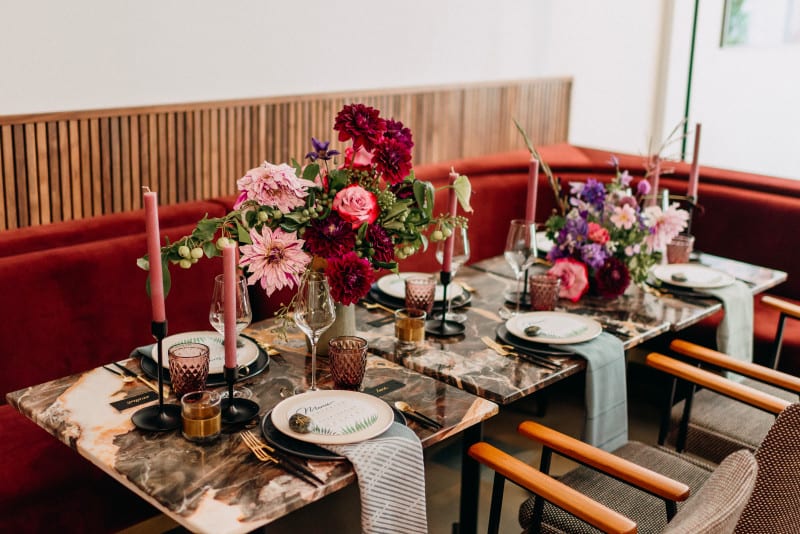 Gold, silver, copper, brass — why pick one when you can have them all? Mixing and matching metals was once a faux pas, but is now a popular trend for those who love all things shiny.
Gina Holz of Gina Holz Designs adds, "A careful balance of warm metals, mixed with cool tones give a layered feeling that embraces old and new finishes, in a fresh way. Blackened steel doors with brass hardware and antique nickel light fixtures will become a prevalent theme. Patinated metal finishes on mirrors, counter tops and furnishings are modern glam at its best."
Experiment with centerpieces, candlesticks, seating charts and other decor pieces for maximum impact. Bringing together warmth and coolness makes this trend a hit for any season.
Eco-Friendly Fixtures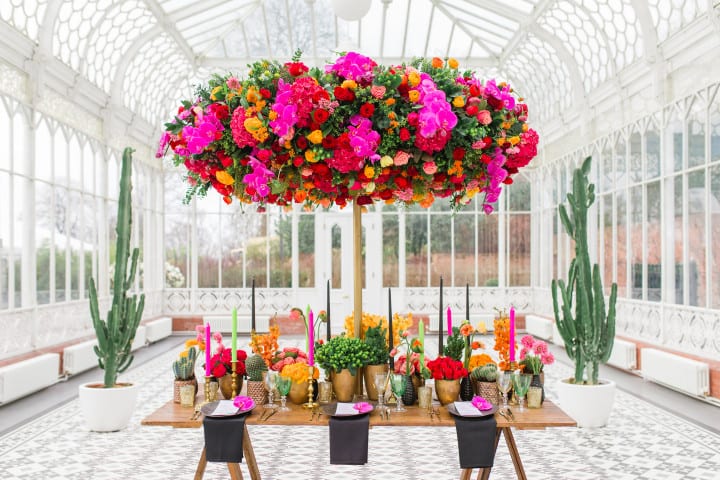 Going green has been a growing trend in recent years and 2019 will no different. Couples are looking for in-season florals, locally-grown food, and environmentally-minded alternatives to plastic. They recognize that a wedding isn't always the most environmentally friendly, so they are looking for anything to reduce their footprint.
"Eco-conscious design is also having a major moment. Our design choices do affect the environment, so it's important to be thoughtful and find resources that have a smaller carbon footprint." For rentals, this could mean offering details that fit in with a greener design — think cork chargers, recycled wine bottle centerpieces, and stone accents.
However, it's also worth investing in fixtures that have a sustainable story. Couples want to know the source of their rentals and what kind of impact they have on both the social and natural environment. Fair-trade fabrics, upcycled furniture, and compostable paper products are all excellent examples of responsibly sourced and sustainable rentals.
These are just a few of the top wedding and event décor trends that will play a part in the shifting rental industry. For more, sign up for the latest issue of the International Wedding Trend Report.
Photo via Award Weddings, South West France Styled Shoot. Planner, Stylist and Decor Items by Clémentine Ward, Awardweddings. Photography by Mark Ward, Awardweddings
Want more tips on strategy, trends, and best practices delivered straight to your inbox?
Kylie Carlson
Kylie Carlson is the owner of the International Academy of Wedding and Event Planning. With six locations globally, the academy boasts an internationally recognized accreditation program that brings professional training to wedding planners, designers and stylists.