Our "Worth the Cost?" series explores the various elements of weddings and other events and asks, "Is it really worth all that dough?" Are tent rentals worth the cost? Find out below.
Tents are a heavily debated item when it comes to budget, due to the fact that they are very pricey. Tents require a ton of labor, which is the main source of their high price tag. Additionally, there are quite a few "extras" and accessories which can gradually increase that already high cost.
Here are some unforeseen costs that you should always factor in when setting your tent budget:
1) Size
Choosing a tent size can seem incredibly intimidating. Not to toot our own horn, but you'll definitely want to check out our tent size calculator. It's only 3 steps, but it walks you through the many elements you need to consider such as seating style, if you're having a DJ and dance floor, and more.
2) Water Barrels
We wrote an entire post about water barrels, but to put it very simply: if the grass is too wet or dry, or the event is on concrete, brick, or some other surface, you'll definitely need water barrels to keep the tent erect.
3) Sidewalls
Most people assume that tents come with the walls, but they're actually an additional line item. You may be looking at a photo of a tent with walls, but all standard tents only come with the poles and the roof. If you're getting a tent due to rain, a little wind will make it near obsolete without walls. If you're concerned about temperature, it's a non-negotiable.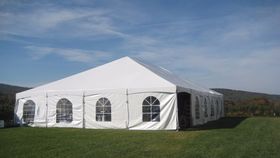 4) Heating/Cooling
A tent with sidewalls can make all the difference on a slightly chilly night or a super sunny Spring day, but a tent alone isn't going to guarantee comfort during the hot or cold months. Cooling units and heaters aren't cheap, and sometimes require additional purchasable add ons such as propane tanks.
5) Lighting
For some odd reason, people know they need lights for an outdoor party sans tent, but they seem to forget the importance of lighting with one. There are tons of options when it comes to lighting a tent, including bistro and globe lights. This is both a practical need and an opportunity for décor!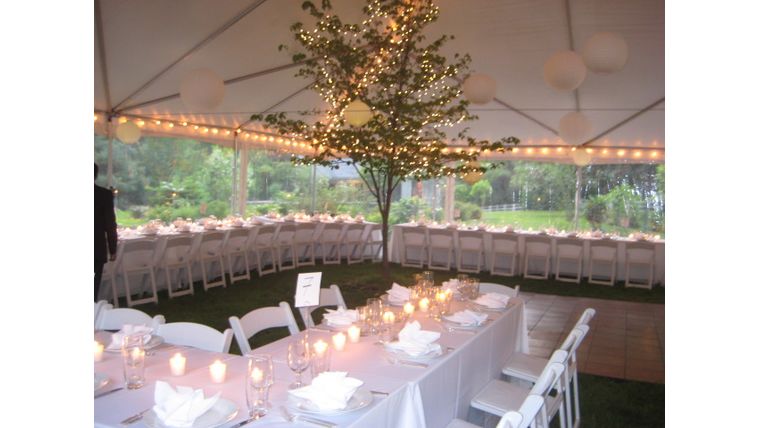 With all of these elements combined, it's no wonder many planners or brides/grooms experience sticker shock. But, you can't deny the importance of comfort at an event, making tent rentals worth the cost. A rained-out fundraiser won't make much money. A wedding during a surprise cold front could lose half the guests before cake is served. While budget should always be a top priority, you also can't mistake your local meteorologist for a magician!
Want more tips on strategy, trends, and best practices delivered straight to your inbox?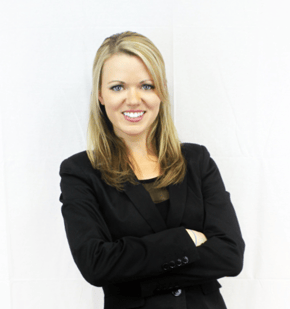 Karen Gordon
Karen Gordon has spent her career growing event and technology companies through consultative sales and strategic growth strategies. Now, as the Executive Vice President & Founding Team Member of Goodshuffle, she is revolutionizing the event rental, design, and production industries with modern technology.