VOX DJs is about to hit nearly forty years in the event and entertainment industry. Since 1984, the successful DJ company has grown to service multiple locations across Southern California and Arizona. With plans to scale even more in the future, they're a driving force in their field. The leadership team is comprised of Owner, KC Campbell, COO, Ricky Hayes, and CEO, Eric De La Torre. Learn how this team has grown their business, successfully pivoted during COVID-19, and influenced hundreds of other DJs and event professionals.
Who is VOX DJs?
KC Campbell has been a DJ since he was 14 years old, when his nextdoor neighbor, Shawn Sedlacek, started VOX DJs. Shawn was CEO until 2008, when KC bought him out and took over the growing company. Since starting small in 1984, VOX DJs has grown to 4 offices with more than 160 employees. They offer services for DJs and MCs, Virtual DJ Events, Photo Booths, Event Lighting, and Live Music. Their mission is to provide a superior event experience from booking to the moment the last song is played.
KC has loved the event industry from a young age because "it's one of the few jobs where you show up and your job is to bring enthusiasm, excitement, and charisma to the workplace. The more energy you bring, the better job you do. No one is bummed when the DJ shows up to the party. No one is upset when the DJ walks through the door. Guests know it's about to get really fun!"
When speaking about the industry as a whole, KC explains that it's a very exciting and fast-paced industry. He says, "It's high pressure, and a lot is expected from you as the performer, but there's a high reward. When you execute well and put together the perfect event performance on these high levels, then your customers are eternally grateful for your work. They will always remember that event and the way you made them feel."
VOX DJs' Secret Sauce: The DJ/MC Academy
VOX DJs stands out from other DJ companies because of their unique hiring process. Unlike other businesses, their team recruits, hires, and trains all team members in-house. The first step of this process is their content-packed 11-week DJ/MC academy. This course gives the participants the opportunity to learn how to DJ and MC events on a professional level. It's rare that VOX DJs hires a DJ/MC from outside the company because they believe all team members should start with a solid foundation within their DJ/MC academy. As KC says, "This is modeled after the farm system in professional baseball. When you recruit and train from within, you have direct control over the professional development of your team members."
As a result, the VOX DJs team is comprised of talented, personable employees who always bring the fun. VOX DJs' hiring process gives them control over the quality of their service and ensures that they're hiring the best MC personalities in the business. Collectively as a team, they have over 50 years of event planning, event detail, and event execution experience. This makes them one of the most trusted DJ companies.
Triumphs, Trials, and a Need for Speed
VOX DJs has had tons of success in recent years, winning many awards and accolades. The company was listed in Inc. Magazine's Top 5,000 Fastest Growing Businesses in America in both 2018 and 2019. They've also been recognized by The Knot as Best of Weddings for twelve years and running. In addition, they are preferred partners of both WeddingWire and Yelp. The reason for all their recognition? They're reliable, fast, easy to work with, and fantastic at creating memorable events for their clients.
VOX DJs has also managed to successfully pivot in 2020, despite the obvious impact of COVID-19 on all event industry companies. They're one of the leaders in Virtual DJ Events. And, they have pivoted to all online events in 2020 (as well as some smaller in-person events and weddings that are still taking place). They've learned a lot about this new Virtual world and have adapted where necessary. This has been made even easier because they're empowered by fast, powerful software.
The Right Software for a Growing Event Company
VOX DJs had been using another platform previously, but it was slow and did not satisfy their inventory management needs. With four offices, a large team, and big plans for expansion, COO, Ricky Hayes, knew they needed something that could handle the volume of VOX DJs' work. He explains, "Our entire team was frustrated and was asking for a change from our old system. Goodshuffle Pro swooped right in and got us all set up. Once we transferred everything over into the new ecosystem, we were ready to conquer the world!"
Ricky goes on to say, "All of our events are kept detailed and organized in Goodshuffle Pro. It saves us so much time and has allowed us to plan for the future in the best way possible." While the event industry's timeline is uncertain when it comes to COVID-19, Ricky and the team are confident that event professionals will get through this and come out stronger and better.
What's Next for VOX DJs + Advice for New #EventProfs
The VOX DJs' leadership team plans to take Goodshuffle Pro, and other business improvements they've made in 2020, and open more offices over the next 5 years. KC explains, "We've had fun with our expansion of the brand, but have had a hard time with staying organized, especially with inventory. Goodshuffle Pro has allowed us to be way more organized. It will empower us to open multiple offices in various locations. This way, we can continue with our company mission of providing professional DJs/MCs and other event services at a high quality level all over Southern California and beyond."
VOX DJs' #1 Tip for Success
As event professionals who've been in the business for years, KC and the VOX DJs team have some great advice for those just starting out. Their number one piece of advice for new #eventprofs is to create a business plan outline.
KC says, "It's hard to know where you're going without having a plan for what type of business you want to be. Once you decide that, you need to figure out what your company culture will be and what kind of vibe you want to put out to the world. At VOX DJs, we are good vibes only. What that means is that everybody here is a positive, happy person who is excited to be involved with your event in any capacity. Once you settle on those two areas, then you'll need a great piece of software to help you run the company and keep your events organized. This is where Goodshuffle Pro comes in."
The Events Revolution
KC's general message to all event professionals out there during COVID-19 is to stay positive and don't give up hope. He leaves us with encouraging words: "We are going to get through this crazy time, and it will then be an events revolution. The Roaring 20s— part two! Parties every night, Tuesdays, Thursdays, Saturdays, Sundays… Who isn't going to be ready to party when this is all over? We've been stuck inside our houses for months now! All we ask is that when you plan that party, you call VOX DJs!"
Want more tips on strategy, trends, and best practices delivered straight to your inbox?

On average, VOX DJs services over 2,000 events a year, all executed with flawless attention to detail for their clients from the first phone call to book the event, until the last song of the night is played at the event. VOX DJs – "The Life of the Party!"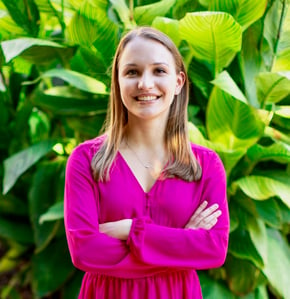 Carmen Bodziak
Carmen Bodziak is a Marketing Manager at Goodshuffle Pro, a party and event rental software company dedicated to empowering those in the events and decor industry. She also currently oversees the Goodshuffle Blog.