Now that you have some understanding of the service basics a specialty event rentals company offers, let's delve deeper and unpack additional options you can add. Services grow your event business since they often require less overhead, so it's important for your rental company to market all the services you offer and price them accordingly.
Setup and Tear-Down
Setup and tear-down is like installation for furniture if you read our previous article on Services to Add to Your Vintage Rentals Collection, Part I. Delivery and pickup is one type of service, but that should not necessarily include setup and tear-down for all the same price. Whether you want to call your setup and tear-down "premium delivery," or simply "setup and tear-down", it needs to cost more than just delivery. Educate clients that this is an additional service you offer, as moving furniture around is back-breaking work. To take the item off the truck and leave it curbside is one thing; to bring it in on furniture movers, navigate narrow hallways, ramps, stairs, hills, and different turf is quite another.
Setup and tear-down involves placing the item(s) in the client's requested spot, then picking said item(s) up from this spot and returning it to your truck at the end of the event. This is a bifurcated service, much like delivery and pickup.
Market your worth to your client by explaining you:
Are helping them avoid heavy lifting (who wants to be sweaty on the event day?)
Are saving them money in the long run, because your team is professional and knows how to lift, carry, and move things — clients are not likely professional movers and can damage rental pieces
May know this particular venue and all its quirks–so you are much more efficient, thereby helping other vendors to set-up that follow you (e.g., florists, caterers, bakers)
The best part is it's all professionally laid out in your invoices with Goodshuffle Pro. You can view the line item services, apply any required taxes (if necessary), and see what it will look like before sending off. Easily toggle back to the vendor view if you need to make any changes and avoid mistakes, then you can send with confidence. This simple step can help you avoid missing something (e.g., suffering a financial loss) and help you maintain professionalism. It is much more embarrassing to have to send yet another message explaining you forgot something important than taking a few seconds to review.
Styling Versus Setup and Tear-Down
Think of styling as accessorizing. This can include services such as arranging pillows, placing of props, and figuring out what looks best proportionately and pleases the eye. This is a fantastic service to offer and is also a way to increase revenue. Design is our bailiwick and is a very specialized skill and talent you have acquired in your unique business. People seek you out for this.
You might also create more specialized design services such as:
Slide decks
Mood boards
Any other visuals to help create the vignettes in advance of the actual event
Design involves bringing the client's vision to life. These services are some of the most valuable you can offer, so make sure you emphasize this when marketing.
Planning and Coordination
Some vintage and specialty rental companies also dabble in event planning. You pick up lots of helpful information along the way including vetting other vendors you highly recommend to your clients. We, as boutique vintage rental companies, also understand things like timelines, logistics, vendor meals, and all sorts of other planning and pre-planning that goes into something like weddings, or other corporate events. This is a very nice enhancement to offer in your vintage and specialty rentals company. You are a great resource for your client, and they may bond and connect with you more than some coordinators, or planners.
In addition to your specialty event rentals, you may offer up services for:
Event management
Month-of coordination
Partial planning
Full planning
It is also discretionary if you want to offer a discount for your rentals as a way to incentivize if clients book you for planning services. Remember discounts can easily be saved by the client contact, or added to each line item in Goodshuffle Pro.
If you have the patience, skill, and ability to put out fires, this may be the perfect offering for your clients. You likely already have lots of contacts and know the work of other venues and vendors, so why not include this in your services you offer?
Services Mean Growth for Your Specialty Event Rentals Company
There are so many different services that your events company most likely already offers, and this guide may provide you with a few more. Knowing your worth is important for both growth and increasing revenue. When you offer exceptional services at fair prices, your clients will speak highly of your brand, prompting others to give your company a try as well. Word of mouth marketing is some of the most effective, so take this opportunity to capitalize on it. With less overhead, services are a great way for your rental company to make more money and expand your business.
Ready to regain control of your event business with all-in-one software?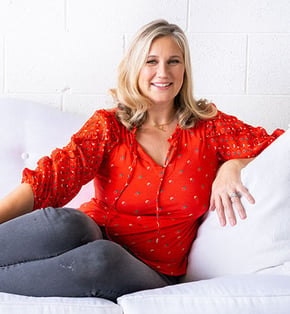 Anna Braff
Anna Braff is a wife, mother of two sweet and precocious boys, and the lead designer and creator of Provenance Rentals, a boutique specialty & vintage rentals & prop house in Inglewood in Los Angeles decorating for the romantic, unique, and chic client whether the event is corporate, or personal, all over California and beyond.