Total Events, a New York-based event company that has been in business for more than 20 years, began with the founders renting a small inventory of décor items. Richard and Melissa Carrier grew their business from their home office, and now operate out of a 26,000 square foot warehouse. Their motto is #TotalTransformation because they completely transform their clients' vision into stunning events. Not only does it apply to the beautiful events they put together, but it applies to their own business growth as well.
Out of the Garage, Into the Industry
Total Events truly began as a grassroots company. In 1999, Richard and Melissa Carrier started their event rental company from their garage. The combination of Richard's vast hospitality experience in Las Vegas and Melissa's background in sales and marketing made them the perfect duo to spearhead this new business venture, and they went for it!
Twenty years later, Total Events has grown into the beloved event business it is today. The company operates in upstate New York and the team has grown to over 30 people. They work all types of events from weddings to baby showers to corporate events. With every event, the team brings creativity and passion to execute each client's vision for a total transformation. Tommie Burch, an Event Specialist on the team, explains that she loves her job and company because she gets to make people feel special and welcome.
On top of the personal relationships they build with clients, the relationships with other event professionals are a big part of Total Events' success. Especially with COVID-19 making a huge impact in the events industry, Tommie explains that it's only further demonstrated the power of relationships in this community-based field. She explains, "Everyone supports each other and checks in on each other. So many event professionals have been supportive during the pandemic by asking others' thoughts and feelings, as well as offering to help however they can."
#TotalTransformation
The Challenge: A Larger Inventory Collection Needed More Room for Growth
As the Carriers continued to build upon the foundation of their growing business, they knew they would have to make many strategic decisions to continue this expansion. In 2018, as they expanded their inventory collection, they found that they had outgrown their main tool, an event rental software. It was outdated and couldn't handle their more detailed events and custom inventory pieces. It was becoming too costly in terms of both time and money, and getting in the way of what the team values most: delivering clients' ideal events.
The Solution: Fast, Flexible Event Software
After a demo with Goodshuffle Pro, the Carriers discovered that this software was flexible enough to both accommodate and empower changes and growth within the company. It was also easy to use and customizable. Inventory headaches? Gone. Online payment issues? History. Plus, with Goodshuffle Pro being cloud-based, the team had easy access to projects from anywhere at any time: the event site, the office, or even their home.
The Result: A Shorter Sales Process and a Beautiful Website
In addition to the growth Total Events was seeing with larger, more detailed events and their inventory expansion, they also wanted to make it easier for clients to plan their dream events. This is where Goodshuffle Pro's Website Integration came into play. After a long day of work, family, and errands, the last thing a client wants is to wait for a company's business hours to coordinate their upcoming event. So what do they do? If they're like me, they make a cup of tea, crawl into bed, and start browsing around the web looking for inspiration to get a head start. We all do something similar, but it really does make coordination difficult.
Total Events really wanted to streamline planning and save their team time during the sales process, so they incorporated the Wishlist Integration into their #TotalTransformation plan. This customizable feature allows them to capture after-hours client interaction. Clients submit wishlists to start the event creation process whenever they want. It gives clients the space to have their voices heard, while also allowing the Total Events team to maintain control and have a more productive first conversation. Plus, the integration is a magnet for eager planners— Total Events has seen a 50% increase in leads coming from their website since implementing it.
Going Forward: COVID-19 and a Shifting Industry
COVID-19 has caused massive changes in the events industry. As of November 2020, events are currently capped at 50 people due to COVID-19 in New York where Total Events is based. The Total Events team has stepped up to the plate by launching a campaign called "Total Home" to create smaller, intimate events that accommodate these new regulations. With such close attention to every detail, these events are, arguably, even more incredible than the larger events that clients had initially planned.
Total Home brings beautiful, curated tabletop packages to clients' events. Recently, the Total Events team worked a wedding of only 16 people, who all had their favorite meals prepared for them as part of the wedding reception. This is just one instance of a fun detail that wouldn't be possible at a larger event. The team has been able to channel all of their creative energy that would normally go towards hundreds of guests into something truly unique and unforgettable. They even worked with one of Goodshuffle Pro's preferred website developer partners to ensure these packages were displayed beautifully on their website.
There are so many new possibilities with smaller-scale events that Total Events is excited to explore. While COVID-19 has presented tough challenges for event professionals everywhere, Total Events has remained flexible, in part due to the same flexibility of Goodshuffle Pro. We are so proud to be on this journey with them as they continue to pave the way for a new normal in events.
Advice for New Event Professionals
Tommie encourages other event professionals who are just starting out to be flexible and to go with the flow. There are always unknowns with events, and being able to think on your feet is an important skill when an issue inevitably arises. As Tommie explains, one of the most rewarding parts of an event is when she and her team handle issues behind the scenes so that the client can continue to enjoy their time. Afterwards, the client is always so impressed with how the team professionally and successfully handled whatever situation arose. With twenty years of success under their belt, Total Events is ready for whatever comes next.
Want more tips on strategy, trends, and best practices delivered straight to your inbox?

The team at Total Events wants to bring your vision to life with a Total Events Transformation. Whether it's a wedding at one of the premier venues in the Capital Region, a corporate gathering, or an over-the-top holiday dinner, their seasoned Event Specialists are there to guide you every step of the way. Over the past 20 years, they've built relationships with the area's preferred venues and event professionals. They we have everything you need to turn your vision into reality.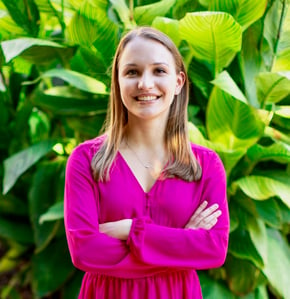 Carmen Bodziak
Carmen Bodziak is a Marketing Manager at Goodshuffle Pro, a party and event rental software company dedicated to empowering those in the events and decor industry. She also currently oversees the Goodshuffle Blog.