Whether you're going for a walk or driving to work, podcasts can be a great way to learn more, entertain you, and pass the time. It's no secret that business owners are busy, so finding ways to consume information while you're doing something else is a great option. Podcasts have taken over the audio scene, so much so that it feels like everyone and their mother has a podcast these days. This means that there is a podcast out there for everyone on virtually any topic.
We found 5 noteworthy event podcasts (and a few bonus pods) perfect for event professionals. Whether you're a seasoned veteran or a newcomer to the event industry, these podcasts can help you grow as a business person and event professional. Let's dive into these 5 business podcasts for event professionals.
The Render Podcast, hosted by Cam Petty Palmer, offers an event professional's perspective on all topics within the event industry. As a rental company owner herself, Cam speaks about a wide assortment of topics about the event industry and running a business in general. Episode topics range from technology in the event industry to SEO tips. With 10 minute quick bite episodes and longer episodes closer to an hour, you'll be sure to find time for The Render Podcast in your busy day.
Dive into the world of event and meeting planning through Meeting Minds with Charles Eide. Charles, an expert event planner, delivers timely episodes on topics related to planning and conducting events, conferences, and meetings. More than just practical tips, this podcast focuses on important soft skills like emotional intelligence and empathy in an event setting. The episodes ranging from 15-30 minutes each are chock-full of valuable tips and tricks, making it on of the best podcasts for event professionals.
Bizbash, an online event news publication, has its own podcast, Gather Geeks. Hosted by David Adler, the chairman and founder of Bizbash, Gather Geeks brings you the most recent trends and news within the event industry. Gather Geeks podcast episodes tackle unique subjects and apply them to fit the lives of any listener. From cutting edge event management software to event trends in Korea, Gather Geeks by BizBash covers it all.
#EventIcons is a weekly opportunity to learn from the biggest names in the event industry. The host, Will Curran, interviews event profs from many different backgrounds and experience levels. Learn how they got to where there are today, as they share tips and tricks from their personal experiences. You can even interact with the guests by submitting questions before the episodes via their social media.
The final podcast you should be listening to is How Great Events Happen, a weekly podcast by event professionals for event professionals. Stay up to date with the latest trends and recent innovative events with this podcast. Episode topics vary from breaking event news to timely advice on how to stay relevant in the event industry. Each episode is about 30 minutes long and will leave you feeling informed and inspired.
Bonus Round:
Consider expanding your horizons with a few entrepreneurial podcasts. There is still so much to learn from those outside of your industry. The following podcasts are for those with an entrepreneurial spirit who want to learn from others in the business world.
How To Start a Startup is a valuable source of information for any current or aspiring business owner. Adapted from a video lecture series, this podcast is your go-to source for all questions or concerns you may have about running a business. Lecturers from Stanford speak about topics ranging from securing funding to sales and marketing. This 20 episode lecture series is full of informative nuggets that you can apply to starting and running your own business.
How I Built This features interviews with the founders of the world's most well known brands and companies. The host, Guy Raz, dives into the lives of entrepreneurs, self-starters, and risk-takers. Not only can you learn the backstory of some of the most interesting companies, but the guests provide valuable insight on what it takes to be successful. With one 30 minute episode and one 1.5 hour episode dropped each week, you can choose which one you're interested in depending on the time you have.
The next time you're sitting in traffic or bored with your workout playlist, try listening to a podcast. Podcasts have the power to inspire and inform listeners all at the same time. If you're an aspiring entrepreneur, current business owner, or event professional these podcasts can help you learn from the best in the business. Keeping up with the latest trends and news can be difficult, but incorporating these podcasts for event professionals in your daily life can make it easier.
Want more tips on strategy, trends, and best practices delivered straight to your inbox?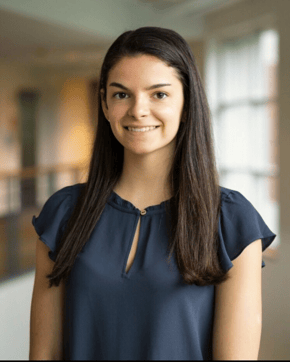 Emily Noel
Emily Noel is a Marketing Intern for Goodshuffle Pro, powerful event software for event companies.