Tent rental companies have big challenges in hiring and retaining staff given the seasonal nature of the business and the tent expertise needed to erect these complex structures. Here are our best tips to hire and retain a stellar part-time staff that fits your needs and brings in the most profit for your tent business.
Hire smart and retain employees with these key steps:
Hire those referred by trusted friends or colleagues.
Know who you are looking for.
Strategically post job openings.
Include an accurate job outline.
Evaluate applicants based on your company's values.
Empathize with employees to understand their goals.
Foster a transparent, communicative environment.
Satisfy hungry employees with growth opportunities.
Enhance workplace with two-way feedback.
Offer competitive pay to part-time employees.
Let's get started:
Tips for Hiring Tent Company Employees
Make sure to check all these boxes before hiring someone for your team:
Ask for referrals from trusted friends or colleagues.
The best referrals are from happy employees telling their friends! Read on for tips on retention so that you have these happy employees to begin with
Know who you are looking for.
An undergraduate student? A person with loads of work experience? Someone who may not know a lot but is willing to do the dirty work? Think about who you want and target place this person may be looking for jobs.
Be selective with where you post job openings.
You don't want to end up with an absurd amount of applications, half from people you aren't targeting. By posting your job opening in specific, targeted places such as your local university's career center, a trade school, or a neighborhood email newsletter, you will increase the likelihood of your ideal candidate finding and applying to your open position.
Accurately outline what the job entails.
Be honest and transparent about what they can expect, as you don't want anyone to be taken by surprise or incapable of handling the rough moments.
Know what is important to you and your company and design application and interview questions around these criteria.
Don't forget to require a few references! It's always a red flag if someone can't provide past employers who are prepared to sing their praises.
Be specific.
Everyone says "good attitude" or "hard worker". Consider saying instead "enjoys finding solutions to tough problems" and then be sure to ask for examples in the interview of a time the candidate did just that.
Pro Tip: Know what classifies a part time employee. Most companies consider an employee who works less than 40 hours per week to be part time. However, this number can be as low as 30. The Fair Labor Standards Act does not currently differentiate between part-time and full-time employment, so it is up to you to determine what is best for your company. This varies in Canada as well as state-to-state, so be sure to check out the laws where you are based.
Tips for Retaining Tent Rental Business Employees
Hiring part-time employees is just the first step. The next is to retain these employees once they're there. It's important to retain staff since it costs less to keep employees than to hire new ones (plus, happy staff tell their friends about their work and that's really the best way to hire!). Some tips for retention include:
Understand employees' goals.
Learn what drives them, what they want in the short-term, and where they see themselves in the long-term. Everyone wants a paycheck, but is their goal to move up in the company? Or have regular work? Knowing what drives them will give you insight into how hard they'll work, and whether or not they're likely to stick around.
Many employees appreciate honesty and communication when it comes to how a business is performing. Let them ask questions and be prepared with answers.
Offer opportunities for growth.
Offer bigger challenges, more responsibility, and even promotions. If an employee is hungry with ambition, foster this appetite and see where it takes them and the company! More responsibility, more regular hours, perks, and, of course, a raise are just some ways you can provide a growth path.
Emphasize two-way feedback.
Hold quarterly reviews so that you can give your employees constructive feedback to improve performance for the following quarter. Then ask if they have any feedback about their experience at the workplace and see what you can do to help.
Offer competitive pay in line with industry standards.
Remember that if you pay less to save money, you may actually lose money. An unmotivated workforce means wasted time and sometimes even poor customer service. Sloppy mistakes cost more than an extra couple bucks per hour.
End Result
All the top tent rental companies have the best staff, and your event rental business is no different! Excellent employees save you time, ensure happier clients, and make fewer costly mistakes such as damaged inventory or relationships. While you will increase business expenses at first and will have to invest time in training a new hire, your ROI will increase in the long run. Grow your tenting business and make a name for yourself as the company with the BEST people to work with.
Curious how Goodshuffle Pro can help tent rental companies manage their team, inventory, and sales?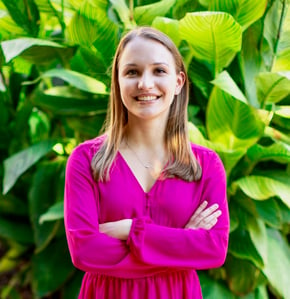 Carmen Bodziak
Carmen Bodziak is the Marketing Associate for Goodshuffle Pro, a party and event rental software company dedicated to empowering those in the events and decor industry. She also currently oversees the Goodshuffle Blog.