Social media for event profs is one of the most important marketing strategies you can have. Social media in general, and Instagram in particular, is a great place to promote an event company. It's a platform where you can showcase your services, communicate with your target audience, and proactively engage with your clients. This is why it's absolutely crucial to be present on social media.
Are you looking for tips on how to build a successful content marketing strategy? We've got you covered with this short guide to social media for event profs. Whether you have just started your business or have been in the industry for a while, this guide will help you boost engagement on Instagram and improve your online presence.
We will go into more detail on these content creation tips below:
Get high-quality visuals for your event company's Instagram.
Write engaging captions from scratch.
Choose a unique branded hashtag to stand out.
Use hashtags wisely to target potential customers.
Include a URL in your Instagram's bio.
Getting the most from tags and mentions.
Adding emojis to convey your brand.
Let's break it down:
Get high-quality visuals
Instagram is a visual social media platform. Therefore, if you want to grab your audience's attention, be ready to invest money in visual content production:
Buy a good camera and photo equipment
Collaborate with event photographers
Learn how to use image editing tools and how to design memes, quotes, and infographics
Hire a freelance content creator, if you can afford it
Instagram users are getting picky – they want to consume content of the highest quality. So please, stop posting blurred photos taken on your phone. Find a way to generate share-worthy content.
Do you lack resources to create visuals? Ask your clients to share photos taken during the events. Getting quality pictures and videos from others is a great strategy.
Write new captions from scratch
Can you guess one of the most common mistakes event profs make when creating Instagram posts? They use the same (or almost the same) caption for different posts.
For example, let's say an event professional has published three photos from different weddings using the same caption. The only thing that they have changed is the names of newlyweds:
"Congratulations Chris and Melanie! We were happy to be a part of your Big Day"
"Congratulations Ben and Alice! We were happy to be a part of your Big Day"
"Congratulations John and Megan! We were happy to be a part of your Big Day"
That's a wrong approach to content creation. If you write captions like these, you will have little chances to attract new clients.
Every post you create must be unique. So be creative and write every caption from scratch. Sounds like a challenging task for you? Don't hesitate to get help from professional content creators. Use writing services like BestEssaysEducation or freelance websites like Upwork.
Choose a unique branded hashtag
Have you chosen a branded hashtag for your event company? This is a great opportunity to market your business. Reminder: your hashtag doesn't necessarily need to match your brand name, but it must be unique.
Imagine you're an owner of the New York-based company Bride's Dream. You can't use hashtag #BridesDream as your branded hashtag, because it's already taken. Check it on Instagram – it has been used more than 5,000 times by different users.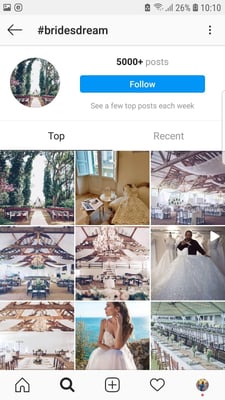 You need to find a similar hashtag that will belong exclusively to you. For instance, #BridesDream_NYC is a good option to consider – this hashtag has never been used on Instagram before.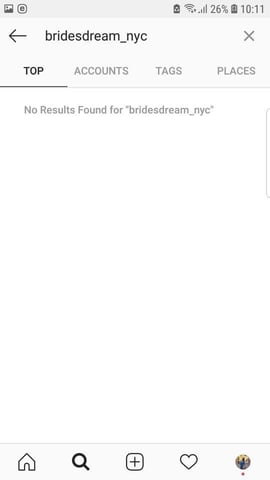 You can also create a few additional hashtags to improve your profile navigation. You can divide all your content into a few categories and name them accordingly #BridesDream_NYC_Reviews, #BridesDream_NYC_Flowers, and #BridesDream_NYC_Venues.
Use hashtags wisely
Your branded hashtags are not the only hashtags you can use. Instagram allows you to add up to 30 hashtags to every regular post, and up to ten hashtags to every Story.
Please, don't use the hashtags just for the sake of it! Choose hashtags meticulously. Pick only those words and phrases that are relatable to the message of your post.
Why is it so important? If you overuse irrelevant hashtags, your post will look spammy. It will bring you more harm than good.
Put a URL in the bio
Don't add a link in the captions. The link will be inactive so that no one will use it. If you want to direct prospective clients to your website, put an active link in your bio.
Do you want to promote more than one webpage using Instagram? There is a solution for you. You can use services like LinkTree to anchor your link in bio to multiple web pages.
Use both: tags and mentions
What do you usually use: tags or mentions? If you want to boost your content marketing efforts, you should use them both. You should tag your clients, suppliers, and partners in your photos and videos and mention them in your captions and comments.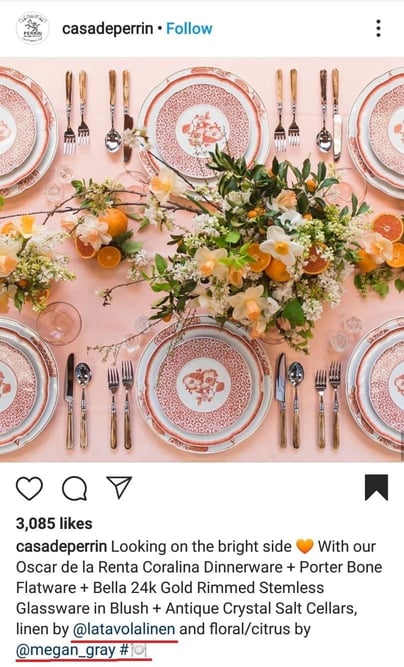 Why is it a good idea to use tags and mentions this way? Some Instagram users don't read posts – they only check tags in photos. Other users do the opposite – they read captions and comments, but don't check whether an image contains any tags. It means that by using both tags and mentions, you will reach a wider audience.
Add emojis
Social media marketing and emojis go hand and hand. You have noticed that, haven't you?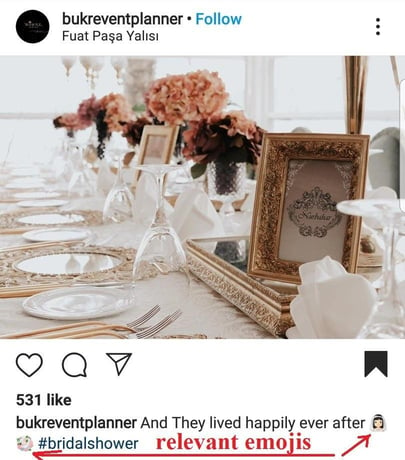 It's hard to overestimate the importance of social media for event companies, so you should consider using emojis in your regular posts and Stories:
Add one or two emoji per post.
Don't substitute words and phrases with emojis. For instance, don't replace the word "avocado" with the avocado emoji.
Avoid using emojis that have double meanings (e.g., peach, eggplant, tongue emoji).
Remember that the same emoji might look different on Android, iOS, and other devices. Make sure that the chosen emoji will not distort your message.
How to get the most of this guide to social media for event profs
You should remember one important thing. Your event company is unique. There is no standard content marketing strategy template that you can use. If you want to make your business a success, you should build your very own social media strategy from scratch.
Use this guide to social media for event profs. And feel free to make some adjustments if necessary. It's time to create killer content for Instagram and take your business to the next level!
Want more tips on strategy, trends, and best practices delivered straight to your inbox?
Kristin Savage
Kristin Savage nourishes, sparks and empowers using the magic of a word. Along with pursuing her degree in Creative Writing, Kristin was gaining experience in the publishing industry, with expertise in marketing strategy for publishers and authors. Now she works as a contributing writer at TrustMyPaper and GrabMyEssay. You can find her on Facebook.