Though customer service is what retains clients and keeps them happy, your inventory is what initially draws them in, so it's crucial your stock is ready to go for the new year. You and your team should be taking the necessary steps to prepare your party rental company's inventory for the new year. Follow this guide for the best tips and tricks for revamping your inventory before the ball drops!
1. Match your physical storage space to your digital space.
It's time to make sure anything you want to re-organize in your physical space has its location labeled in Goodshuffle Pro. With matching labels in both your physical and digital spaces, you'll create a seamless connection between your physical and digital spaces, which is crucial if you want the technology to actually impact the inventory that's being shuffled in and out of your space, and will ultimately make your life a whole lot easier.
2. Create SOPs.
A team is only as strong as the weakest link. Your organization process will only work to its full potential if your whole team understands and abides by the logistics behind the process. You need to have standard procedures on checking, storing, and cleaning inventory or you will always run into the same issues. Determine what's best for your business and streamline your organization process easily and immediately.
3. Mark the past year's damaged inventory and review.
With Goodshuffle Pro, you can store damaged or tired items in your Set-Asides to revisit at a later date (hint: that later date is in the off-season!). Below, you can see the entire list of inventory that has been placed in the Set-Asides folder. When we click on an item, such as Round Peach Basket, we can see that there are 4 units that have been set aside. We can also see that these are from a past pool party where the baskets were reported to have broken. This information is valuable (now you know what needs to be refurbished) and so easily accessible!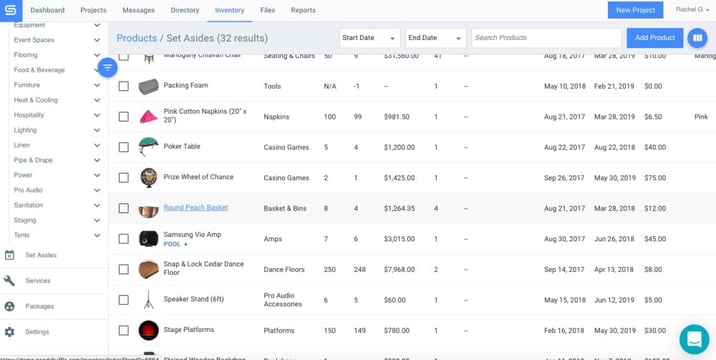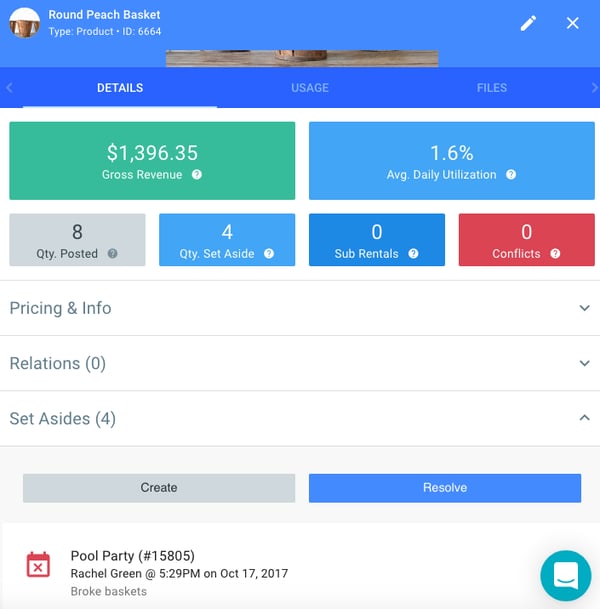 4. Replace your rental company's inventory that can't be saved.
Try looking on Pinterest or at popular suppliers. Both new and used equipment can be used as replacements, so be sure to look on eBay and Craiglist too.
5. Refurbish what you can. Toss the rest.
For anything that drives a profit and can be fixed, spend the time and money to refurbish it (learn more here about how you can do this without ruining your inventory). For everything else (such as working inventory that does not fit your current needs and inventory that no longer meets company standards), you may want to consider donating, selling, or tossing. Worn-down inventory looks unprofessional and may not work as well, and inventory that still works but is outdated or is going unused takes up valuable storage space and results in unnecessary holding costs. While it may cost a bit more in the short run to invest in fixing current inventory or purchasing new inventory, it will save you money in the long run and will ultimately delight your customers.
6. On the flip side, check out your equipment and see if it needs refurbishing or replacing.
Anything that you use to run your business should be looked at, whether that be the vehicle(s) you use for transportation and delivery, forklifts for the warehouse, or dollies and ladders, it's important you give these a look and make sure they are up to your standards. Ensuring you have working equipment in great condition is critical to efficiency, safety, and success.
7. Invest in more of your most popular and profitable inventory.
If something in particular is selling really well, invest in more of it! Review your party rental company's sales from the past year-- what was most popular with your target markets? What did clients rave about? Was there something they wanted to see more of? Use data to back up your reasoning and capitalize on these opportunities! You can use Goodshuffle Pro's dashboard and item usage panel to track your inventory by category as well as your clients to see what and who is bringing in the most revenue for your company, as seen below.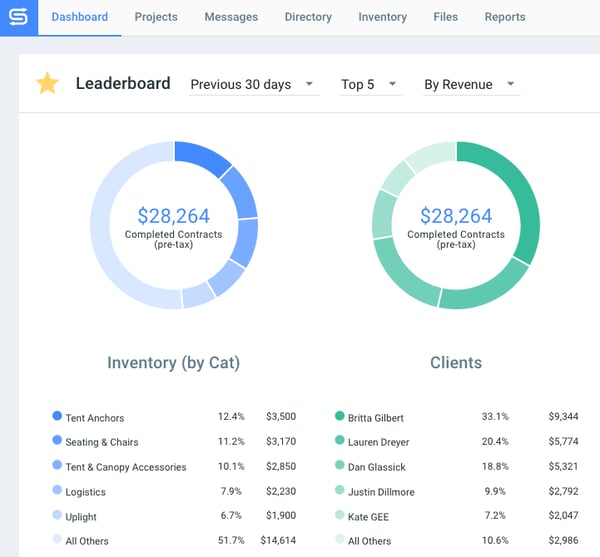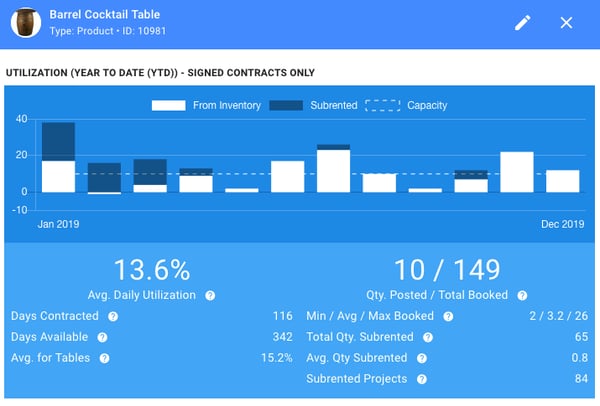 8. Check out the latest party rental company trends.
Read up on trends in your industry and see where your business fits. Is there a new type of inventory, technology, event, or mindset that is on the come-up? See what's being talked about and determine if it makes sense with your target market and business model. For instance, we've noticed that minimalism and personalization are making huge headway in the events industry in the last year, so investing in inventory that fits the minimalism theme (for example: simple greenery as decor, linens in geometric patterns) and inventory that can be easily personalized (think: customizable signage, personalized photo booth ops) is a great idea.
9. Brainstorm ways to differentiate your party rental company's inventory offerings.
Ask yourself if there is a way to stand out from other companies who may be offering similar products or services. For instance, this couple started offering all-white moon bounces to wedding clients when they saw a window of opportunity after planning their own wedding, and their company has taken off! Be wary of fads and do your research, but don't fall behind the times either.
10. Invest in party rental software that manages inventory.
Investing in software can seem daunting, but the most important part of software shopping is to not be afraid! Ask questions, do your research, and see what fits for your company. Inventory is a core part of your business, so you can't afford to not have software that organizes your items and makes sure you're regularly aware of what's selling, what's not, what needs repair, and more. Software makes managing inventory a breeze (and once you have it all organized, you want to keep it that way!).
2023, Here you Come!
Without inventory, your party rental company doesn't exist. Spending the proper time, energy, and money to revamp your inventory and learn how to manage your inventory like a pro in the new year is beyond worth it. 2020 can be your best year yet if you take the necessary steps listed in this guide and apply them to your event business. After you take stock, it's out with the old and in with the new. The ball is dropping soon, so go get 'em!
Ready to regain control of your event business with all-in-one software?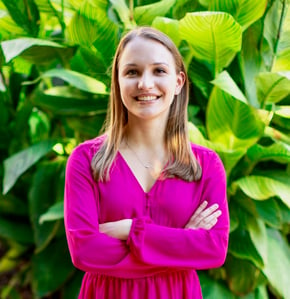 Carmen Bodziak
Carmen Bodziak is a Marketing Manager at Goodshuffle Pro, a party and event rental software company dedicated to empowering those in the events and decor industry. She also currently oversees the Goodshuffle Blog.