Renting tents for your event is one of the biggest decisions to make when you're planning a big outdoor bash. You'll need to evaluate sizes, framing, heating or cooling, sidewalls, flooring, and more. Check out our tips for renting tents below.
What Size Tent Do You Need?
Renting tents in the right size can be one of the most difficult aspects of renting a tent. This tent calculator is a fantastic, simple tool to help you select the right tent for your event needs. Start off by typing in how many people will be attending the event. If you are planning on having something like a wedding reception under the tent then make sure to include all of your guests and the catering staff. Next, select if your guests will be standing or seating. Finally, the calculator prompts you to really think about the details of your party. This is where you get to select things such as dance floor, bar, cake table, and more.
Once all the applicable items have been selected the website will automatically suggest which tent sizes will be appropriate and comfortable for all the fun you have planned.
Always Frame, Never Economy
When it comes to renting tents for important events such as galas, corporate gatherings, or weddings, we always recommend a framed tent. Frame tents are weather resistant and will not get blown away in a storm. Economy tents, on the other hand, can easily get blown over if there is wind and do not keep the entire party dry during rainstorms. Curious about how to decorate your wedding tent? Check out our previous blog, Planning an Outdoor Wedding with a Tent.
Turn Up The Heat (or AC)
When it gets cold outside, tent heaters can be rented to keep all your guests comfortable. One thing to consider when renting tent heaters is whether it runs on propane or electricity. Be sure to clear with your venue what's allowed and what accessories (i.e. outlets and extension cords) are available for your use. On the opposite end of the spectrum is cooling a tent during the hot summer months. Tent AC units or tent fans can be rented to keep your guests cool throughout the event. Whether you're renting a heating or AC unit, it is also recommended that you rent sidewalls to keep the heat or cold inside.
Can I Get Sidewalls With That?
Sidewalls are an important component of tents, but are something you must rent separately from just the canopy. When heating units are rented, sidewalls come in handy to keep out the cold, and the heat contained inside the tent for a more comfortable environment. In the summer, sidewalls help keep out all the annoying bugs. The 4 types of sidewalls are solid white, clear, mesh, and window sidewalls. When determining how many sidewalls you need to rent, the standard size 8' high and 20' long. Sidewalls can be wrapped around corners. So if you are renting a 30' x 60' tent, then you would need to also rent 9 sidewall pieces (8' x 20') to completely cover the tent.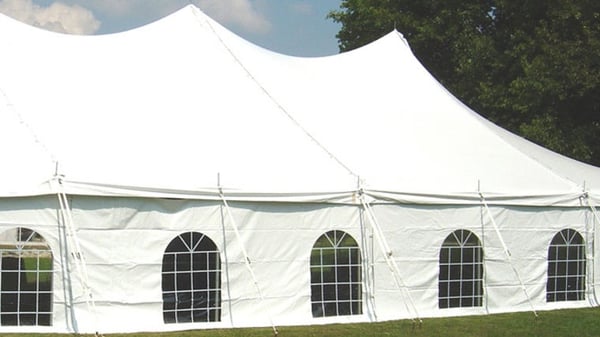 Just Dance
What's a party without dancing? If you are planning on renting a dance floor in addition to your tent, there are few things to keep in mind. The first thing you will want to determine is what size dance floor you need. The industry standard is to rent a dance floor for 33% of your attendees. Once you determine the dance floor size, you will need to determine how many dance floor sections you will need to rent. Most rental companies have 3' x 3' sections available for rent. Here is a handy chart to help you determine what size dance floor you need to rent:
The final thing to consider is if the dance floor is able to be placed outside. Some dance floors are only for indoor use, while others are able to be used outside as long as a padding is also rented to go underneath the dance floor.
Stakes or Water Barrels
One of the first things any rental company will ask you is whether your party is on grass or concrete. If the tent will be placed grass, ask the venue if you are allowed to stake in the grass. This is the preferred method since it is cheaper and easier for the tent company to install. Sometimes you may not be allowed to stake in the grass, or the tent will be set up on concrete. If this happens, ask the venue if they have a water source onsite to fill up the water barrels.
Water barrels that can be filled up onsite tend to run much cheaper than those that have to be brought to the site already filled. A rule of thumb when determining how many water barrels you will need for your tent is that every 10 feet needs 1 water barrel. So for a 10×20 tent you will need to rent 10 water barrels.
Permits Please
Depending on the tent size that you rent, you may need a permit before it can be installed. For example, in Fairfax County, VA all tents that are over 900 square feet need a permit. Check with your local jurisdiction to see what the laws are for renting a tent.
Delivery and Pickup
With any framed tent rental, you will need to have the rental company deliver and install the tent. When choosing a delivery time, it is usually cheaper if you select a delivery window versus a specific time. Additionally, most rental companies are closed on Sundays so it is actually cheaper if you have them pick up the tent on Monday.
Want more tips on strategy, trends, and best practices delivered straight to your inbox?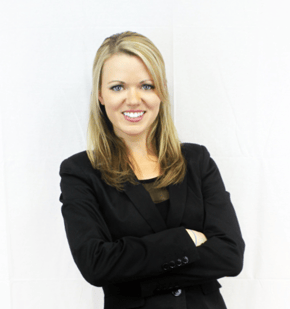 Karen Gordon
Karen Gordon has spent her career growing event and technology companies through consultative sales and strategic growth strategies. Now, as the Executive Vice President & Founding Team Member of Goodshuffle, she is revolutionizing the event rental, design, and production industries with modern technology.