Renting tables for an event can make a huge difference when it comes to setting the tone. Choose the theme and the atmosphere you're going for, and then focus on event rentals! Renting tables is a sure way to build out your dream event. Learn the ins and outs of renting tables below.
Choosing The Right Dinner Tables
When deciding on the types of tables you want at your event, the first big question is whether you want round or rectangular tables. Depending on the venue layout, most people tend use round tables with the idea being that these provide an easier layout for guests to see and talk to one another.
The standard sizes for round table rentals are 5-foot rounds and 6-foot rounds. One additional thing to consider is if you are having a kids' table. Since kids are smaller, you might want to rent 4-foot round table to save some space while also making it feel more kid friendly.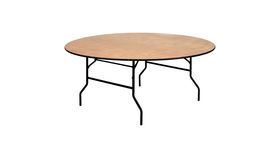 The other popular type of wedding table is a banquet table. Standard sizes for banquet tables are 6 feet and 8 feet long. These tables are great because they can be spread out across the venue or brought together to form longer tables. A big trend in weddings in particular right now is to rent farm tables for the reception dinner. It's a classic look that gives your wedding a subtle wow factor.
Another popular wedding trend is a sweetheart table where the bride and groom sit together at the reception. For a unique twist, you could also carry this wedding tradition over to an anniversary or birthday party, making the guest(s) of honor the center of attention with their own special dinner table. To really make the sweetheart table pop, try renting this Hairpin Plexiglass Table.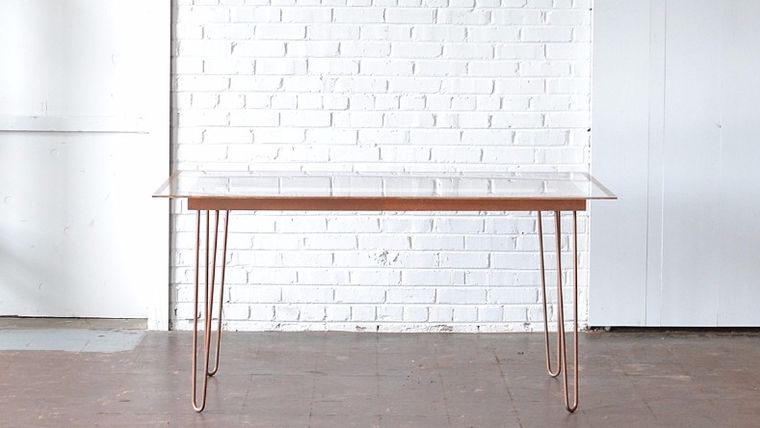 How Many Tables Should I Rent?
One you decide how many guests will be attending the party, you can easily figure out how many tables you will need to rent. The number of people who will fit at each table is as follows: 5-foot round tables can seat 8-10 guests, 6-foot round tables can seat 10-12 people, 6-foot banquet tables can seat 6-8 people, and 8-foot banquet tables can seat 8-10. Most farm tables can seat between 6-10 people, but check with your rental company before booking.
The tricky part about renting tables is all the extra tables that you will need but may not necessarily think of. One example is the cake table. If you are planning on displaying your cake throughout the birthday party or wedding reception, then you will need to rent a separate table just for the cake. Other items that often require extra tables include: escort cards, gifts, wedding favors, satellite bars and wait stations for the catering staff.
Should I Always Rent Linens with Tables?
When renting round tables and banquet tables, linens are a must. Even though rental companies take many steps to ensure the quality of their tables, they are moved around so much that there is inevitable wear and tear. It's expected that you will be covering the tables you rent (unless it's a specialty table such as a farm table). Don't be surprised when there are some dings or scratches.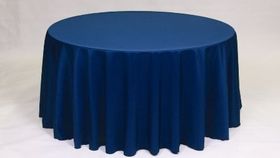 White lines are by far the most common, as it's easy to use napkins, table runners, or centerpieces to add a splash of color. However, we think choosing a colored linen can also be a fun way to add some color to the event! When renting linens it is advisable to order one or two extra just in case anything gets spilled. Not sure what size tablecloth you need? Check out our great linen calculator to help you make the decision.
Cocktails Anyone?
Since not all events include a seated meal, renting cocktail tables is a great alternative to renting the larger banquet tables. These have a smaller footprint but still give a guests a place to set down their drinks or appetizers. While there is no science to how many cocktail tables to rent for you party, there are definitely some parameters to consider. Make sure to consider:
The venue size and space available
If there are other tables at the event
How many guests are attending
How long the party will last
A good starting point is to rent one cocktail table per every 10 guests, then the number can be adjusted up or down depending on your specific event. As discussed earlier, linens should almost always be rented for cocktail tables. The two linen options are spandex tablecloths and regular tablecloths. One thing to consider is how you want to put the regular tablecloth on the cocktail table. Some people choose to have the table cloth just hang while others choose to tie the tablecloth with a ribbon or tie.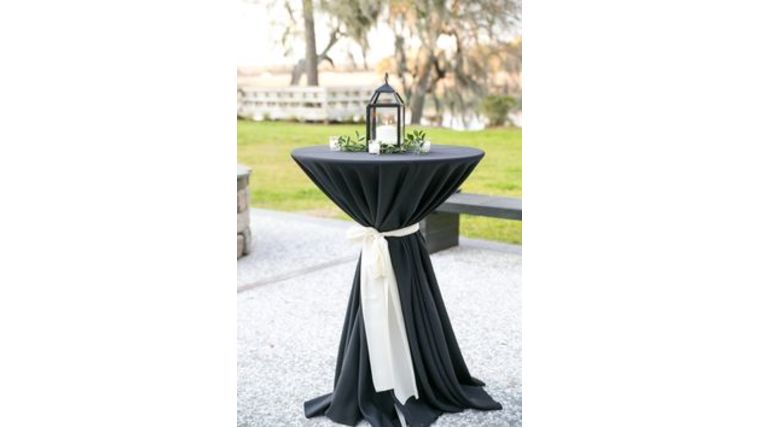 What Other Tables Should I Include at My Event?
When renting tables for your party, you might want to include tables that make the event feel more like home. Goodshuffle offers a wide variety of coffee tables and end tables available for rent. If guests will be drinking at the event, don't forget to include coasters on all the coffee tables. This will prevent you from having to pay a damage fee for the cocktail rings left behind.
When Should I Book Tables for an Event?
As stated in our post about renting chairs, we always say "the sooner the better" when it comes to event rentals. The typical timeframe for renting tables is 4 to 6 months prior to the wedding day. This allows enough time to determine who will be attending the wedding. You'll also have time to draw up at least the first draft of the seating chart. At the same time you are choosing which tables and linens to rent, you should also decide on which chairs to rent. All three elements should bring together one cohesive vision.
Want more tips on strategy, trends, and best practices delivered straight to your inbox?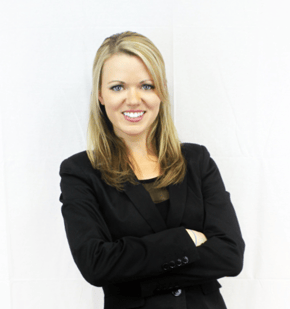 Karen Gordon
Karen Gordon has spent her career growing event and technology companies through consultative sales and strategic growth strategies. Now, as the Executive Vice President & Founding Team Member of Goodshuffle, she is revolutionizing the event rental, design, and production industries with modern technology.