Hate 'em or love 'em, rental inventory trends are a big part of this industry. Your collection will distinguish you from the competition. Learn about how to stay on top of trends in order to acquire and keep the best pieces, and figure out what to toss when it is not working for your business.
All About Inventory Management for Event Professionals
How Do I Stay On Top of Party Rental Inventory Trends?
One guarantee is trends change. They come and go and your inventory will need to reflect this over time to stay competitive. If you don't love a certain trend it can pose a challenge; keep in mind you don't have to follow everything. Some things will be timeless, too. However, you should remain open to new ideas and styles. You might be surprised what you grow to love. We've seen trends range from: rustic/country; shabby chic/vintage; industrial; modern; mid-century; tropical; Bohemian; gold; blush tones; greenery; jeweled tones; geometrics; beachy/nautical; and so much more.
Some essential ways to stay on top of inventory trends are:
Researching
Networking
Listening to your customers and inquiries
First, follow the right people and accounts.
For instance, this means: the latest blogs for weddings and events; well-known event pros and influencers especially in your local area and in trendier locations; run Google searches; keep Pinterest boards; and stay abreast of your competitors. Are you seeing certain trends repeat like modern lounges, or a particular color? These clues point to what will actually rent.
Next, network with planners, venues, and other event pros.
They will need you to curate a vignette and create the fantasy for their clients. They will tell you what they are looking for. Invest in your relationships, and you can run potential inventory acquisitions by them before purchasing. Would your clients like Eames chairs? Would they be interested in donut walls? What about a certain color desk? Individuals and business, with whom you have built solid relationships, can guide you if you are on the fence about a product. Don't be relegated to guessing.
Finally, listen to what your rental clients request.
Your clients may outright ask you, "Do you carry cross-back chairs, copper lanterns, or vintage goblets?" These are all signals of what is popular and what you might need to acquire depending on your brand.
What Should I Buy for My Party Rental Inventory?
Consider the value of carrying multiples: especially with corporate events and larger weddings. Multiples are also critical when juggling many events at the same time, if something breaks, or is damaged. Some specialty rental companies only allow bookings no more than six months in advance. Why? Because if the products get ruined, broken, or lost, you may not be able to deliver what you promised to your client, especially if more on the rare/niche side.
Goodshuffle Pro has three fantastic features that help with this:
If something needs repair, use the set-aside feature to flag it for any upcoming orders, or inquiries. Don't book an already damaged item.
The alternate feature allows you to suggest a great piece to substitute the product in question if it is already booked, or damaged and needing repair. As much as we love one-of-a-kind, if at all possible, try to at least carry an equivalent. Maybe the other item is distinct enough to show a range in your collection, and at the same time provides a backup when an order goes awry from a previous rouge client.
In the event you don't have multiples or an alternate, you might have to subrent. Goodshuffle Pro lets you track subrentals on your pull sheets and your dashboard. Are you subrenting too often from other event rental companies? If you are, this might be a sign you should just acquire similar and extra items.
In moments when you must act fast while appearing as the pro you are, these tools make it easy to show you are prepared with immediate suggestions.
What Do I Do if My Inventory Isn't Renting?
If some inventory sits there unrented, it may be time for a rotation. It also may be more popular based on the season. Evaluate and consider things that could be seasonal, such as heat lamps for standard event rental companies, or a vintage fireplace mantels for vintage rental companies. It is perfectly acceptable to keep these items in stock if they earn their place.
However, if your data shows that based on the space, labor, and expense, it may be worth rehoming it. Use intelligent software like Goodshuffle Pro and it can easily break down what is renting. At the tips of your fingers, you can track and sort inventory that is popular on the Leaderboard section. Effortlessly gather what rents by category, by date, by revenue, and more.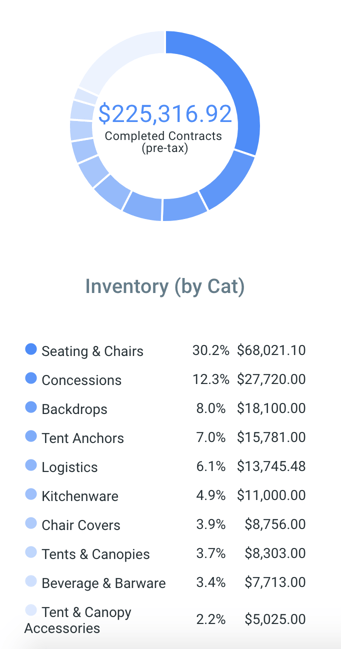 If you know what rents you can better predict what to buy, avoid, and toss. Turn those weak links into capital and reinvest it in your business. Of course, there may be tax consequences. Be sure to consult with a tax professional regarding any tax liability before reselling rental inventory, or assets.
Curious how Goodshuffle Pro can help you grow your event rental business?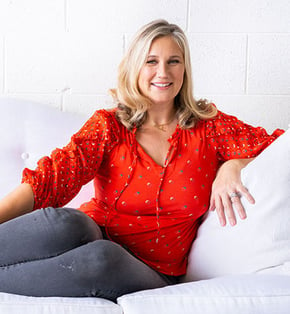 Anna Braff
Anna Braff is a wife, mother of two sweet and precocious boys, and the lead designer and creator of Provenance Rentals, a boutique specialty & vintage rentals & prop house in Inglewood in Los Angeles decorating for the romantic, unique, and chic client whether the event is corporate, or personal, all over California and beyond.