Life feels so out of sorts lately and you might have given up on marketing your rental business. The fact is, people are still planning their wedding. They're still looking for your services and have money to spend. So, you still need to market your event business.
The last thing you want to do is stop marketing. You want to continue to show up, just as you did pre-virus. At a time when others around you may be faltering, you need to do what you can to weather the storm. Imagine if a potential client stumbled across your business listing online or your social media accounts. If you've not posted in a while, chances are it's going to look like you've gone out of business.
To help give you clarity and a focus on your marketing, here are five ways you can market your event business during COVID-19.
1. Stay active on social media.
Now is not the time to go dark on your social media accounts. Couples are planning their wedding and you need to stay visible. They want to see how it is you can help them. If you've taken a step back from posting, set a goal for yourself (and stick with it). Maybe opt to post once or twice a week instead, just be consistent.
Not sure what to post? Here are some great social media options:
Give a client anniversary shout-out
Showcase your inventory (with people interacting with your product)
Share a testimonial
Show behind-the-scenes work
Introduce yourself (people really do want to see the face behind the business)
We work in an industry inundated with enough pretty visuals to last a lifetime!
Also, don't forget to keep engaging. Comment, share, and like others' posts. If you follow your clients via Instagram, send them a personal video direct message. Check-in with them to see how they're doing and ask how you might be able to help during these trying times. They'll be beyond appreciative of this small gesture and might just be the one thing that sets you apart from others.
2. Update your online presence.
Look beyond making updates to your website and review your other listings such as those via The Knot or Wedding Wire. Add keywords to your profile and make sure you have updated photos that align with your ideal client. The last thing you want is to have photos on your profile that show burlap and mason jars when that trend has long passed.
Do the same with your Google Business listing, adding relevant images showcasing your rentals. Google loves it when you regularly upload photos to your listing. They even provide you with analytics on how many times your photos have been seen and how your listing compares to your competitors. Don't have a Google My Business listing? Create one now!
3. Ask for and give online reviews.
Did you know that the number of reviews you have (too few) and how recent they are (more than a year old) could be negatively impacting your business? Now is the perfect time to ask for reviews from both previous clients and industry professionals.
Reviews are a great way to market your business using the words from your previous clients. It's considered social proof and is one of the most valuable forms of advertising. Reviews should be sprinkled on every page of your website, added to your email signature, and included in all your marketing materials such as your postcards, business cards, and Facebook page banner.
Get in the habit of asking for reviews to keep your online reputation current. When you do ask for a review, make it easy and provide a direct link to where to leave a review such as your Google business listing, Wedding Wire, or Yelp.
To take it a step further, leave reviews for industry professionals you've worked with. Give specific examples of why you recommend the business and add relevant images. If you're leaving a Google review under your business account, your business name will appear on the review. What you've now done is put your business in front of even more prospective clients who may have stumbled upon the review you left for someone else.
4. Create a PDF lookbook.
A lookbook is a great way to showcase a collection, new inventory, or highlight a prominent venue that you frequent. In the past, you may have printed these out and hand-delivered them to your referral partners such as venues or planners. They then include them in their client materials, getting you in front of potential clients.
You can achieve the same results by emailing a soft copy of your lookbook instead. One benefit in doing so is that you can include hyperlinks to your inventory driving traffic to your website. The best part? You'll be saving some bucks on printing!
5. Continue networking…virtually!
Just because we all need to be practicing physical distancing doesn't mean networking should stop. Instead, schedule a virtual coffee date or even a virtual happy hour. This could be one-on-one or organized between a group.
Not only does virtual networking help with feelings of isolation, but it also helps us focus on the quality of the relationships we have with others. During your virtual networking, put on an inquisitive mind. Ask probing questions such as who their dream clients are or what you can do to help support them while we're sheltered down.
It's important now more than ever to continue marketing your rental business so you stay afloat. Committing to just one marketing activity a week is better than none. Just keep moving forward. Times are tough, but so are you.
Feature Image by Katie Dessin
Want more tips on strategy, trends, and best practices delivered straight to your inbox?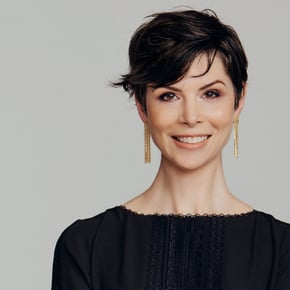 Lane' Richards
Lane' Richards is the multidisciplinary entrepreneur and creative behind the award-winning specialty rental company, Something Borrowed Portland. Sold in 2018, Lane' now offers mentoring and strategic business planning to rental pros looking to build and scale their business.