Obviously, the most important people at any wedding are the couple giving their "I Dos." Their Wedding Day should resemble who they are as individuals, a couple, and their love for each other. That is pretty much Wedding Day 101. The Wedding Day decor and all of the rentals are simply there to create a portrait of the couple's love. But, how can they do that in a way that isn't "blah" and hasn't be done a million times before? Well, I'm so very glad you asked. It's the little touches. The little touches really make your Wedding Day pop. They are what make it memorable to you and your guests. Small and creative details count just as much as the big ones.
Here are some of The Event Cottage's favorite decor and little touches ideas:
Lawn games, word search, corn hole, giant jenga, checkers. Fun games during cocktail hour will definitely be a hit with guests. It loosens up the crowd.
2. Creative Escort Cards.
Have booklets made with your love story or important milestones inside. This is also something guests can take home. Or have a map of cities you have visited together with guests' names on them. Instead of having your tables numbered, name them those same cities, indicating to guests where they should be seated. Are you from Georgia? Use a real peach as your escort card. Stick a flag toothpick with their names and tables. Or do you both like basketball? Use mini basketball hoops. There are so many options here.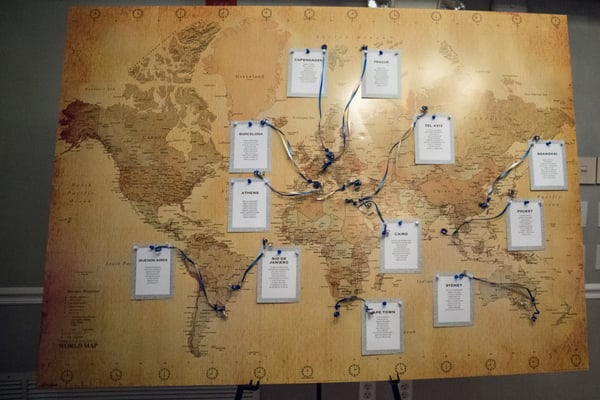 3. Hot Chocolate Bar
If you are having a wedding in the Fall or Winter, add a hot cocoa or hot chocolate bar to your cocktail hour with all of the good fixings. It adds a warmth and coziness to your day. It is also great for kids.
4. Floral Staircase
Floral anything is great. When placed strategically, florals really enhance a wedding and add an elegance to your day like nothing else. However, a floral staircase is palatial and regal. It adds a grandeur to the wedding space and will stun your wedding guests into tons of Instagram photos.
5. Chalkboard Photo Booth
Have a photo booth where people can write chalkboard messages to the newly married couple. Guests can still wear masks and costumes, just as in any photobooth, but the added touch of a message adds beautiful meaning.
6. Family Style Seating
I looooove this one. It creates an intimacy among guests and also helps with conversation at your wedding dinner tables. Depending on how your wedding is set up, it can also cut down on the cost of a wait staff.
7. Lounge Area
This just looks beautiful. You can do this indoors or outdoors and create a vignette that defines you and your relationship. Show off your favorite rom com scene or favorite show. Love New Orleans? Create a French Quarter vignette during your cocktail hour.
8. A New Kind of Send Off
I love sparklers and bubbles, but a lot of couples are using those now. Something that matches the theme or season of your wedding is fun. If you're getting married in the fall, use Fall leaves you have collected off the ground. There are videos on YouTube on preserving their color so when people throw them at you as you're leaving they still have the vibrant coloring.
Did you meet in college? Use your school color pompoms or foam fingers. Be careful though, because some other fun send offs like wish lanterns can cause a fire hazard and are even illegal in some states like Maryland. Also, traditional send offs like rice (meant to symbolize rain) may not be allowed at certain venues. It attracts bugs and is dangerous to animals.
9. Live Wedding Painter
This is a fun way to capture the most important moment of your life. Guests will be dazzled by seeing a painter paint you and the love of your life while you take your vows or dance the night away. A live wedding painter is a beautiful way to commemorate your Wedding Day and when placed in a frame on your wall at home, it will always be a stunning centerpiece of your new life together.
10. Unplugged Ceremony
Ever been to a wedding and the photographer misses a key, loving moment and then it must be redone because a guest was blocking the photog with their cellphone? So, the photographer who you spent all of this money on couldn't get the shot. You don't want people getting in the way of the photographer and having to re-do your first kiss. Noooo!! That's your second kiss! Simply post up a sign that requests that guests refrain from taking pictures until the reception to avoid this hassle.
Your Wedding Day is your canvas to create everything that love means to you. So, take that paint brush and begin creating the very beginning of your new chapter of marriage. Make your Wedding Day pop!
Want more tips on strategy, trends, and best practices delivered straight to your inbox?
Rachael Shackelford
Rachael Shackelford is the owner of The Event Cottage, a planning company for both wedding and corporate events. Rachael's a former CNN associate producer and Emmy award-winning journalist who spent a decade at the international news network covering and producing the biggest news of a generation from the newsroom and the White House. She also worked as a publicist at a Washington, DC firm with federal, non-profit, and Fortune 500 clients, traveling across the country producing public relations events.