Prior to March of 2020, Dwayne Thomas was an event professional and owner of a successful production company. As the events industry was hit by the effects of COVID-19, he added a new identity to the list: event industry advocate. Since then, he's successfully passed a bill that provides funding support for his fellow event pros through the House...and this is just the beginning.
Who is Dwayne Thomas, and what is the Live Events Coalition?
Dwayne Thomas is the owner of Greenlight Creative, a boutique full-service event lighting production company in Portland, Oregon. He has over 40 years of experience lighting live events of all kinds. In March of 2020, he co-founded the Live Events Industry chapter in Oregon, for the purpose of advocating for assistance for the industry's businesses and workers in response to the COVID-19 pandemic.
This organization is now a state chapter of the national Live Events Coalition, of which Mr. Thomas is also a board member. Thomas additionally chairs the Coalition's government affairs committee, advocating daily through rigorous congressional outreach and lobbying. His focus is mainly on helping the live events world bounce back during and after the pandemic.
Hear from Dwayne in his own words about
What made you decide to co-found the Live Events Industry chapter in Oregon?
The founders of the chapter wrote a letter to Oregon's governor demanding aid for the events industry, along with creating a public petition that garnered a few thousand signers. We saw that the Live Events Coalition had created a similar petition, and when we looked at their website, we found it really interesting and wanted to start our own chapter.
We paid for everything out of our pockets and built ourselves a website. We went to weekly Zoom meetings hosted by the Live Events Coalition where I started talking about my experiences, and we grew from there.
After all of our hard work, I figured that our chapter deserved to be a part of the national organization, and I was placed on the Government Affairs Committee. I put together a crew of four— about to be five— people, and have spent the last year and a half working for the Live Events Coalition.
What types of work have you done within the Live Events Coalition and within your Oregon chapter?
I've spent a lot of time crafting outreach strategies and executing said outreach to government offices. Sometimes with these letters, we target a specific senator, and other times we want to hit all 535 members of congress!
My day-to-day consists of letter writing and email outreach asking to speak to someone within the office we're contacting. Usually, this leads to a Zoom meeting with anyone ranging from the Chief of Staff to a Small Business Committee Director. Sometimes we get in contact with the members of Congress themselves! The work I do is very grassroots. It's petition outreach, email outreach, telling people to call their senators, etc.
What are you most proud of when it comes to the chapter?
We just got a bill passed in the House of Representatives after 2 years, with the foundational support of 4 representatives! This is a huge moment for us, it's House Bill 3807 called "Replenishing the Restaurant Revitalization Fund and Creating Funding for Small Businesses."
After a town hall in Minnesota, Representative Dean Phillips pledged that he would do something to help the industry, and even told a Speaker of the House that he'd only vote for the Infrastructure package if congress helped him pass Bill 3807.
After weeks of working together, the bill was enacted on April 1, 2022, and got passed on April 7, 2022, with bipartisan support.
What's the next step of your journey, for your company, and for the chapter?
Something important to note is that this has been a full-time volunteer job for everyone involved (except for the politicians, of course). Bill 3807 still isn't through the Senate, but it's a live bill that has passed the House. We need to get the bill through the Senate and spread awareness that it still exists, it just needs to be voted on.
We're going to keep hounding politicians and constituents until the bill passes the Senate! We're also developing new legislative ideas as we speak. An example of what we're working on is that the coalition is looking into interest forgiveness on Economic Injury Disaster Loan (EIDL) loans, and potential aid options to be offered. We also are looking at pandemic business interruption insurance via public aid. This would come in the form of liability insurance, like terrorism insurance which didn't exist before 9/11 but now does.
With the goals for the chapter in Oregon, we want other event professionals to know what's being done, and that it's being done. We can't let this lobby fall apart, because it's been very difficult to build but it also stands for the concerns and livelihoods of the events industry. In a world where everyone is yelling, we have to yell louder. Get engaged, yell louder than anyone else, and make a change!
Want more tips on strategy, trends, and best practices delivered straight to your inbox?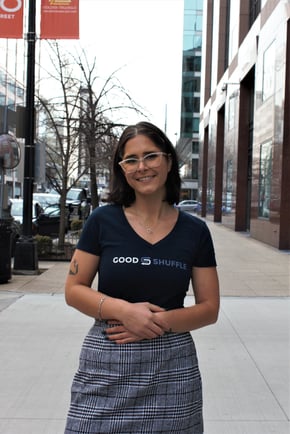 Maria Russinovich
Maria Russinovich is a recent graduate of American University and is a Campaign Marketing intern at Goodshuffle Pro, a software company dedicated to empowering events industry professionals.