Are you asking yourself how inflatables companies can make more money? As a small business owner looking to grow your event rental company, you should be following these three steps in order to increase profit and market reach.
6 Reasons Inflatables Companies Failed in 2019
1) Invest in fast event rental software designed specifically for your industry
All-in-one, cloud-based software is one of the hottest trends in the events industry right now, and its presence is only going to increase. Soon, it will be out of the norm to NOT have management software helping you automate all the tedious tasks you currently pay humans to do.
Event rental software like Goodshuffle Pro is great because it:
Is cost effective
Tracks inventory
Manages employees and their progress
Automates billing and payments
Is efficient with customizable lists and dashboards
This event rental software is great for inflatables companies because it frees up your time to focus on more meaningful tasks, it keeps you in control of your business, and it makes your processes more efficient, which means happier customers and repeat business (which is every small business's biggest money maker). Plus, you don't run the risk of human error that comes with forgetfulness and leads to issues such as double booking and forgotten billing.
As an entrepreneur, you know how crucial it is to be organized and to be aware of the processes of your business so that you can perform the best you can and bring in profit. Smart business software helps you do just that.
Having a great product or service is the first part of a business, but if no one knows about this product or service, you won't get very far. This is where marketing comes in. The top event pros use these tips to wow their consumers and build the brand of their inflatables companies. Some appropriate channels for marketing include:
Paid ads
Website
Apps
Emails
There are a variety of different social media platforms where you can create accounts, promote ads, and share blog posts. You can also revamp your website to look more professional and current. Try writing and sharing your own content too, since that emphasizes your credibility and ability to follow through.
3) Get into the wedding business
Because of this strategic window of opportunity, it's important your company gets in while it's hot. Check out the wedding industry and the new trend of all-white moon bounces. As people move towards wanting unique weddings that showcase their personality, they will be turning towards fun activations that truly give their guests a unique-to-them experience.
Moon bounces for both adults and children have become mega-popular at weddings, but inflatables activations don't have to stop there. Inflatable sports games and obstacle courses are becoming hot– tweak your advertising to target clients planning their weddings, and you'll be gold. Budgets for weddings will always be higher than birthdays or other backyard parties.
These three steps will take your inflatables rental company to new levels! Event rental software, digital marketing, and breaking into the wedding industry will elevate your brand and bring in more clients, which in turn will lead to more money for your business and even happier clientele.
Curious how Goodshuffle Pro can make your inflatables company more money faster?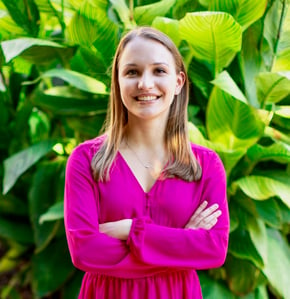 Carmen Bodziak
Carmen Bodziak is the Marketing Associate for Goodshuffle Pro, a party and event rental software company dedicated to empowering those in the events and decor industry. She also currently oversees the Goodshuffle Blog.