Whether you're a newcomer to the inflatable industry or a party rental veteran, there is always a chance that your company could be making mistakes that hurt your company's growth. Learn the mistakes other inflatables rental businesses have made this year so you can be sure to steer clear of these common event rental problems:
Operating Costs
Many inflatables entrepreneurs don't account for all the different costs of owning this type of rental company, while others do but still get blindsided by hidden costs that aren't obvious. Some of these costs include:
Transportation
Fuel
Vehicle Maintenance
Accidents and Tickets
Lost Items
Extension Cords and other Ancillary Items
Dollies
General Business Expenses
Business Cards
Marketing Materials
Office or Storage Space
While you can cut some of these (e.g. avoid lost items with inventory tracking software), others are just part of the business. The trick isn't avoiding costs like marketing and maintenance, but rather being smart in planning for them. Price your items accordingly, and be sure to regularly track your spending with accounting software like QuickBooks Online.
Insurance
Insurance is one of the highest costs to inflatables businesses. It is also crucial to the success of your business, so you don't want to skimp on it. If you charge customers to use or rent your equipment, you must purchase commercial general liability insurance. Know that liability waivers are not a substitute for liability insurance. If you had to pay a settlement, you wouldn't want to have to pay it on your own.
Your insurance company will also provide you with professional legal help in case you were ever part of a lawsuit. Inflatables rental companies fail when they don't have legal help and insurance when lawsuits arise, so make sure you invest in this uber important piece.
Contract and Signing Mistakes
Don't be the victim of a poorly-worded contract, make sure you protect yourself! Because laws vary state to state, it is important you get a local attorney to write and edit your contracts. Some customers want specific things, so it is important you have your insurance company review these requests so that everything is set and approved.
Event business software like Goodshuffle Pro also makes it easier to track the clear online contract signature for your records. Your customers will be prompted to pay right away when they view a quote and you can even set up auto-pay to make your life easier.
As Nick Muzzatti from SNAP! Entertainment put it, some of the biggest money saving features of Goodshuffle Pro include:
Online contract signatures
Quick payments with the option for clients to opt in for auto-pay
A robust inventory entry system with lots of visual elements for the clients
A means of communicating with clients within the application
A user-friendly interface that is easy to learn
Top-notch customer service and quick response time
A very reasonable price for the value you receive
Obsession with Competitors
The inflatables industry has a high ease of entry rate for competitors. This can become a source of frustration for companies who run their businesses well, such as purchasing proper insurance.
However, smart business owners know that griping about poorly run competitors is far less effective than simply focusing on ways to differentiate your company and stand out to customers. You can also learn a lot from others in the industry, especially if they are not direct competitors (maybe they operate in another part of town). You can join forums and attend conferences in order to gain more collective knowledge and make your company even better.
Not Investing in New Inventory
It's so important to keep up with trends that are here to stay. Currently, inflatable obstacle courses and moon bounces for weddings are huge. While the initial investment may be pricey, it is important to have a variety of different options, both traditional and trendy, so that clients are encouraged to keep coming back. The investment pays off in the long run and will help your business expand.
Mistakes with Hiring and Training
Hiring and training a new employee can be tough! Sometimes it's hard to know where to start. Make sure you:
Ask for referrals from trusted friends and colleagues
Know who you are looking for
Accurately outline what the job entails
Dedicate adequate time to training
It is important to have a solid hiring and training process in place because employees are a major investment for your company. When going through the process, it's crucial you give yourself enough time.
Pro Tip: Use your business's off-season to hire and train new employees so that they are ready to go by the time the warmer months roll around.
As the saying goes, hindsight is 20/20. Don't look back on the year and wish you had done something differently. Now that you know why inflatables businesses failed in 2019, you can go into 2020 and take the inflatables industry by storm!
Want more tips on strategy, trends, and best practices delivered straight to your inbox?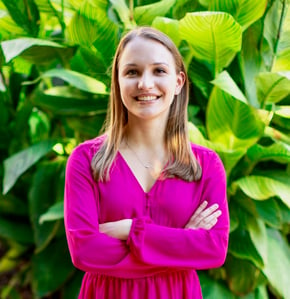 Carmen Bodziak
Carmen Bodziak is a Marketing Manager at Goodshuffle Pro, a party and event rental software company dedicated to empowering those in the events and decor industry. She also currently oversees the Goodshuffle Blog.