We're excited to be celebrating Hispanic Heritage month this Fall with an interview with our Co-founder and CEO, Andrew Garcia. Andrew spoke to us about his experience as a Hispanic engineer and how his Mexican American upbringing influenced his entrepreneurial spirit. Plus, he also shares some advice to Hispanic and Latinx youth looking to break into the tech industry.
The generational entrepreneurial spirit
For Andrew, Hispanic heritage month is usually a time for reflection. During this season, he thinks about his family history and how his relatives' paths have influenced his own. His father is a first-generation American and electrical engineer whose parents were born in Mexico. His mother is an entrepreneurial, third-generation American who was raised in Pharr, Texas, a town that rests on the Mexican border.
Andrew fondly remembers the various businesses she started and grew during his childhood: an in-home daycare, a placement service for nannies called "Homemaid Service", and a sweets and treats business called "Treats Galore", specializing in snow cones, gift baskets, and the like. All were successful and influenced Andrew's work ethic and entrepreneurial drive.
His mom's business savvy, combined with his dad's work as an electrical engineer and his best friend's interest in computer science, propelled Andrew into the fields of both entrepreneurship and technology. These experiences influenced him as he grew up and built his career to combine both of these passions.
How entrepreneurship and technology merged
Since childhood, Andrew has been passionate about both computer science and entrepreneurship. It seems obvious that he would end up as the co-founder of a tech company— but how did he get here?
During college, Andrew started his own business renting DJ equipment throughout campus. This experience further solidified his desire to start his own business later in his career. He knew that with a role as a founder, he would get to create the kind of work environment he'd always wanted. After working as an engineer for a few large firms post-college, he took the skills he learned from his DJ business experience as well as from his engineering work, and applied them to founding Goodshuffle Pro with his business partner and other Co-founder, Erik Dreyer.
When asked about his decision to build Goodshuffle Pro, Andrew says, "All software engineers are builders at heart. After a career in software, I finally get to build what I want the way that I want to, which is by actually and consistently listening to our customers' pain, and listening to the experts on our team. We work to anchor ourselves on core values that drive how we interact with our customers and colleagues."
A lack of Hispanic representation within STEM
Throughout his early career, he noted that he was often the only Hispanic individual whenever he was in a room with other engineers. This clear gap was also noted in a 2021 article from Pew Research Center, that states, "Hispanic workers make up 17% of total employment across all occupations, but just 8% of all STEM workers." Additionally, a 2016 New York Times article finds that technical workers at Google, Microsoft, Facebook and Twitter were on average 3 percent Hispanic and 1 percent Black."
Now, Andrew is particularly proud to be the CEO of a growing tech company, knowing that this achievement defies those stats. He hopes to be part of a trend of better representation and hopes he can serve as a role model to younger Hispanic individuals who are looking to break into the fields of technology and business.
Advice for the next generation of Hispanic youth
For Andrew, computer science provided the stability and financial independence that he'd wanted since he was young. He encourages Hispanic and Latinx youth to invest in themselves if they're interested in a career in technology. In his note to them, he says "In school, you're going to be forced to learn with one hand behind your back. It'll force you to change how you think and look at problems. It's going to be hard, but if you love building things please, please stick with it. Be easy on yourself and just remember the passion that got you excited about the field in the first place. You'll find it again in the professional world."
This Hispanic Heritage month, take the opportunity to learn more about the vast array of cultures that are celebrated during this time, as well as the individuals whose achievements have paved the way for others in the United States. Looking for ways to celebrate? Read these ideas from Scholastic— let us know what you chose!
Want more tips on strategy, trends, and best practices delivered straight to your inbox?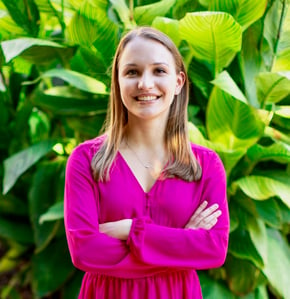 Carmen Bodziak
Carmen Bodziak is a Marketing Manager at Goodshuffle Pro, a party and event rental software company dedicated to empowering those in the events and decor industry. She also currently oversees the Goodshuffle Blog.