The results are in! Goodshuffle Pro has launched an even more powerful version of our communication management tool and our users are raving about it! They're already saving more time, improving efficiency, and creating a customized, branded experience for their clients.
What's to Love?
The Goodshuffle Pro Inbox
The Inbox is your home for all of your client communication. Experience easy message capabilities such as the power to send emails to multiple recipients, a smart contact suggestion tool, and the ability to style messages and templates to fit your brand. With all of your communication seamlessly integrated with your project and inventory management tools, less time is spent sending quotes and invoices. Documents, links, and attachments are automatically included to make your email process even more efficient.
Your inbox is easy to navigate with useful search, sort, and filtering options, such as:
Look up projects by name, email, or client to find messages quickly.

Choose how you want to display your search results.

Filter emails by unread, projects assigned to you, or archived projects to focus on your task at hand.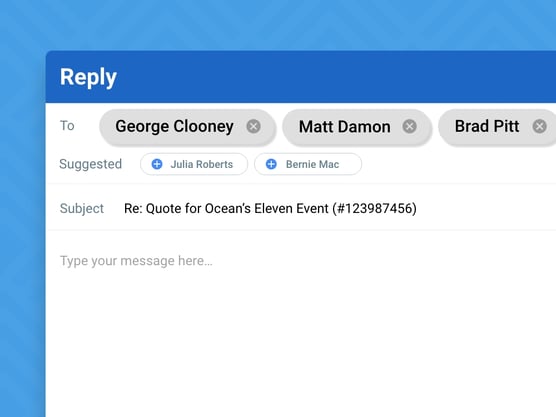 Save Time with Email Templates
With a pre-defined set of popular email templates, you can increase the speed of your communication and move on to other priorities. Your team will stay on the same page and deliver messaging that stays consistent. (Bonus: Typos are a thing of the past since emails are drafted and approved already!) Choose to keep control over the ability to revise templates, or provide certain team members with edit access.
To start your template library, we have several pre-written options that you can modify with some quick changes by adding your information. Then, they're ready to go! So, the next time you want to send a quote, get a signed contract, or request a payment, you can choose the template you want to add and your email is done. Forget "copy and paste" and stop spending time thinking of the best way to say, "You owe us money."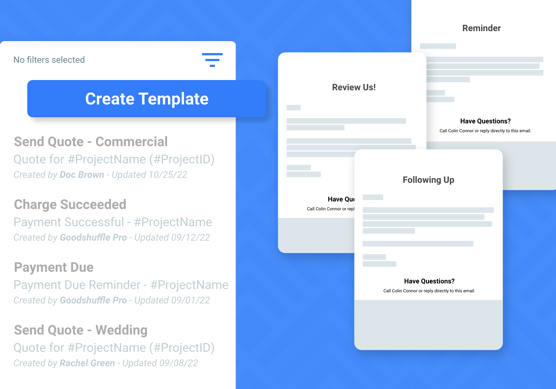 Customize Your Own Email Templates
Because our team at Goodshuffle Pro realizes that your business and brand are unique, we offer the ability to design your own email templates. Deliver your messages in ways that represent your company and preferred communication style. Businesses don't always have the same story to tell. Do you often send MoodBoards? Do you have a weekly email tip you send out? Or do you want to send a quick hello? Whatever is important to you and your team, say it, and say it again and again, with your Custom Email Templates.
Add that "Personal Touch"
In order to keep your standard emails feeling more personal to your clients, try using Personalization Tokens. When used as part of a template, they give you the ability to insert your client, project, and team's information so your email is more personalized to your client. Forget having to reference invoice numbers and order totals — our software works hard to make your life easier.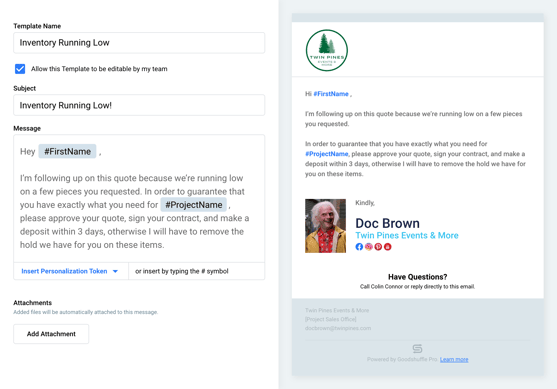 Easily Control Your Settings
Goodshuffle Pro offers multiple options to change settings for your email. Pick the theme that you prefer – a branded or a simplified version. Sign your emails in the way that suits you best by adding your photo, social media links, and personalized information. You can also select whether to attach PDF versions of signed contracts and invoices.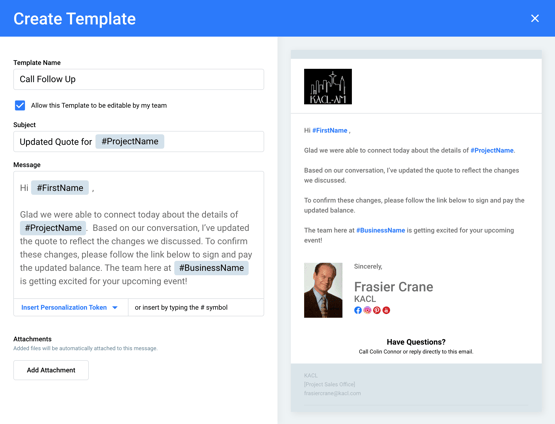 A Seamless Process
Continue to delight your clients, reduce miscommunication, and keep your team organized with the Goodshuffle Pro Inbox. Anchor your correspondence for each event in one place. Separate your messages to include only your team or address your clients. Provide the ultimate client experience while creating a seamless process for your business.
Ready to regain control of your event business with all-in-one software?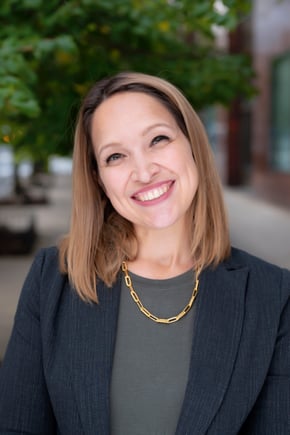 Kate Walski, CSEP
Kate Walski, CSEP, has spent her career in the events industry and started and managed a successful event rental company. Her mission is to provide valuable resources to empower other event professionals as they grow their businesses.