There are many reasons why you may want to customize your event quotes and contracts within Goodshuffle Pro, and many ways you can do so! Every client, event, and circumstance is different, so flexible software is key to handling all these nuances that come with the event industry. We'll run through the ways you can customize your quotes and contracts so you can have a better understanding of all the ways Goodshuffle Pro empowers your sales process.
#1 Create a Custom Lookbook
Clients love scrolling through Goodshuffle Pro's beautiful event quotes and contracts! Within the system, you can build galleries of photos, along with the captions that accompany them. These help bring the vision behind the event to life, and create custom lookbooks, or scoped Pinterest boards, to send to customers within a quote.
Since the lookbook is sent as part of the quote, your terms and conditions are automatically sent with it. This allows the client to peruse the lookbook, then easily review the terms and conditions. If they have any questions, they can send you a quick message before they actually sign the contract. (BONUS: Goodshuffle Pro tracks emails between you and your clients so you've got all your correspondence logged in one place). We all know how it goes when someone signs a contract they later have questions about…you want to avoid opening this can of worms if possible and lay out all the expectations up front.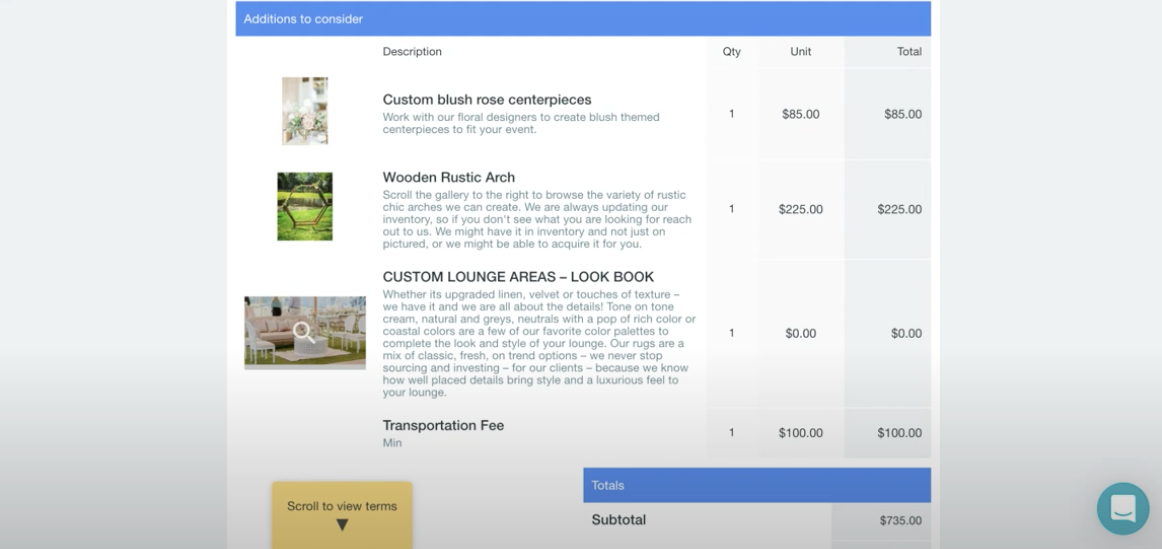 #2 Send Pricing With or Without the Option to Sign a Contract
If a client is ready to rock-n-roll, you don't want anything to stand in the way of them moving forward with a signed contract and sending you a deposit. When you send a quote to a client and they approve it, you choose whether to simply send a proposal, or to let the client flow seamlessly to signing their contract and paying their deposit. When you open the door to signing the contract right away, this helps you get paid faster! Our data shows that 50% of quotes sent through Goodshuffle Pro are approved, signed, and paid within 5 minutes of being sent.
If this isn't what you want, you've got options! Perhaps you're working with a client for the first time, or you're just starting to brainstorm options for an event. In these cases, you may not want to remove a client's ability to sign from event to event. This allows you to continue working with the client on your proposal and pricing until you're ready to go to contract. Goodshuffle Pro grants you the flexibility to create the flow that works best for you and your clients.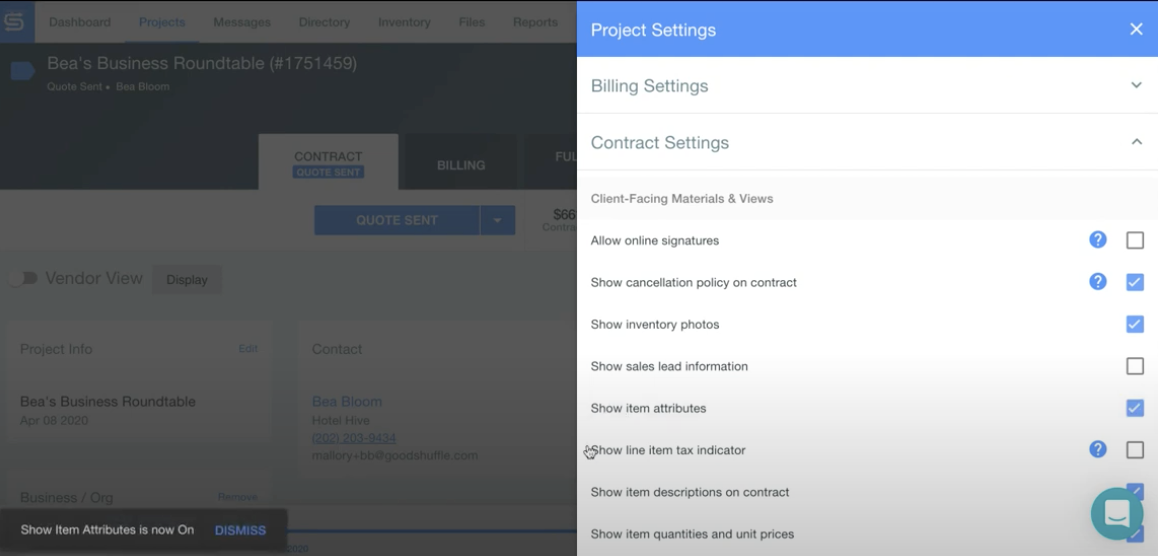 #3 Clearly Communicate Details
Event quotes and contracts should be straightforward. Make it easy for your clients to understand the size of an item, the color (navy vs. black, anyone!?), or even the replacement cost for a good! You may want to consider adding a replacement cost for that one-of-a-kind vintage sofa that's headed to an outdoor wedding, or specialty gear that's going to a party hosted by college students. We've heard from many of our users that clients are shocked when they break an item, only to find out that the replacement cost is not equivalent to the rental cost of that item. Adding the replacement cost might not be necessary for every client. This is why you can always choose to show this information by client or by event. These attributes help you and your client operate in clarity to provide the best possible outcomes!
In addition to providing clarity to your customers, you can also make information crystal clear to everyone on your team within Goodshuffle Pro. For instance, you can separate out attributes for your warehouse staff to answer questions such as, "What's a Cindy Tufted Sofa?" or "How do I differentiate between up-lights?" This keeps your team on the same page, saving lots of time and hassle. Remember: with all the unique pieces in your inventory collection, the language you use to sell an item to a client isn't the same language that will mean something to your warehouse team. Clarify important information by using Goodshuffle Pro's custom attributes.
#4 Flexible Payment Options
Want to collect all deposits via credit card so you can securely store a client's credit card information instead of making them fill out a credit card authorization form? You can do that in Goodshuffle Pro! Have only one or two clients you want to allow to pay by PO number? Goodshuffle Pro gives you that flexibility as well. Flexible payment options make it easy to do what's best for you and your clients.
Because credit card is the fastest form of payment, you may consider removing any other payment options from your contracts. Stripe, the payment processor that Goodshuffle Pro uses, passes the highest level of security tests as well, which makes it the safest option. 70% of Goodshuffle Pro contracts that are sent with online payments enabled are signed— with deposits paid— within 5 business days.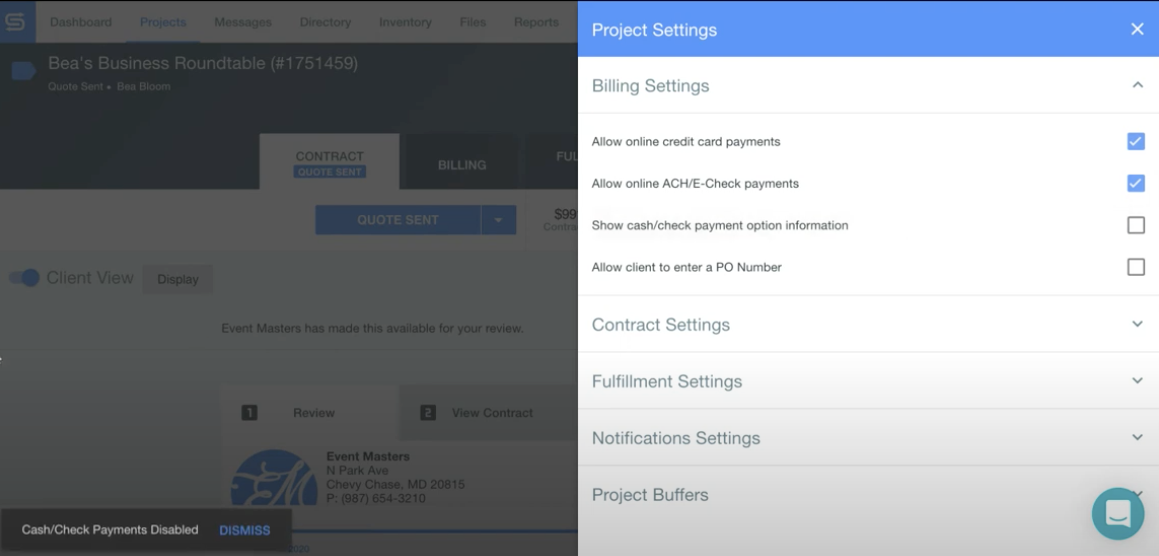 #5 Select What You Want to Actually Show to a Client
Some clients may want to see the individual items that make up a package on a contract. Others may be perfectly content to simply see the overall package. You can set any of your items to either be shown or hidden, whichever you or the client prefers. This customization ability is so important for the events industry. This is why it's great to select a software that is built specifically for your industry.
You can even change the price of a package, provide a discount, rename it, or swap out items from event to event if needed. And, you can do all this without disrupting your "normal" or "standard" package. This particular customization feature is great if you have particular clients who would respond better to specific language. This is your chance to sell your inventory and services even more!
Why Customizing Event Quotes & Contracts is Vital for Your Business
Certain clients, venues, and events will have specific needs. A one-size-fits-all quote and contract template just won't do the trick. Customization of event quotes and contracts empowers you to provide your clients and partners the best customer service possible. There is so much that can be customized and tweaked on individual projects in Goodshuffle Pro. This gives you the ability to send each client exactly what information they need to see.
Ready to regain control of your event business with all-in-one software?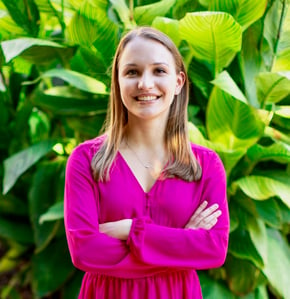 Carmen Bodziak
Carmen Bodziak is a Marketing Manager at Goodshuffle Pro, a party and event rental software company dedicated to empowering those in the events and decor industry. She also currently oversees the Goodshuffle Blog.