Gary Bordman, Owner and Chief Creative Designer of AE&ES in Las Vegas, has been an event industry leader for over two decades. As a member of ILEA since 1999 and a board member of NACE, he has lots of industry experience and a wildly successful event business in Las Vegas, the hospitality capital of the world. Though his knowledge and expertise is vast, he believes that "collaboration, not competition" is at the heart of the industry. He's run his business, AE&ES, under this logic since its inception, and has continued to see it pay off.
An Event Industry Leader: Who is AE&ES?
Gary has been in the industry for more than 20 years— AE&ES is his latest venture. AE&ES, which stands for "Amusements, Exhibits, & Event Services," was founded in 2014. The team's goal is to make clients' dreams a reality, whether it's for a large convention or for a more intimate, personal celebration. What really separates AE&ES from other event services companies is that if Gary can't immediately provide a client with what they're looking for, he'll find someone who can. That's why their moniker is "Just Call Gary"— everyone in Las Vegas knows that he'll bring creativity to each occasion so that every client gets what they want.
Gary explains that he surrounds himself with professionals with varying skill sets, and works with fabricators, mold makers, and more. Even as an event industry leader, he finds it valuable to continue his learning. These individuals help him put everything together, which is ultimately what's best for his clients. He explains, "Lots of companies say not to go outside the house, but to me, my house is very big. My network allows for lots of success because of all the talented vendors I work with."
AE&ES, a company with lots of skilled people both in-house and on the outside, has been built up through this collaborative nature. Gary says that the most rewarding part of his job is when happy clients return for another event. He explains that it's so rewarding that clients trust him and that he gets to put smiles on their faces.
A Turning Point
As AE&ES grew throughout the years, Gary began to notice some challenges that he hoped to eliminate. As a veteran in the event industry, he knew how important the right software was for business operations. However, his software at the time was difficult to use. The customer service was slow to respond to his team's queries, and his clients were slow to pay. In addition, COVID-19 was ramping up, and he knew his team would need a flexible software so they could pivot and stay on top of the new challenges the industry was facing. This is where Goodshuffle Pro came in.
In March of 2020, Gary attended The Special Event and Catersource Trade Show in Las Vegas. With a free demo and the opportunity to connect with and get to know the Goodshuffle Pro team, Gary knew that this was the right solution for AE&ES. After making use of the easy digital quotes, helpful CRM tools, and both the QuickBooks Online and Website Wishlist Integrations, Gary has been able to successfully pivot during COVID-19 while also getting paid faster and saving hours of time on quote-building, accounting, and website maintenance.
What's Next: COVID-19, Virtual Game Show, and Meet Friendly
As COVID-19 hit, Gary and his team launched a new division of their business called Virtual Game Show. This division highlights all of AE&ES's virtual offerings, such as game shows, puzzles, escape rooms, and more. While popular with everyone, these digital games are especially a hit with employers looking to bring some fun and team-bonding to their staff while remote. While all the products and concepts are new, they still live in Goodshuffle Pro— this flexibility has allowed AE&ES to pivot fast and successfully.
As of November 2020, Gary is also in the process of launching Meet Friendly, a virtual platform for conferences and events. He's excited about the opportunity to bring people together through this digital platform, especially when clients are missing in-person events so much.
Gary's parting advice for people who are looking to enter the event industry is to surround yourself with people who know more than you. He says this will always make you 100% better. As the event industry is rocked by COVID-19, AE&ES has been able to adapt and pivot. The future is bright— we can't wait to Just Call Gary to see what's next!
Ready to regain control of your event business with all-in-one software?
Amusement Exhibit and Event Services, LLC. is a veteran owned and operated business that is also family owned and operated with over 20 years of experience. They are well known in the Special Event and Trade Show industries. They are known as a leader in providing great interactive and experiential rentals and activations locally to Las Vegas and nationwide. The dedication their team has to providing their clients with the quality expected in their event production, trade shows, and team-building programs is what drives their team to achieve higher goals continuously and is a hallmark of the service clients come to expect from their team.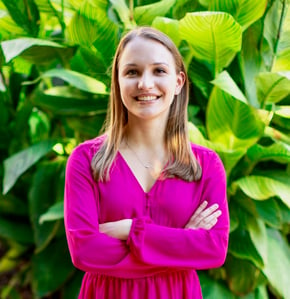 Carmen Bodziak
Carmen Bodziak is a Marketing Manager at Goodshuffle Pro, a party and event rental software company dedicated to empowering those in the events and decor industry. She also currently oversees the Goodshuffle Blog.