An often overlooked goal of event pros is to make event delivery and pick up easier. One of the most critical jobs in the rental process from beginning to end is the delivery and pick up process. Streamline these processes for maximum efficiency to keep your company running smoothly, increase profits, make the jobs of your team easier and, above all, create value for your client by alleviating the stress.
Here are some keys to streamline your event delivery and pick up process:
Communicate with all of the necessary event stakeholders.
Outline a delivery and pick up process and train your staff.
Make sure to protect your events business.
Let's break it down:
Communication is Key
This rule applies internally and externally. Let's focus on the external communication. You will need to know who has the correct info about delivery and pickup, set-up/tear-down, and general load-in/load-out logistical instructions. Here are some tips:
1) Speak directly with your client, the venue, or an event planner/coordinator to learn information.
Be sure to ask for as many details as possible (times, access issues, if setup and teardown are needed). It will also help you assess costs. It may require communicating with several parties to arrive at the right conclusion. Consider putting the client's wishes in the "internal notes" of your delivery to ensure your crew sees the details, even though it won't show on the client's contract: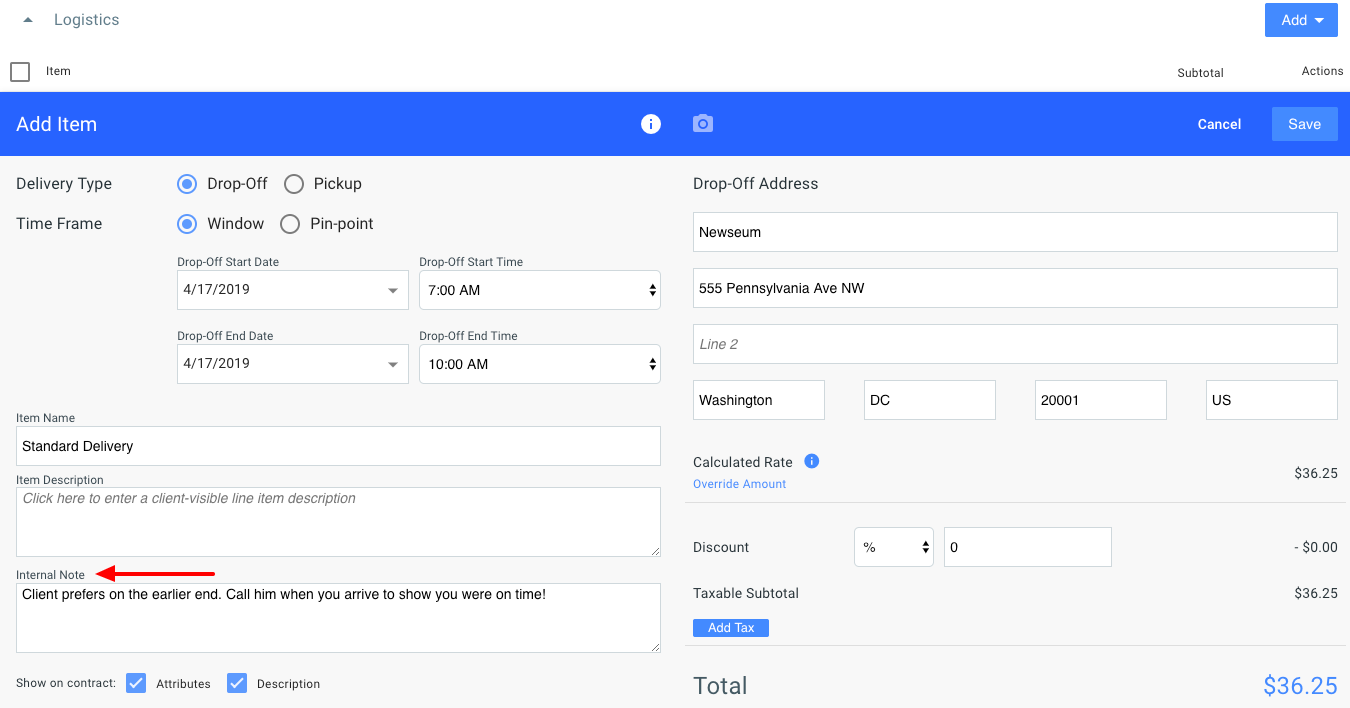 2) Do your own research independent of what the parties tell you.
Use Internet sources to check out photos of a venue, for instance the company's Google Business Listing, Google Maps, and Google Earth will shed insight. Things like stairs, light-night pickups, and more can make a huge difference in your deliveries and pickups. Once you note these important logistics in the venue, it'll save for next time: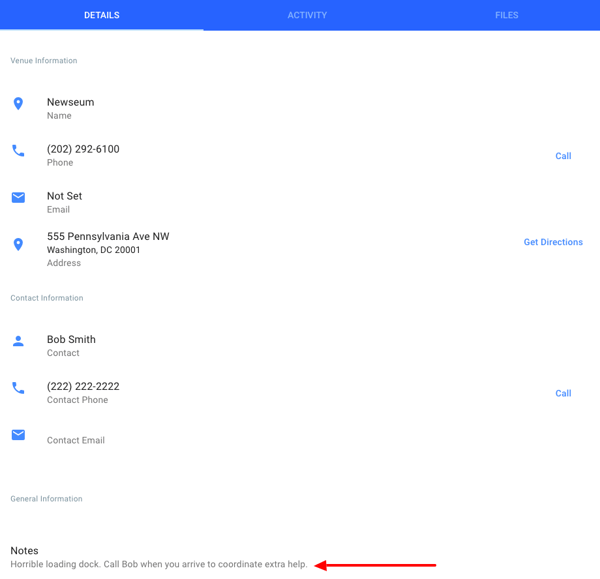 3) Sell the walk-through, or site visit.
Provide a service where you go out to the venue to measure, take photos, and gather notes. You can use this to determine costs and pitch it to the client you are actually there helping them solve problems in advance and save some money, if possible. Better to be upfront than deal with charges after-the-fact. Clients don't love that, even if it is valid. It is up to your event rental company to determine if you add a cost to this, or roll it into the price if they book.
Outlining a Process and Train Your Staff
How does your team handle deliveries? Is there one driver? Do you have several drivers? Do they check things in and out before they go on the truck, when they are loaded, and reloaded at pick-up, and also when you return to the warehouse? One of the worst scenarios is knowing that valuable inventory was left behind. One way to combat this problem is through inventory management software like Goodshuffle Pro. There are several features that streamline the delivery process:
1) One of the most useful features is the Pull Sheet.
You, or your staff, can easily go into a project and click on the Fulfillment Tab. There you will find the items for the order. Staff can digitally check off that each line item is pulled, prepped, and loaded (or whatever stages you want to track the closest) thereby creating a step-by-step process every time. The software is user-friendly where you can easily train staff on the steps to make delivery a piece of cake.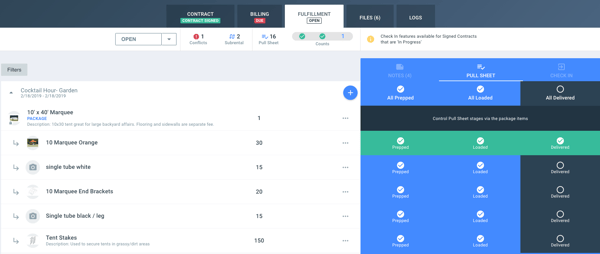 2) If you feel more comfortable dealing in paper, you may also print pull sheets.
Staff can manually check off the items for prep, pull, and loading. Just keep in mind that a printed list doesn't allow you to truly see who did what and when. This is key for accountability!
3) Another great feature is the messaging capabilities.
Under the Messages tab, toggle to a message where it is either Read, or Unread. There you can either chat with Client, or Team. For delivery and pickup purposes, you will likely be communicating more with your team for this. Clients won't need to know all the behind-the-scenes work you do, yet you keep all notes and details centralized and organized.
Protecting Your Business
We love to make clients happy, but what if a delivery doesn't go well? There are always going to be snares and mishaps along the way. Event days are likely stacked with several deliveries and among several trucks and several workers. If your business is thriving, then you likely have a warehouse manager overseeing and prepping what goes out, when, and where. Getting an order wrong costs you money whether it is in the form of client dissatisfaction, making an additional trip, or offering refunds.
What if a client claims she never received something? One way to combat this is reducing everything to writing. A companion feature to the Pull Sheet is the Receipt of Goods & Services. Goodshuffle Pro generates yet another professional form to help your business thrive. The Receipt of Goods & Services can be found under the Printer icon of the desired project. Scroll down to print out a sheet for each order for each truck. Be sure the client reviews the order, signs for it, and dates it. It is one of your last lines of defense and will help you later if a client claims the delivery of certain items were not received.
When you make event delivery and pick up easier, you will please more clients and make more money. Grow your event rental company today with these helpful pro tips!
Ready to regain control of your event business with all-in-one software?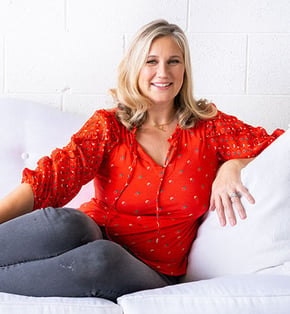 Anna Braff
Anna Braff is a wife, mother of two sweet and precocious boys, and the lead designer and creator of Provenance Rentals, a boutique specialty & vintage rentals & prop house in Inglewood in Los Angeles decorating for the romantic, unique, and chic client whether the event is corporate, or personal, all over California and beyond.