With so many shows on television about buying, selling, flipping, and flopping homes, one big question lingers: where is the Bingeable Warehouse Content? Event professionals love property, too, you know!
All kidding aside, warehouses are the beating heart of event rental companies. However, while it's common in the industry to own a warehouse, that doesn't mean purchasing one is an easy decision to make. Here are five things to consider when deciding to purchase a warehouse for your business:
Location, Location, Location

Room for Growth

"Ware" and Tear

Climate Control

Long-Term Rentals
Location, Location, Location
A warehouse in a primo location could be used for storage and your company's home base. If your warehouse is too far away from your area of operations, or major highways and access roads, it won't be reliably used. Buying a warehouse near a major metropolitan area may come with a bigger price tag but compare a higher mortgage to the travel costs and time wasted driving to and from events. The return on investment may become clear after crunching the numbers. The small stuff adds up, especially when gas prices are rising.
Room for Growth
Just because you don't have a lot of storage needs right now, doesn't mean you won't need more space later. While getting a smaller "starter warehouse" could be a good investment opportunity, if you have the great problem of growing faster than expected, you'll have to start the warehouse hunt all over again. You may not have the time, energy, or financial resources for that.
When you're deciding to purchase a warehouse, consider buying more space than you need to grow into it. A lack of storage should be the last thing stopping you from success– your future self will thank you.
Bonus Tip: If you have excess space, you can explore renting it out for some extra income.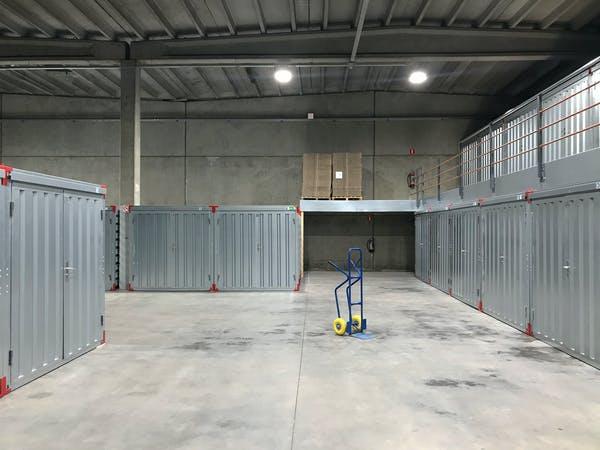 Wow, there's so much room for activities. Credit.
"Ware" and Tear
While investing in a "fixer-upper" warehouse may sound appealing, or even trendy, any structural deficit to your warehouse is an immediate risk to your workforce and inventory – AKA the lifeblood of your business. Seriously assess the condition of any warehouse property you are thinking of making an offer on. Repairs may require more time, money, and other resources you don't immediately have.
Bonus Tip: Don't forget about utilities and regular maintenance costs. Just like your home, these are additional costs separate from your mortgage.
Climate Control
While a warehouse will provide a roof over your inventory's head, that won't protect it from the elements alone. Unregulated temperatures can warp, crack or split wood or leather furniture. This would be very bad for your vintage rental business.
Too much heat can also create moisture in paper goods and clothing, damage electronics, or worse – create a breeding ground for mold, mildew, and rust. Make sure your warehouse can be climate-controlled to meet the needs of your business, which includes creating a safe and comfortable working environment for your team. And if that seems cost-prohibitive, you can always segment your warehouse to prioritize your temperature-sensitive inventory.
Bonus Tip: Speaking of climate, a possible selling point of your business could be owning a green warehouse, prioritizing features like solar panels, electric equipment instead of gas, and recyclable materials.
Long-Term Rentals
The final thing to consider? Maybe you don't have to buy a warehouse. If your business is just getting started, while having a warehouse may be one way to quickly "establish" yourself, it may not be the most prudent financial decision. Especially when adding into consideration the costs of running a warehouse. There is no shortage of rental facilities out there, but they come with their own sets of pros and cons that will demand further investigation.
Inventory Management Software
You may be left with more questions than answers at this point, but one thing is for certain: whether you are ready to buy a warehouse tomorrow, still doing your research, or just waiting for TLC to greenlight a show called "Warewolf" about a surly warehouse renovator, having event inventory management software is the key to owning and running a functional warehouse.
Software like Goodshuffle Pro has a plethora of features that make running a warehouse easier.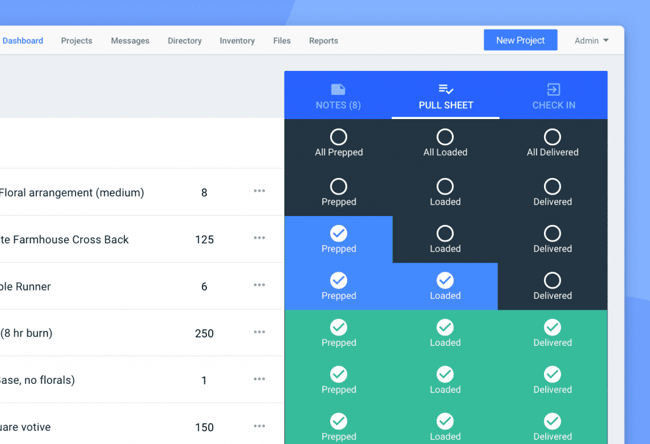 Goodshuffle Pro is purpose-built for the events industry to monitor your inventory, orders, and deliveries, create SOPs based on which inventory you have, keep track of equipment that needs to be sanitized, and so much more. Plus, it allows your team to join the platform as limited users!
Get more tips for managing your event business!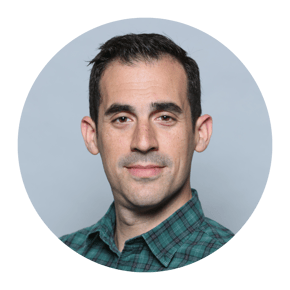 Zachary Fernebok
Zach Fernebok is a playwright-turned-marketer with more than 10 years of MarComms experience. He has a Masters in Marketing from American University's Kogod School of Business. You can check out more of his work at zachisfreelancing.com.