The U.S. economy came to a screeching halt in March 2020 and the events and wedding industry has been rocked hard. We face a long road to a full recovery. However, there is light at the end of the tunnel. As quarantine restrictions ease, prepare your party rental business for a post-COVID-19 environment by cleaning and sanitizing event rentals in COVID-19.
Check County and State Regulations Guidance
Running your party rental business will be a new "normal" as local and state governments issued COVID-19 guidelines. Ensure cleaning and sanitizing protocols are in compliance with the law before returning to business. Each state, county, and municipality is different and rules are often confusing, or conflicting.
The Center for Disease Control (CDC) created a COVID-19 resources page and a Businesses & Workplaces specific page. Additionally, overarching orders are unique to your jurisdiction's circumstances. Counties and municipalities may take a stricter, or lax, approach. Inquire with the Department of Public Health for any tool kits, or guidance. You are likely required to post visible guidelines.
How to Safely Deliver Event Rentals during COVID-19
Deep Clean Your Warehouse and Showroom
First, perform a deep cleaning of your warehouse and showroom. Next, avoid a crowded workplace by moving certain jobs remotely. Finally, in-person warehouse teams will work at your physical premises and you must prepare.
Have ample cleaning and sanitizing products in stock. For instance, hand sanitizer, bleach, alcohol, Clorox Wipes, and Lysol Spray are in high demand and short supply;
Encourage frequent hand-washing. Although the coronavirus has no vaccine, the most effective way to prevent the virus from spreading is soap and warm water. "Soap disrupts the sticky bond between pathogens and your skin, allowing the pathogens to slide right off. Not only are you neutralizing the virus with the soap, but you're also physically knocking it off your hands," according to UCHealth.
Focus on surfaces such as door handles, computers and keyboards, restroom fixtures, floors, countertops, and more. WebMD provides a robust list of surfaces and the duration the virus is known to survive on it.
Use disposable gloves.
Use clean and sanitized containers and applicators.
Clean (most) surfaces with soap and warm water first. Once dry, sanitize with Clorox wipes, a bleach solution (bleach should not be expired and intended to disinfect. The solution is listed here), or an alcohol solution. Use an EPA-registered disinfectant according to the CDC.
Finally, ensure there is proper ventilation to safely clean with disinfectants.
Cleaning and Sanitizing Your Party Rental Inventory
Going forward, cleaning and sanitizing will be more rigorous. This requires additional oversight and training. Thus, this translates to added costs and impacts your business. Decide how to work this into your rental and service fees.
All About Inventory Management for Event Professionals
Take stock of your inventory and their various surfaces and materials.
For example, WebMD lists out several materials that likely comprise your inventory, such as:
Plastic
Wood
Metal
Paper
Glass
Ceramics
Copper, and more.
Provide protocols for your staff in Goodshuffle Pro.
Create notes on how to clean items and required cleaning products in each Inventory Product Listing. Find the Internal Notes box under Information. Enter your directions in the box.
Use heightened care to properly clean and sanitize party rentals for deliveries, or will call pick-up. Remember, lots of people will touch your rentals at an event.
The same action items above for physical space hold true for event rental inventory:
Clean with soap and warm water;
Use a clean micro-fiber rag;
Allow to dry;
Sanitize (when feasible) each item;
Provide proper ventilation; and
Supply protective gear for staff.
Luckily, commercial dishwashers clean and sanitize tabletop items. They should be handled with clean, disposable gloves, packed in clean, sanitary storage containers, and then shrink-wrapped before going out.
On the other hand, for upholstered furniture WebMD states 'it is harder to catch the virus from softer surfaces than often-touched hard surfaces.' For instance, invest in equipment in-house to clean fabric surfaces rather than outsourcing. Create conflict buffers on inventory that need extra cleaning in Goodshuffle Pro to allow time and space in between each order.
Additional cleanings require additional supplies.
Stock up on ScotchGuard to protect your beautiful investment.
Use large furniture-sized disposable plastic bags.
Invest in shrink wrap. This cuts down on different hands and germs on the inventory. Bags and shrink wrap are one-time use only.
Moreover, once the coronavirus is abated, return your party rental company to more sustainable and waste-free practices.
In conclusion, your party rental business will adjust in time even though best practices seem daunting. Cleaning and sanitizing event rentals in COVID-19 is one of the best things you can do for your clients and your team. It demonstrates your professionalism and brand value. Most importantly, it shows your concern for the health and safety of your customers, staff, and yourself.
Feature Image by Evangeline Lane
Want more tips on strategy, trends, and best practices delivered straight to your inbox?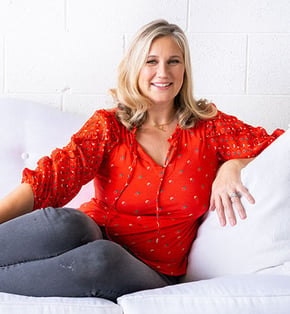 Anna Braff
Anna Braff is a wife, mother of two sweet and precocious boys, and the lead designer and creator of Provenance Rentals, a boutique specialty & vintage rentals & prop house in Inglewood in Los Angeles decorating for the romantic, unique, and chic client whether the event is corporate, or personal, all over California and beyond.