So many people dream of launching and growing their own business one day. For the Harrison and Cameron families, this dream became reality in 2017. This was the year they launched their Virginia-based, family-owned party rental business, Bristow Party Rentals. Their passion for events, coupled with their dedication to their customers, has made Bristow Party Rentals a beloved and trusted event company in their area.

Dedication to the Customer Every Step of the Way
The family-owned party rental business was fully launched in 2017. Owner, Lily Harrison, switched from event planning to offering a one-stop shop for people looking for event rentals for their special occasions. Paul Cameron, Lily's nephew, also works for the company as the Operations and Brand Manager. His parents and uncle are involved as well, making Bristow Party Rentals a true family-owned and operated business.
What really makes this event company unique is the Harrison and Cameron families' dedication to their clients. Their team is very personable and is always thinking of ways to give their customers the best experience possible. They make it a point to send out first anniversary cards to past wedding clients. The team also delivers messages of congratulations to customers hosting graduation parties. They clean every piece of inventory by hand because of their immense pride in the merchandise they rent out.
A great example of Bristow Party Rentals' high-quality customer service starts with what every outdoor event dreads: a huge thunderstorm. Overnight, the tent setup for a major event had been ruined. Upon checking his email in the early morning, Paul knew something had to be done— fast. With only a few hours until the event took place, five members of the Bristow Party Rentals team piled into a car and drove to the site. They were able to fix the tent and refresh the setup. The event was successful, and the client was incredibly impressed and appreciative. As Paul says, "Our team is always grateful to be part of our clients' events. We want to make them feel as special as possible, no matter the circumstances."
A Mighty Tool for a Growing Party Rental Business
With a growing business, the team knew they needed to invest in powerful tools to empower them to succeed without losing that personal touch they wanted to keep providing to their clients. That's where Goodshuffle Pro came in. With this software solution, Bristow Party Rentals has been able to save hours of time on building and sending quotes. They also get paid faster and have given their website the professional, branded look they desired. The time they save on back office operations can be translated to working with their clients. Their clients also love interacting with the software on their website and through the online signatures and payments.
As Paul says, "The software is running itself. Clients sign and pay with ease. Everything is taken care of within Goodshuffle Pro, which makes our jobs 100 times easier."
Paul also calls the Website Integration "a work of art." He explains, "It's doubled our sales, which is incredible, especially during a pandemic. Potential clients can easily submit a wishlist on our website while they're working remotely or watching their kids. The clients can build their perfect wishlist, which automatically creates a project in Goodshuffle Pro. This means our team has to do less work."
While COVID-19 has taken a huge toll on the events industry, Bristow Party Rentals has kept costs low and maintained profit by using Goodshuffle Pro. Instead of having to bring on additional employees to do tedious paperwork and other tasks that can be subject to human error, the team members at Bristow Party Rentals have used Goodshuffle Pro to track inventory, send quotes, and communicate with clients.
What's Next for Bristow Party Rentals
As Bristow Party Rentals continues to grow, the Harrison and Cameron families are looking forward to bringing on more full-time employees. Their goal is to always be focused on community and bringing people together. Eventually, they would love to open a small venue for intimate events that is very budget-friendly, making it a space that accommodates everyone. As Paul says, "At the end of the day, we're all about giving and serving others."
Paul's advice for others who are starting out in the events industry is to find your niche, be patient, and to have the willingness to put yourself out there. He encourages people to look for any opportunity to connect with other event professionals and potential clients. Paul also emphasizes the importance of relationships. He says, "you can't see clients as the bottom-line— you have to see each as an individual relationship." Finally, he recommends Cam Petty Palmer's Rental Biz Academy. He raves that it's a great course that he's learned a lot from and is applicable to all types of event companies.
Though Bristow Party Rentals, as a family-owned party rental business, may be a smaller team, they have lots of large clients who come to them because of their customer service and follow-through. There are bright things in their business's future. Our team at Goodshuffle Pro is so grateful to be part of their journey.
Want more tips on strategy, trends, and best practices delivered straight to your inbox?
Bristow Party Rentals is a full-service event rental company. They are a family-owned business that serve Northern Virginia, Southern Maryland, and D.C. Their team provides each customer with excellent customer service and quality rental products. Bristow Party Rentals has an excellent reputation in the DMV community and they continue to meet and exceed the expectations of their clients.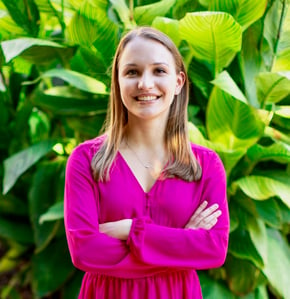 Carmen Bodziak
Carmen Bodziak is a Marketing Manager at Goodshuffle Pro, a party and event rental software company dedicated to empowering those in the events and decor industry. She also currently oversees the Goodshuffle Blog.