I've been lucky enough to score an internship at one of the coolest inventory management software companies in the events industry right now: Goodshuffle Pro. As the digital marketing intern, I've had a firsthand look at how a tech company fits into the events industry (and why it's so crucial). Recently, I got to go to my first trade show, BizBash New York, and I had a BLAST. Let me tell you about my experience and the importance of #FruitfulConnections. Plus, I share some tips on how event companies can foster the future of the next generation of event pros.
7:30am: Start of the Day
After grabbing a much-needed breakfast and coffee at Starbucks, I met up with my team and we headed to the Jacob Javits Center. They had already set up the majority of the booth the night before, but I had brought up a few more items to finish it. Goodshuffle's VP of Growth and my boss, Karen Gordon, had prepped me with a crash course in sales the week prior. I was eagerly looking forward to helping out at the booth. Plus, I was excited for a fruit-themed event (look at these adorable fake apple trees!).
9am: Karen Gordon's Presentation
Karen Gordon was scheduled to give two presentations on Transparency and Technology in the events industry to attendees of BizBash. I got to listen in and see the fruits (ha!) of all her hard work leading up to the conference. She's an experienced speaker, so her presentation was polished and professional while still exhibiting her fun personality. She shared a lot of personal stories from her experiences in both events and technology. She also shared tons of data and important action items for business owners. I learned a lot about why "transparency" is far from just a buzzword. Plus, people need to "put it all out there" to keep up with the information age…and with my generation!
12:30pm: Walking the Floor
One of my favorite parts of the day was exploring the floor and seeing all the crazy activations that were at the event! There were showgirls, a mystery tattoo box, a ball pit— honestly, what more do you need? One of my favorite booths was Snackadabra, which is where I got to sample a chocolate milk shot inside an edible cookie dough shot glass. I was pretty much in heaven. It was great networking with event pros from event companies of all types. I loved getting to talk to people about their companies and their specific roles in an industry I'm so interested in.
3:00pm: Manning the Booth
After I got a feel for what the floor was like, I made my way back to the Goodshuffle Pro booth. Mallory Mullen, Goodshuffle's Sales Executive, was networking with people who were stopping by. Karen and the company's co-founder, Andrew Garcia, were in and out as well. I loved getting to see all the action that was taking place and working on my sales techniques too.
It was such a rewarding feeling when someone would excitedly call their business partner over saying, "Look at this software! This would change our lives!". It made me realize the true impact of Goodshuffle Pro and technology in general. I'm grateful to be part of the process that leads event pros to be their best selves.
5:30pm: The Afterparty
The after party was held at Lavan 541, a new venue in the city. We arrived to a beautiful whirlwind for the senses. There were colored lights, projection mapping of the city on the walls, an elaborate array of appetizers, and two modern bars. We got a few drinks, met up with some clients and friends in the industry, and chatted with people who had stopped by our booth just a few hours earlier (gotta love those #FruitfulConnections!). It was a great way to end a chaotic-in-the-best-way 24 hours. I was disappointed when 7:30pm crept up faster than I thought, because that meant I had to leave for home in D.C.
8:00pm: The Bus Ride Home
As I walked to the bus stop from BizBash NY, I stopped by a gyro cart. The delicious lamb, the beautiful views of the nighttime NYC skyline, and the weighted feeling of a long-anticipated event that had come to an end left me feeling exhausted, content, and humble.
I was able to reflect on the long day I'd had and came up with my three most important takeaways:
Technology is the future
Communication is everything
The events industry is where I want to be
Goodshuffle Pro was a rare tech company in the sea of businesses specializing in rentals, production, decor, and more at BizBash NY. I appreciated seeing how technology in general, as well as Goodshuffle Pro specifically, fits into the industry. I also saw how important communication was, both in Karen's presentations and in my time at the booth. It doesn't matter that Goodshuffle Pro is the best event rental software out there. If those representing the company can't authentically talk to people person-to-person, it won't make a difference.
While BizBash NY may have been one expo in a long string that event companies attend, it was a huge stepping stone for me. It gave me an up-close, genuine view of the events industry. BizBash offered me a chance that not many other college students have. Thanks to my team at Goodshuffle Pro for inviting me to the conference, to BizBash for holding an engaging event, and to Lavan 541 for a great after party. I encourage other event companies to take a chance on an intern– the future is coming and I'm excited to be part of it.
Want more tips on strategy, trends, and best practices delivered straight to your inbox?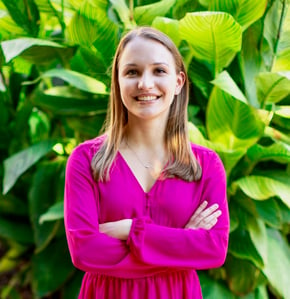 Carmen Bodziak
Carmen Bodziak is a Marketing Manager at Goodshuffle Pro, a party and event rental software company dedicated to empowering those in the events and decor industry. She also currently oversees the Goodshuffle Blog.