Whether you're a social media expert or prefer not to use it, there's no denying that social media has the power to be a huge money-maker for your event business. At the most basic level (without purchasing ads), social media provides an avenue for you to advertise your event company for free. You can show off your most recent client's event, share special promotions, or create an Instagram story series to increase engagement. The possibilities are endless! Even if you're a self-proclaimed social media pro, are you sure you know all social media tips for businesses? Let's dive in.
Instagram
Don't include a link in your caption
Unlike most other social media platforms like Facebook, Twitter, or LinkedIn, you should not post links in your Instagram captions. When you paste a link in an IG caption, viewers cannot click on or copy the link to lead them to your page. Instead of including a link in your caption, write something like "Learn more at the link in our bio" or "Register via the link in our bio".
In your bio, you can use services such as Linktree or Flowpage to store your links. Both of these tools have free and premium pricing, so you can choose the features you'd like to have access to. These tools allow you to organize and share multiple links at once for your followers to access. For example, if you're promoting a seasonal sale on tent rentals but also want to share a blog post about tips for renting tents, you can include both links to your in your Instagram bio. This makes it easy for you and your customers!
Pin comments
If you receive a fantastic comment that you want everyone who views your post to see, you can pin the comments below your post. This Instagram tool allows you to pin up to 3 comments on any one of your posts. This means those pinned comments will move to the top of the post and be shown before all others. Pinning a glowing comment will show everyone who sees your post, how someone else feels about your event business. This is a great way to use the powerful phenomenon, social proof and encourage followers to comment.
Use relevant hashtags in stories
Hashtags aren't just for Instagram posts. You can and SHOULD be using hashtags in your Instagram stories. Using relevant hashtags in your Instagram story can expand the reach of your story in a number of ways. First, your story can appear on more Explore pages of people who follow that hashtag. Additionally, anyone who follows or searches the hashtagcan view all the stories using that hashtag in the last 24 hours. By using hashtags that are relevant to your post and business, you can reach more potential clients and increase opportunities for more business.
Facebook
Create a Business Manager account
As an event business owner, Facebook's Business Manager is one of the most important social media tips for businesses. This is the hub for all Facebook ads and page management (though you can manage a page without this tool...this puts everything in one place). Facebook ads are great because you can reach lots of new leads who are outside your current scope. This tool also allows more than one person to have access to your business account without logging in and out from your personal account. As the Admin of your business account, you can assign your employees different roles including admin, editor, moderator, advertiser, and analyst. To learn more about the accessibility of each role, click here.
Connect Facebook and Instagram Stories
Instagram stories are all the rage, but you may not see as many Facebook stories. For event companies, your bandwidth for creating social media content may be limited. Creating stories on both Instagram and Facebook is time consuming and may not be worth the effort. BUT it doesn't have to be this way. You can link your Facebook and Instagram accounts, so your Instagram stories post to Facebook too. Learn how to do this step by step here.
Bonus
Customize your Twitter profile
Your event company's brand should be consistent across all social media platforms and your website and colors are no exception! Twitter is the only social media platform that allows you to customize your profile to your brand colors. This includes your wallpaper background, tweet text, hyperlinks and hashtags. Although this seems like a small step, it makes your business look cohesive and intensifies your brand image.
Include social media links in blog posts
If you're sharing blog content, you MUST include share buttons on your blog. These buttons are icons on your blog page that with one click, allow the reader to share your blog on social media. You can include whatever social media you want— Facebook, Instagram, Snapchat, you name it! If you want to go a step further, make sure you have scrolling sharing buttons, so it follows the reader along as they read. This way the reader can share your post at any moment.
Social media can feel overwhelming, on top of the many tasks you juggle with your event business. But it's worth it to build your brand image, reach new leads, bring in new business! Implement these little known social media tips for businesses into your social media strategy this month. Social media is a great place to capitalize on business, if you're doing it right. To learn more about how you can promote your event company, read this blog post.
Want more tips on strategy, trends, and best practices delivered straight to your inbox?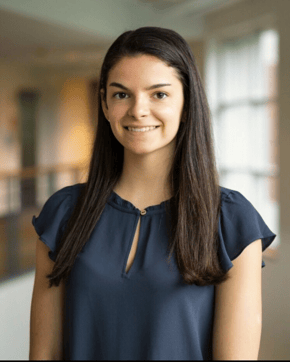 Emily Noel
Emily Noel is a Marketing Intern for Goodshuffle Pro, powerful event software for event companies.