We know how important SEO is for your event business. It brings in new leads, has a high ROI, and is cost-effective. That's why we've listed the top 10 best free SEO tools for event profs. Whether you're new to SEO or you have some experience under your belt, it's always a good idea to make sure your toolbox is updated and fully stocked. The best part of all is that all of these are either totally free or free for some of their functionality! This makes it easy to test which tools you like the best and pick the best tools for your SEO success.

1. Moz [Freemium]
Moz is one of the best SEO tools out there. It's an all-in-one platform that tells you everything you need to know about your website's SEO health. You can start with their free version, and eventually invest in Pro if desired.
With Moz Pro, you can tackle SEO with site audits, rank tracking, backlink analysis, and keyword research.
Bonus: the MozBar Chrome extension is (mostly) free and gives you insight into link metrics, competitor research, and search engine results page analysis.
How To Build the Best Event Business Website
2. Google Search Console [Free]
Google Search Console is a great starting tool for SEO for event profs. You need to verify your website before you can use it, so once it's verified, you're all set! This tool shows you which keywords you're ranking for (along with metrics, such as the average click through rate of each query). Google Search Console examines the health of your site and informs you of how Google's search engine bots are crawling it.
3. Siteliner [Freemium]
Siteliner is a tool that runs a free site audit on your website for up to 250 pages (if you want to scan more than this, you need Siteliner Premium). When you enter your domain, it alerts you of any duplicate content or broken links. It also gives you metrics like average page load time, inbound links per page, and average page size.
4. Yoast SEO Plugin for WordPress [Freemium]
Yoast SEO is a fantastic plugin for WordPress websites. You can pay for Yoast SEO Premium, but the free version covers so much that we'll leave that to you to decide. This tool helps you optimize each webpage and blog post on your website. Build content around your specific keywords, check for readability, avoid duplicate content, and more with Yoast SEO.
5. Google Keyword Planner [Free with Google Ads account]
If you have a Google Ads account, you have access to Google Keyword Planner! This free tool helps you find relevant keywords, and also provides metrics and insights for each one (for instance, how many times people search a certain keyword each month).
6. Ahrefs [$7- ok we cheated on one!]
Ahrefs, an SEO tool similar to Moz, offers a 7-day trial for $7. It may not be free, but for less than $10 it's still a steal. You'll find capabilities that include site audits, keyword exploration, and rank tracking, Ahrefs is a great all-in-one SEO solution.
7. Google Trends [Free]
Google Trends is free tool by Google that's used for keyword research. You can narrow your research by geographical location, time, category, and search type.
8. SEMrush [Freemium]
SEMrush is another leading SEO tool that's similar to Moz and Ahrefs. It includes many of the same features as the other two, including site audits, competitor analyses, and keyword research. There is a free version of SEMrush, but features and insights are limited.
9. Google PageSpeed Insights [Free]
Google PageSpeed Insights is a great tool for testing your website's technical health. When you type in your website domain, your website's load speed ranking from 1 to 100 will appear. It'll also give you a detailed analysis of where you can make improvements. You may need a developer's assistance to implement desired changes.
10. SEOquake [Free]
SEOquake is a Chrome extension that brings powerful SEO insights to light while you're browsing the web. You can use it to check your own website, as well as the websites of your competitors. Get a behind-the-scenes look at keywords being used, link analytics, page information, and domain data. Everything is located in a bar at the top of your browser, or in your SEO dashboard.
Get started on revamping your website strategy with these best SEO tools for event profs today!
Want more tips on strategy, trends, and best practices delivered straight to your inbox?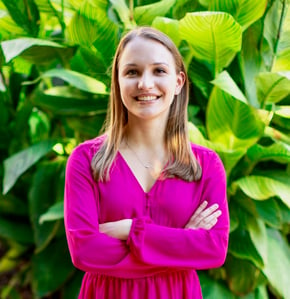 Carmen Bodziak
Carmen Bodziak is a Marketing Manager at Goodshuffle Pro, a party and event rental software company dedicated to empowering those in the events and decor industry. She also currently oversees the Goodshuffle Blog.