When we're kids, we have big dreams for what we want to be when we grow up. How many of us actually follow through? Daniel Longfellow is one of the few who turned his passion into a career, and ultimately founded his own successful audio visual production company in 2019.
The Beginning of a Passion for Events
In his own words, Daniel Longfellow has "always been the A/V nerd in school." He hosted band practices at his house in high school, learning how to properly hook up all the amps. He also volunteered as a DJ at school dances. Dan was always taking any opportunity to learn more.
Eventually, he realized that people thought he was talented, trusted him, and wanted him to be at their events. This revelation led him to jumpstart his career in the events industry. He worked for a few hotel A/V teams for nearly a decade, gathering lots of knowledge and experience. In 2017, he transitioned to a smaller production company where he felt he could really get to know the customers and develop relationships.
Then, a moment occurred that changed everything for him. His wife convinced him to take the plunge on starting his own business. It had been something he'd always had in the back of his mind. When all the other kids had been drawing action figures and cartoons, Dan was drawing what his warehouse would look like. So, he bit the bullet and registered his company, AVLD Events, in May of 2019.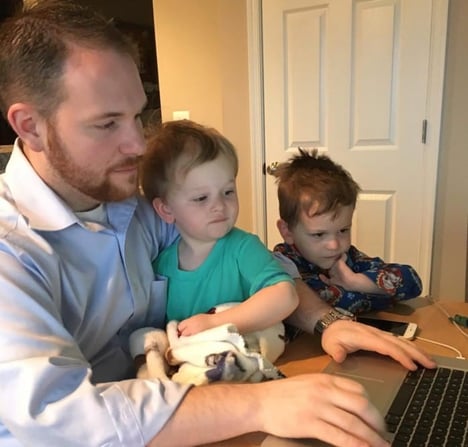 An Event Lighting Business Focused on the Customer
AVLD Events exists to "create an experience that's delivered by emotion." The team's mission is to make an impact. Dan explains that the most rewarding part of his business is "building relationships with clients and developing the moment that people want to live in." And, when the moment or event passes, it's not over. It lives on in photographs, videos, and fond conversations.
As a first-time event business owner, Dan had lots of new and exciting challenges to face. One of his biggest obstacles was that building quotes was incredibly time-consuming. This tedious process meant he had to spend lots of his valuable time on mundane, repetitive work. It was also a challenge to splice up all his data so that employees were only seeing the equipment information they needed, instead of financial information.
Dan had worked for another company before launching his business. This company had hired a Goodshuffle Pro client, Fabrication Events, as a vendor, and Dan loved the quotes he'd receive from them! He was already familiar with the convenience of the software, the simplicity of the service, and the great price of the product. After a bit of his own research, he stated, "No questions asked, I was all in." Our team is so honored to have been on this journey with him from the beginning!
After subscribing to Goodshuffle Pro, Dan and his event lighting business saw immediate success. His inventory is organized in a logical manner, quotes look professional and take a fraction of the time to build, and the digital payments feature means he gets paid faster. Clients especially love the photo-driven proposals: Dan gets tons of feedback from his customers who say the photos really help them understand the vision behind their order.
What's Next for AVLD Events
As AVLD Events continues to grow and serve their customers well, Dan is looking forward to bringing on more full-time staff, growing his customer base, and increasing the efficiency of his operations, which Goodshuffle Pro provides the tools for.
Dan's advice for other event professionals is to not pigeonhole yourself into one specialty. "Have the one thing that you're exceptionally good at, but don't miss the opportunity to expand and try something new." He encourages others to network and to have an open mind. Dan also says event professionals should always be willing to grow.
Dan is a family man. He's made a lasting impression on his kids with all his "big speakers with cool colors and changing lights." At a parent-teacher conference for his second grade son, the teacher pulled out a worksheet from an activity they'd completed in class. The prompt was, "What do you want to be when you grow up?" His son had written, "an events person". Event professionals are some of the hardest working and most creative people in the workforce. The next generation isn't far behind.
Want more tips on strategy, trends, and best practices delivered straight to your inbox?
AVLD Events serves the meetings and events industry with proficiency in Audio, Video, Lighting & Design services. We take ownership of our customers' objectives. Recognized with an emphasis on customer service, our approach is to save customers time and provide a peace-of-mind experience.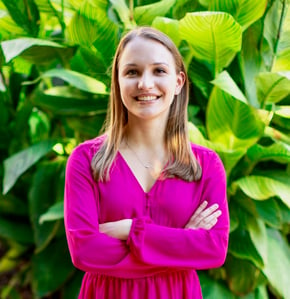 Carmen Bodziak
Carmen Bodziak is a Marketing Manager at Goodshuffle Pro, a party and event rental software company dedicated to empowering those in the events and decor industry. She also currently oversees the Goodshuffle Blog.