Building a successful business requires a steady stream of new clients who are ready to book and refer your brand to others. That's no surprise, but creating that pipeline is often easier said than done. Brand awareness is one of the most important attributes for event companies, yet it's also one of the greatest challenges faced when entering and navigating the market.
Rest assured that the rise to fame doesn't typically happen overnight. (If it does, you're either doing
something very right or very wrong!)
Instead, establishing a loyal customer base and a constant flow of qualified leads is more of a slow
burn. As it grows over time, it becomes more sustainable and longer-lasting so you can leave behind the feast-or-famine seasons and enjoy reliable, consistent profits.
So, what does it take to attract qualified leads without ever losing steam? Great question.
Here are four marketing strategies that will put you front and center of your ideal audience.
Know who you want to reach
A great lead generation strategy is built on carefully crafted messaging that presents your brand's
value points in just the right way to win over your audience. But, of course, you need to know who
you're talking to before you can know what to say.
Focus on finding clarity on your ideal clients and their biggest pain points. Who do you love
working with most? Is there a niche that needs your services more than others? How can you
uniquely solve your ideal client's problems in a way no one else can?
This will involve some soul-searching to identify the qualities, demographics, personalities, and
other factors that mesh with your own working style. If you provide luxury rental equipment for
six-figure weddings, you won't get very far with messaging tailored toward budget-minded folks.
It can help to look back at your past clients and pick out the ones you appreciated most. What set
them apart from the rest, and how can you better speak to people just like them?
Create a winning lead magnet
When you've got an idea of the "who" and the "what," it's time to turn your attention to the "how."
How will you convey your brand's messaging to your audience? How can you grab their interest
and persuade them to continue learning about your business?
The answer is simple: You need a lead magnet. Also known as an opt-in, a lead magnet is something you give away for free in exchange for someone's email address.
While some product-based businesses use discounts or free shipping offers, giving away valuable
content for free tends to be more effective. People are naturally curious, so they want to learn
more—and, if you can offer them an enticing piece of content, they'll be quick to bite.
Your lead magnet could be a checklist, a template, a guide, a quiz, or anything else you can share
with your audience that is relevant to your offerings. Note: The keyword here is relevant. A rental
company won't get many hits for a checklist for creating a wedding menu or choosing flower types.
Instead, a guide called "8 Factors for Creating an Insta-worthy Tablescape" can speak to numerous
styling elements, including floral design, menu/serving style, linen selections, centerpieces, and so
on. All the while, it can call out key rental fixtures that enhance the design and experience.
Build a sustainable promotion strategy
Of course, a lead magnet does no good if it lives in Canva or on your desktop. It needs to be out there in front of your prospects' eyes! This is your time to pull out all the stops on your marketing
strategy. Start by creating a simple landing page for people to enter their email addresses and
receive their downloadable content, either right away or from their inbox.
Then, share away! Post it on social media pages, link it in your email signature, promote it as a
podcast guest, and invite your industry colleagues to share it in their circles.
If you've been sitting on your ad spend, this is what you've been waiting to promote! Invest a
portion of your marketing budget to advertise your lead magnet so you can earn clicks to your
landing page and, ideally, more email addresses on your list.
Close with strong emails that build trust
In marketing, always be mindful that people consider their inboxes sacred. While they may give
away their email address freely for free content, they're aware that it's easy to unsubscribe from
your list if they're not satisfied with the continued conversation.
Not only do unsubscribes mean you lost a potential customer, but too many of them can also ping
the spam robots to give your account a second look.
That's why it's vital that you are creating value for your new subscribers from the very first contact. It may be a welcome email that delivers their freebie, or it might be an introduction to your brand
and what they can expect from your future emails.
Tailor your email messaging to position your readers as the main character of their story, so you
can swoop in like a superhero and solve all of the big, bad problems that are troubling them.
Worried about their budget? Good thing you can help them source affordable pieces! Not sure
what color palette to choose? Fortunately, you've got the inventory and experience to help!
Wondering how to coordinate with their venue and caterer? Thankfully, you've worked with all of
the local wedding pros and are ready to facilitate!
See how that works? Where they have a question, you have an answer.
Don't expect people to book your services or purchase your products on the first, second, or even
third email. In some cases, it can take 10, 20, or even 50 touchpoints before a prospect is warmed
up for the sale, so sit tight and continue showing up with value consistently.
Marketing is about playing the long game and nurturing your leads until they're ready to take
action. Once they are, it's your time to shine!
Want more tips on strategy, trends, and best practices delivered straight to your inbox?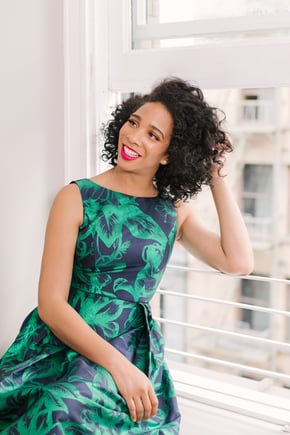 Aleya Harris
Aleya Harris, an award-winning marketer and former chef and catering company owner, is the Owner of Flourish Marketing, an agency that provides marketing education, strategy, and tools to help wedding, catering, and event professionals get and keep a consistent stream of clients. Harris is a StoryBrand Certified Guide and she uses that narrative-based framework to develop clear, engaging, and highly converting marketing assets, like websites and social media solutions, for her clients. Aleya is the current Marketing Committee Chair for NACE and a top speaker at conferences and events like Catersource and The Special Event.