The most magical part of any event is a client who walks away beaming from ear to ear because of the joy that's been brought to their life. A2Z Music Factory, located in Virginia, takes this sentiment above and beyond, making this their mission every second of the day, especially when it comes to company culture. On top of their incredible customer service, they also believe in empowering the growth of other event companies. The team at this family-owned business has something special— and it all comes down to the company culture.
Making Clients Happy: It's as Simple as A2Z
While A2Z Music Factory may be best known for the weddings they plan and execute, they offer a variety of services including rentals, video production, DJ services, event lighting, decor, and more for a multitude of different events. The company has flourished under the ownership of John and Carrie Howard, event professionals and husband-and-wife team with decades of experience and a knack for cultivating a one of a kind company culture. After speaking with Brandon Peltz, Director of Operations, it's clear why that is.
As Brandon explains, one of the most rewarding parts of the job is getting to be part of the happiest days of people's lives and experiencing the joy that comes with this privilege. This mindset is part of the culture the Howards have promoted at the company. The team at A2Z Music Factory consists of various event professionals who thrive in a culture of optimism and hard work. Every event is an opportunity and a privilege, and is planned for the individual client and their specifications, resulting in beautiful events.
Brandon started DJing at thirteen years old. He was put into contact with John a few years later and started working gigs for him here and there, until this stretched into him spending every school break with the company. When A2Z Music Factory started using Goodshuffle Pro, Brandon became intrigued with how it worked and everything it does for event companies. So, he ended up switching roles and worked as an intern for Goodshuffle one summer! While he loved his time with Goodshuffle, he knew he couldn't give up working for A2Z Music Factory. After graduation from Clemson, he started as Director of Operations and has been integral in the success of the company since.
Chick-fil-a Saves the Day!
A2Z Music Factory puts the client before anything else, even when it's not necessarily expected. As an entertainment company, catering isn't their forte. But when there was a mixup at a wedding for a bride with a dietary restriction, that didn't stop the team. A quick trip to Chick-fil-a resulted in a well-fed bride and an elated couple, illustrating the culture that's in place at A2Z Music Factory. It isn't about the job or the role— it's about the client, and doing everything in power to ensure their perfect event.
Because of customer service like this, a huge part of A2Z Music Factory's business comes as referrals from past clients. Using the power of social proof and word-of-mouth marketing, the company propels forward. As they look to expand, the team is eager to invest in more rentals and continue to build their digital footprint. This is where Goodshuffle Pro comes in.
Aside from using Goodshuffle Pro's website integration feature, A2Z Music Factory has also made great use of the inventory management tools. Knowing which equipment is actually in stock and available saves time for the team and ensures they're fully prepared for each event. The software has allowed the team to improve organization and manage their inventory on a whole new level, meaning they're better prepared at every event they book and can continue to provide their customers with stellar customer service. With features that result in an easier transaction experience, faster payments, and a solid professional brand, Goodshuffle Pro ensures success for A2Z Music Factory as the company continues to grow.
Company Culture: All for One and One for All
The company culture expands beyond the team and the clients– on top of servicing customers planning their own weddings or other events, A2Z Music Factory also rents equipment to other DJs and event professionals. If a company is new to the industry or just doesn't have the resources to provide for a client, they contact A2Z Music Factory, who provides the desired equipment and talent. They even white label under other DJs sometimes as well. As Brandon says, "When one of us grows, we all grow." This statement is A2Z Music Factory in a nutshell.
Brandon leaves anyone looking to start out in the events industry with this advice:
Network. Connect with other companies and professionals. This is how you grow.
A good support team makes you unstoppable. Having dependable coworkers who respect the culture makes all the difference.
Do it for the right reasons. Those who succeed aren't focused solely on profit; they are there for the client, the event, and their brand, and it's worth it every single time.
We at Team Goodshuffle are so thankful for the opportunity to do business with a company so firmly rooted in customer service and giving their all. We can't wait to see what the future holds!
Want more tips on strategy, trends, and best practices delivered straight to your inbox?
At A2Z Music Factory, their passion is to provide an unforgettable experience. Whether it's your wedding day, birthday party or a corporate event, their goal is to always exceed their client's highest expectations.
Rental website: dmveventrentals.com
Instagram: @a2zmusicfactory
Rental instagram: @a2zeventrentals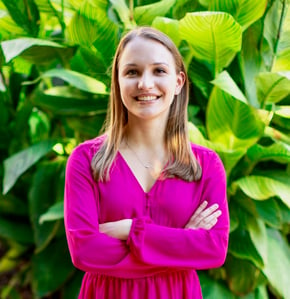 Carmen Bodziak
Carmen Bodziak is a Marketing Manager at Goodshuffle Pro, a party and event rental software company dedicated to empowering those in the events and decor industry. She also currently oversees the Goodshuffle Blog.